FROM SITE SELECTION MAGAZINE, JULY 2020 ISSUE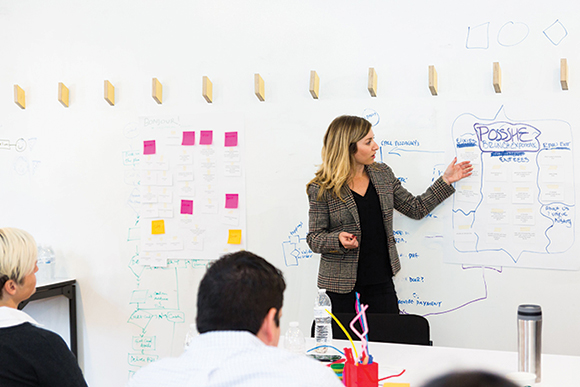 COVID-19 REPORT: TALENT
The need for training surges in the midst of the pandemic. We share some resources. And one company's map shows the highest topical categories by country for online enrollment.
CONWAY ANALYTICS SNAPSHOT
First there were seven, then there were five, and now there are three. No, it's not an Agatha Christie mystery. It's the publicly narrated site selection process that began early this year for Vancouver, B.C.–based ElectraMeccanica Vehicles Corp. With its Chongqing, China based contract manufacturing partner and strategic investor Zongshen Industrial Group, ElectraMeccanica plans to locate a U.S. assembly plant and engineering technical center for its three-wheeled SOLO electric vehicle. The process is being guided by BDO USA's site selection and business incentives practice, with a final location selection for the 250-job project expected by the end of November. (Site Selection readers will recall a three-wheeled combustion-engine vehicle company once was headed to a former Hummer factory in Louisiana. The Shreveport area is still waiting for the investment to materialize.)
Seven candidate states were announced in February: Arizona, Colorado, Florida, North Carolina, South Carolina, Tennessee and Texas. After initial RFP review, the company cut Texas and South Carolina from the list in June. (Given that ElectraMeccanica also makes a roadster, could Tesla's big EV announcement in Austin have influenced that choice? We've asked those in the know and will report further in the days to come.) On August 5, those five finalists were winnowed to three — Arizona, Florida and Tennessee — as the Colorado and North Carolina offers ran out of juice. "As part of the latest phase in the site selection process, ElectraMeccanica's executive management team travelled to BDO-identified sites in the greater Nashville, Orlando and Phoenix areas," the company said.
"In further narrowing our finalist list, we remain focused on the key areas that will have a materially positive impact on our long-term production efforts: access to a top-tier talent pool, global supply chain cost protection, and the best opportunity for us to pursue our larger goal of a multi-use, urban SOLO ecosystem for personal, commercial, utility and fleet applications," said ElectraMeccanica CEO Paul Rivera. The company, which intends to start production this year in Chongqing and serve the U.S. through an initial retail network in the western part of the country, said the new facility will also allow it "to reduce or potentially eliminate tariffs as well as benefit from logistical efficiencies."
How do the three finalists measure up by Site Selection's scorecards? Check out our most recent Prosperity Cup, Governor's Cups and Business Climate rankings to find out. —Adam Bruns
ElectraMeccanica aims to assemble its single-occupant, three-wheeled SOLO EV at a new site in the U.S. MSRP today: $18,500.

Photo courtesy of ElectraMeccanica
CALIFORNIA
San Diego is one of six tech hub locations in which Amazon will invest more than $1.4 billion and create 3,500 new tech and corporate jobs, the company announced Tuesday. Amazon has invested more than $50 billion over the past decade in California, where the company employs 90,000 — more than 10% of its global payroll of 876,000. The other tech hub investments are coming to Dallas, Detroit, Denver, Phoenix and New York (Manhattan), where the largest employment boost (2,000 new jobs) will come to a 630,000-sq.-ft. new office at the Lord & Taylor Fifth Avenue building the company acquired earlier this year from WeWork for around $1 billion. "Real estate gets reinvented all the time," Fifth Avenue Association President Jerome Barth tells Site Selection, noting that the Lord & Taylor building is not within the territory served by the association.
MEXICO
Eight months after laying the foundation stone, Italy's Alfagomma Group in June marked the debut of its new Alfagomma de Mexico manipulated tubes and hose assemblies plant in Torreón, Coahuila. The hydraulics company called the project "a major step forward in the Group's strategy" and "another significant commitment to serve global and local OEMs in Mexico." Other locations the company has expanded since early 2019 include Calgary, Alberta, Canada; Belo Horizonte, Brazil; Buenos Aires, Argentina; and Batavia, Illinois.
SITE SELECTION RECOMMENDS
Eisai Inc., an oncology- and neurology-focused pharmaceutical company and the U.S. subsidiary of Tokyo-based Eisai Co., Ltd., announced earlier this month the relocation of its New Jersey-based headquarters to the "technologically-advanced and cutting-edge" ON3 property in Nutley, New Jersey. The company plans to transfer up to 1,200 Eisai corporate staff and R&D functions from Woodcliff Lake to Nutley (a 20-mile drive) in late 2021. Site Selection readers will recall the ON3 redevelopment came about after Roche made the decision to move to an Alexandria development in the Big Apple eight years ago. Infrastructure investments led by Prism Capital Partners have helped reposition the property as a live-work-play environment. Among other investors is Quest Diagnostics, which broke ground last year there for a lab that will employ 1,100 (300 of them new jobs). Prism this year plans to complete a multi-tier, $20 million infrastructure and site work development program at ON3.
Eisai is the latest to locate at the 116-acre former Hoffmann-LaRoche campus now being transformed by Prism Capital Partners into a multi-tenant lifestyle hub.

Image courtesy of Prism
Smart Sites are a slam-dunk choice for companies that are ready to grow now. Faster construction, fewer uncertainties and less risk for companies and site selectors alike— that's the genius of the Smart Sites qualification program. But that's not all. Our many Smart Sites are located in some of the best places in America to live and do business, including the North Carolina communities of Albemarle, Apex, Drexel, Farmville, Greenville, Hertford, Kinston, Laurinburg, Louisburg, Morganton, New Bern, Shelby, Statesville, Tarboro, Wake Forest, Washington, and Wilson. And these public power communities served by ElectriCities of North Carolina — the energy behind public power — are primed with a highly educated and skilled workforce ready for employment.
To learn more about these properties and our growing list of other Smart Sites, contact Brenda Daniels at 800.768.7697 ext. 6363 or bdaniels@electricities.org. You can also visit us at www.electricities.com/services/economic-development/smart-sites/ It's a no-brainer.
Photo courtesy of photographs in the Carol M. Highsmith Archive, Library of Congress, Prints and Photographs Division
In a week that has featured World Photography Day and the centenary of passage of the 19th amendment allowing women the right to vote, we present this Library of Congress image by photographer Carol M. Highsmith depicting a view of the Columbia River Gorge from Chanticleer Point near Corbett, Oregon. "High above the mighty river that forms much of the border between Washington State (to the left in this photo) and Oregon," say the LOC notes, "the viewpoint is now called the Portland Women's Forum State Scenic Vista, in honor of the group that, in 1960, dedicated the site to "the preservation of the natural beauty of the Columbia River Gorge." The image is part of Carol M. Highsmith's America Project in the Carol M. Highsmith Archive.