FROM SITE SELECTION MAGAZINE, SEPTEMBER 2020 ISSUE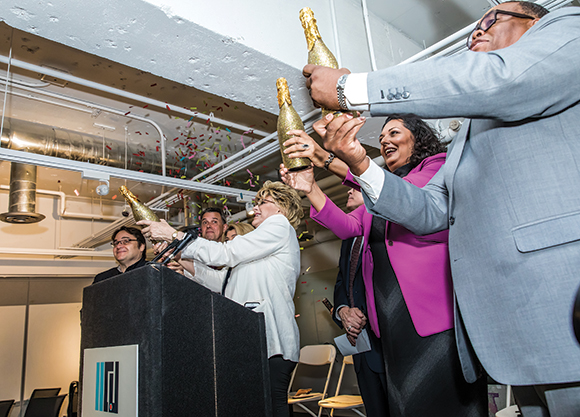 NEVADA
The road to riding out the COVID recession leads beyond the Strip.
UNITED KINGDOM
On the heels of acquiring competitor Qualsys and signing a 15-year lease at its newly opened headquarters, Nottingham-based global software product developer Ideagen early this month announced will create 150 jobs over the next 12-18 months. Ideagen, whose nearly 6,000 clients include NASA and the UK's National Health Service, develops software solutions to help businesses operating in highly regulated markets to meet their regulatory obligations and mitigate their risks. "We operate across a number of industries," explained CEO Ben Dorks, "so although some of our clients have been badly hit by coronavirus, such as those in aviation, we've seen an increase in activity from companies in other sectors, such as life sciences and health care." The new jobs will range across customer support, sales and marketing. "Nottingham is our home and we are very proud of this city," said Dorks. "We are committed to being here for the long term and opening our fantastic new office in Ruddington today shows the strength of our commitment."
HAWAII
As reported in Pacific Business News and Maui Now, Hawaii Commercial Foods, which got its start in a 50-sq.-ft. kitchen producing only kim chee, now has grown to 46 prepared food products and is doubling space to nearly 5,000 sq. ft. at Maui Lani Village Center. The space will be nearly all commercial kitchen, with a small retail section whose products soon will include a new line: Korean chicken takeout. While the pandemic has caused the company's headcount to dip from 34 to 22, its retail business "is thriving," said Joyce Harris, company president. Among other investors at the center is another mom and pop company, gift store chain ABC Stores, which plans to add a 20,000-sq.-ft. new distribution center to the 40,000-sq.-ft. property it purchased last year. Founded more than 55 years ago by Sidney and Minnie Kosasa, the company now employs more than 1,800 across 82 stores and two restaurants in Hawaii, Guam, Saipan and Las Vegas.
SITE SELECTION RECOMMENDS
Is broadband a key infrastructure factor as you evaluate global locations? Then you need to bookmark Ookla's Speedtest Market Reports, which offer insights into the state of fixed broadband and mobile networksbased on consumer-initiated network connection tests that number more than 31 billion since the company developed Speedtest. Among the most recent findings in its 2019 U.S. mobile report, "in Q1-Q2 2019, the U.S. ranked 40th in the world for mean download speed over mobile, which positions the country between Spain and Saudi Arabia. The U.S. ranked 94th for mean upload speed, between Angola and Poland. Mobile operators are just now rolling out 5G in some of the largest cities in the U.S., which is dramatically improving speeds in those cities." The company's interactive 5G Map traces those rollouts as they happen. Ookla is headquartered in Seattle, with additional offices in Dublin, Ireland.
Ben Hilton, fiancé of Kalyn Soenksen, senior manager of global events for Conway Data, made this photo at the recent COVID-safe marriage of his sister Dr. Margaret Hilton and Brandon Fox at Bear Rocks Preserve, located in Monongahela National Forest in West Virginia. Hilton is an assistant professor of chemistry at the University of West Virginia in Morgantown.  "They were set to be married in mid-October in Santa Fe, New Mexico, but COVID happened," Kalyn says. "We had to hike up 0.5 miles then climb these rocks to get to this spot. I don't know how she did this in a wedding dress." As described by the Nature Conservancy, at Bear Rocks, "time stands still high above Canaan Valley, in Dolly Sods, where a flat, windswept expanse of subalpine heath barrens opens up to the sky."