ONLINE INSIDER
It's an annual tradition. Grab your hot chocolate and a blanket, and gather 'round the Zoom call for a headquarters site selection story almost too good to be true.
FROM SITE SELECTION MAGAZINE, NOVEMBER 2020 ISSUE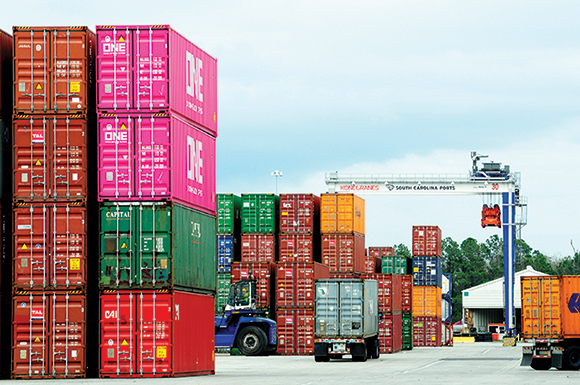 RAIL PARKS & INLAND PORTS
We sorted through the list of more than 1,300 intermodal sites listed in the Intermodal Association of North America's directory to find the top states and cities by number of intermodal facilities. Plus: Major federal funding is going to selected inland port projects corporate end users may want to keep on their radar.
SITE SELECTION RECOMMENDS
IBM-Plant Location International (PLI) has been publishing an annual Global Location Trends report since 2007, highlighting the past year's cross-border location decisions around the world, and measuring performance of countries, regions and cities in attracting new or expanded foreign investment projects and the job creation expected from these projects. "During 2020, the pandemic has caused several delays in the data gathering and validation process, due to research capacity constraints at our end and at many economic development organizations who provide us with data every year," writes IBM-PLI's Roel Spee. So while a report with facts and figures is still forthcoming, the organization instead has produced a special edition of the Global Location Trends report focusing on how the pandemic has impacted existing investment plans, based on a survey of over 500 global executives.
COSTA RICA
This project in La Aurora de Heredia from infusion therapy medical device maker ICU Medical, Inc., was announced earlier this year along with a $20,000 donation to Costa Rican authorities to aid in COVID-19 response. In January, ICU celebrated its 20th anniversary in Costa Rica, where it employs 2,400. The project was part of a banner year for the Costa Rican Investment Promotion Agency (CINDE), which just reported a record of 81 confirmed projects during 2020, 26 of which are new companies that selected Costa Rica for their operations. Another 55 investment projects diversified current operations in the country with new processes or business lines as well as expansions.
SWITZERLAND
Located in Winterthur just 25 kilometers northeast of downtown Zurich, Vantage's Switzerland data center campus has just completed its outer concrete shell and is scheduled for delivery in 2021, part of a $2 billion European investment plan from the company that also includes its just-opened facility in Frankfurt. The Winterthur complex will sit on more than seven acres (three hectares), one of the largest plots of available data center land in the Canton of Zurich. Once fully developed, the company says, the 400,000-square-foot (37,000-sq.-m.) campus will comprise four data centers — two three-story and two four-story — offering a combined 40MW of critical IT load. Other greenfield projects are coming in Milan, Berlin and Warsaw.
CONWAY DATA TRAINING & EVENTS
Photo courtesy of NASA Goddard
Can you feel the days getting longer already? Today marks the winter solstice in the Northern Hemisphere. This image was captured on the winter solstice in 2011 by the National Oceanic and Atmospheric Administration's GOES-13 satellite, with cloud images overlaid on a true-color NASA/MODIS map by the NASA/NOAA GOES Project at NASA's Goddard Space Flight Center in Greenbelt, Maryland. Goddard enables NASA's mission through four scientific endeavors: Earth Science, Heliophysics, Solar System Exploration, and Astrophysics.