FROM SITE SELECTION MAGAZINE, JANUARY 2021 ISSUE
WESTERN EUROPE
From her vantage point in Northern Ireland, Conway Data's Laura Martin shares snapshots of progress across Europe as nations strive to attain the EU goal of 32% of energy consumption from renewable sources by 2030.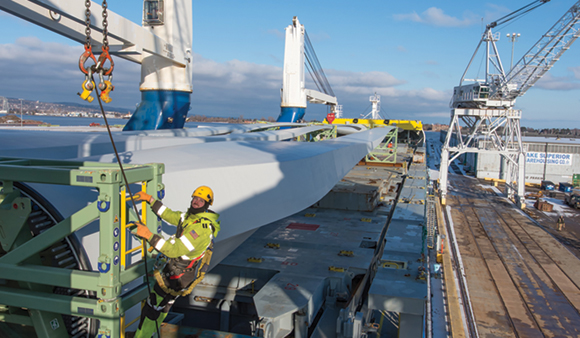 RENEWABLE ENERGY HUBS
As new hubs rev up along the U.S. Atlantic Coast to serve forthcoming offshore wind farms, Duluth, Minnesota, tallies its latest wind energy cargo totals after 15 years of serving the sector.
GERMANY
Amazon last week announced it is hiring for a new fulfillment center in Gera, Thuringia, scheduled to open before this year's holiday season. The facility in the city south of Leipzig and east of Erfurt will be the second Amazon location in Thuringia after a delivery station in Erfurt that opened in 2019 and employs 500. Thuringian Minister for Economic Affairs, Science and Digital Society Wolfang Tiefensee called the project "a clear success for the Thuringian large-scale initiative with which the state is opening up and developing large industrial areas in order to be able to offer companies suitable locations." Andreas Krey, managing director of the Landesentwicklungsgesellschaft Thüringen mbH (LEG), said interest in Thuringia has surged even in challenging times. "We are developing the Gera-Cretzschwitz location chosen by the Group as part of the state's large-scale initiative," he said of the Amazon project. Amazon has created about 16,000 permanent jobs in German logistics facilities, and has invested more than €28 billion (US$33.8 billion) in Germany over the past decade.
INDIA
New This project from Anchor, now a subsidiary of Panasonic Life Solutions, was originally announced in 2019, and now aims to begin manufacturing electrical appliances in the Andhra Pradesh municipality of Sri City by April 2022, according to the company's press release. Upon completion, the new facility on 33 acres at Sri City Industrial Park will be Panasonic Life Solution India's eighth electrical equipment material production base in India. Panasonic Life Solutions currently has factories in Haridwar to cater to the demands of the North, and the factories in Daman and Kutch to serve Western markets. "India is growing exponentially in terms of housing development, and the real estate market, especially in Andhra Pradesh, will witness a paradigm shift in the post-pandemic era," said Tetsuyasu Kawamoto, managing director, Panasonic Life Solutions India Pvt.Ltd. "With a strong commitment towards the government's vision of 'AatmaNirbhar Bharat [Self-Reliant India],' the completion of this land will assist in strengthening our relations with the Government of Andhra Pradesh."

Q&A
New Jersey Governor Phil Murphy outlines how his state has pulled off an unprecedented response as it rebounds from COVID-19 and the recession it induced.

BUSINESS CLIMATE
Edison started it, but he wasn't alone. Individuals and companies have cultivated the state's innovation tradition for generations.

STATISTICAL PROFILE
What were the biggest projects by investment in New Jersey over the past two years? Which sectors dominated? How many foreign companies have invested in the state? Our charts and graphics tell the story.
CONWAY DATA TRAINING & EVENTS
SITE SELECTION RECOMMENDS
Stakeholders across the spectrum of corporate investment, financing and economic development should make sure to check in regularly with the resources of the Council of Development Finance Agencies (CDFA). The organization is not embellishing when it says, "our efforts represent the largest dedicated online reference of development finance headlines and news in the world."
To mark this first day of Black History Month, here's a photo of Jared Bailey, a senior at Morehouse College in Atlanta who has integrated Apple's coding and creativity curricula into his public health and community service work as part of the school's partnership with Apple. The photo was published January 13 by Apple as it announced its $100 million Racial Equity and Justice Initiative (REJI) "to help dismantle systemic barriers to opportunity and combat injustices faced by communities of color." In addition to an Apple Developer Academy to support coding and tech education for students in Detroit and venture capital funding for entrepreneurs, the initiative's flagship facility will be the Propel Center, a global innovation and learning hub for Historically Black Colleges and Universities (HBCUs) that will be situated in the Atlanta University Center — the district of Atlanta encompassing Morehouse, Clark Atlanta University, Spelman College and the Morehouse School of Medicine.
The Propel Center, pursued in partnership with Southern Company and other stakeholders, will offer a wide range of educational tracks, says Apple, "including AI and machine learning, agricultural technologies, social justice, entertainment arts, app development, augmented reality, design and creative arts, career preparation, and entrepreneurship." Morehouse, the nation's largest private liberal arts college for men, was originally established in 1867 as the Augusta Institute in the basement of Springfield Baptist Church in Augusta, Georgia. It moved to Atlanta in 1879 as Atlanta Baptist Seminary, and was renamed in 1913 to honor Baptist minister and hymns author Henry L. Morehouse.