FROM SITE SELECTION MAGAZINE, MARCH 2021 ISSUE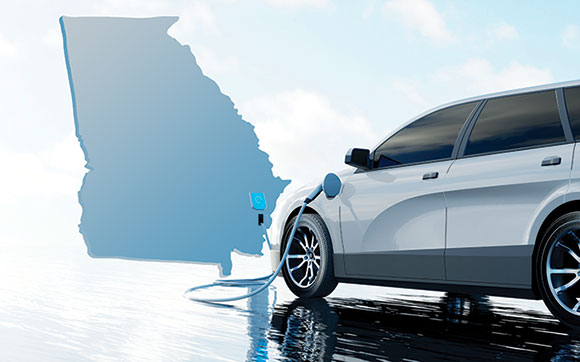 GEORGIA
Is a global intellectual property dispute just a bump in the road for a massive EV battery plant under construction north of Atlanta? Judging by the events of the past 24 hours, the answer is "yes."
MICHIGAN
Pfizer broke ground on March 30 for a new pharmaceutical manufacturing plant at its complex in Portage — the same site that shipped out the nation's first doses of a COVID-19 vaccine in December. The facility will be "one of the world's most technically advanced sterile injectable pharmaceutical production facilities — known as Modular Aseptic Processing," said the company in a press release. The facility will initially produce a pain medicine called Dynastat. While the project will receive a tax break, its road to fruition was long: Pfizer first announced it in July 2018.
KENTUCKY
Two weeks after publicly announcing its intention to build its ninth steel tubular products mill somewhere in "the Midwest," Nucor on March 25 announced it would construct the facility near its steel sheet mill in Gallatin, Kentucky. The location puts the new tube mill near expanding solar markets in the U.S. and the largest consuming regions for hollow structural section (HSS) steel tubing. "With our recent investments to expand capacity at Nucor Steel Gallatin and add a galvanizing line, our Gallatin campus is an ideal location to build our new tube mill," said Leon Topalian, president and CEO of Nucor Corp. "The new tube mill will allow us to better serve our customers in the construction, infrastructure and renewable energy markets." The project is the 25th Nucor facility investment tracked by Site Selection's Conway Analytics service since 2015.
KANSAS: PUNCHING ABOVE OUR WEIGHT

BIOSCIENCES
Bioscience leaders in Kansas are at the forefront of pandemic response.

TOURISM
A galaxy of discovery awaits those who visit Kansas.

ENERGY
Kansas leads in renewable energy and natural resources.
SITE SELECTION RECOMMENDS
Illustration courtesy of PowerReviews
Just as many have found pandemic conditions ideal for finally getting that (virtual) meeting or sales call, it's boom time for surveys too — especially those trying to project our behavior in the recovery. A February survey of 103 corporate leaders by architectural and design firm Vocon found that 66% plan to implement some form of a hybrid work model, with 44% anticipating employees will work in the office at least three days of the work week. Among other findings, 24% of employers intend to help employees set up home offices by providing resources like equipment, wifi upgrades or a stipend.
Another survey conducted in February reveals how sharply our grocery shopping behavior has shifted — a change that was already in motion before the pandemic, as Site Selection documented last summer and last fall. PowerReviews, a provider of ratings, reviews and "user-generated content solutions," surveyed 7,916 grocery shoppers across the U.S. and found:
73% of consumers had purchased grocery items online within the most recent three months of being surveyed, compared to 17% when asked the same question in 2017. However, it's an adjunct, as 95% of consumers who shopped for groceries online have also made an in-store grocery purchase within the same time period.
Top reasons for online shopping include time savings (59%), personal safety (49%) and avoiding impulse purchases (31%).
Ordering directly from a local grocery store (as opposed to online-only ordering services such as Instacart or Amazon Fresh) is the most popular way to shop for groceries online; 65% of consumers say they've done this.
Like nature's own infinity pool on the edge of the world, this mangrove-protected cove at the J.N. "Ding" Darling Wildlife Refuge on Sanibel Island, Florida, not only protects the coast from powerful storms, but seems to buffer its wildlife and visitors from all outside sound and disturbance. Managing Editor Adam Bruns made this photo there last week. Iowa-born editorial cartoonist and conservationist Jay Norwood Darling "was instrumental in the effort to block the sale of a parcel of environmentally valuable land to developers on Sanibel Island," says the U.S. Fish & Wildlife Service, helping to convince President Harry S. Truman to sign an executive order creating the refuge in 1945. Today the refuge — part of the largest undeveloped mangrove ecosystem in the United States — consists of over 6,400 acres of mangrove forest, submerged seagrass beds, cordgrass marshes and West Indian hardwood hammocks, and provides habitat to over 245 species of birds.