ONLINE INSIDER
Last summer, Dr. Maurie McInnis took office as the sixth president of Stony Brook University. Her answers last fall to five quick questions from Site Selection reveal insights into the key roles she and the school play in Long Island economic development. (For more, see the Long Island Intelligence Report.)
FROM SITE SELECTION MAGAZINE, MARCH 2021 ISSUE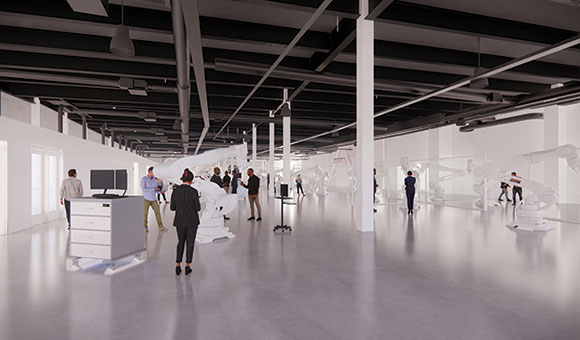 SOUTH CAROLINA
A major automotive investment continues South Carolina's streak of big deals.
CONWAY ANALYTICS SNAPSHOT
Intel's commitment to its home country is anything but wafer thin.

Photo courtesy of Intel
As semiconductor shortages continue and lobbying efforts to subsidize the industry do too, Intel has not shirked the limelight, most dramatically stepping forward on March 23 with a $20 billion commitment to build two new fabs in Arizona. The company this week released a third-party report analyzing Intel's impact on the U.S. economy, especially on the states where it has its largest presence: Arizona, California, New Mexico and Oregon.
Among the highlights:
Intel employs approximately 52,000 people across the country, and each job at Intel is estimated to support 13 other jobs elsewhere, meaning Intel directly or indirectly supported more than 700,000 full-time and part-time jobs in the U.S.
Intel directly contributed $25.9 billion to U.S. GDP in 2019, and its total direct and indirect GDP impact on the U.S. economy, $102.0 billion in 2019, accounted for one-half of 1 percent of U.S. GDP.
"As the largest U.S.-owned semiconductor manufacturer, Intel is the only leading-edge U.S. semiconductor company that both develops and fabricates its own technology," said Intel CEO Pat Gelsinger. "We are also the only company that has built leading-edge fabs in the U.S. during the last five years. Unlike many companies, Intel's intellectual property still resides here at home. We are making significant investments in U.S. manufacturing and R&D over the next several years. And Intel's technology is helping the U.S. to build better by supporting the development of smart infrastructure to address the nation's economic and security needs."
Site Selection's Conway Projects Database has tracked Intel projects for decades, and they're not just in the U.S. Major fabs and operations continue to roll on in Israel, Ireland, Costa Rica, Poland and elsewhere. In fact, the company yesterday unveiled its largest solar installation outside the U.S. at Kulim Hi Tech Park in Malaysia, where Intel Malaysia has operated for many years. A look at the data going back to 1995 shows more than two dozen major investment projects by the company around the world, including data centers in India; operations in Romania; and a $4 billion investment in Ireland in 2017.
Intel has invested tens of billions of dollars in the U.S. in the past, and more billions are on the way.

Infographic courtesy of Intel
KANSAS: PUNCHING ABOVE OUR WEIGHT

QUALITY OF LIFE
Five reasons to plant roots in the Sunflower State.

AGRICULTURE/AGRIBUSINESS
Kansas is home to multiple R&D operations, influencing everything from farm fields to after-school snacks.
SITE SELECTION RECOMMENDS
Site Selection readers know our fondness for the viewpoint of James Fallows, the veteran journalist who with his wife Deborah co-authored the 2018 book "Our Towns: A 100,000-Mile Journey Into the Heart of America." It chronicled their flights in their small aircraft into communities across the country — not unlike our founder McKinley "Mac" Conway did for decades in his own small plane, often with family in tow. And, like Mac, they discovered a lot about those communities and their citizens once they set foot on terra firma.
As I heard Fallows tell an IEDC audience in Atlanta, "Everybody should see the country from 2,000 feet up. The view is so rich — you see why cities are where they are." Now there are two new ways to gain access to the Fallowses' perspective. Earlier this month, HBO debuted its new documentary "Our Towns" to scintillating reviews. It's also available on HBO Max. And just last week, Fallows unveiled the Our Towns Civic Foundation. "We had many partners at different stages of this project, including Kai Ryssdal and his colleagues from APM's Marketplace program, and the digital-mapping company Esri," writes Fallows, a personal friend of Esri founder Jack Dangermond. "And we made many friends along the way, whose stories we told in the hundreds of online dispatches and several Atlantic print-magazine stories we filed." Bookmark the foundation's home page and gain keen insights from keen eyes. — Adam Bruns
CHINA
If you need another indicator of the growth of the Chinese middle class, french fry consumption might be a good one. Idaho-based Lamb Weston in late March announced the planned construction of a new french fry processing facility in Ulanqab, Inner Mongolia, China with capacity to produce more than 250 million pounds of frozen french fries and other potato products per year. The facility is expected to add approximately 280 full-time positions, and will add to the Company's existing in-country production from its facility in Shangdu, Inner Mongolia, China. "The french fry category is poised for growth globally, and China continues to be a critical market for us," said Tom Werner, president and CEO of Lamb Weston.
AUSTRALIA
Raytheon Australia at the end of March unveiled the Centre for Joint Integration, described as one of the world's largest air and missile defense precincts, at Mawson Lakes in Adelaide. "In this facility, we will work with defense and industry in sophisticated systems integration laboratories, as well as experimentation areas and training rooms," said Raytheon Australia Managing Director Michael Ward. "These spaces will ensure we can work with our customers and partners to deliver fully integrated sovereign capabilities and also train the workforce of the future." As Raytheon Australia's new South Australian headquarters, the complex is already home to more than 200 Raytheon Australia employees, and the company expects this to increase to 300 jobs across future Integrated Air and Missile Defense, naval and ranges programs.
With over 150 acres of buildable land, the Oconee Industry and Technology Park (OITP) is located along US highway 11, just off I-85, and is centered in the growing southern metropolis of Atlanta, GA, Charlotte, NC and Chattanooga TN.
OITP is a well-established park with passenger and commercial automotive suppliers Baxter and Horton calling it home. A potential workforce pipeline is physically built into the park with the Hamilton Career Center (technical high school) and Tri County Technical college both with established campuses in the park. The park also offers truly shovel ready sites with one permitted 50,000sqft building pad and a +/- 40 acre graded pad that can be subdivided, all of which is County owned.
For more information, contact Annie Caggiano at 864.364.5556 or visit our website: http://oconeealliance.org/
Complementing the Intel news above is this photograph released by the company last month, showing the company's Ocotillo campus in Chandler, Arizona. "Four factories are connected by a mile-long automated superhighway to create a mega-factory network," the company says of its largest U.S. manufacturing site, home to the new Fab 42. Intel last month announced it will build two additional facilities there with an investment of around $20 billion.