FROM SITE SELECTION MAGAZINE, JULY 2021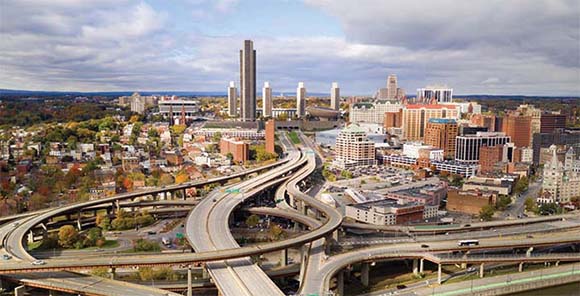 UPSTATE NEW YORK
The eight-county Capital Region around Albany is emerging as a national center for offshore wind and clean energy components manufacturing, even though it's 150 miles from the coast.
Taiwan
Founded 31 years ago in Taiwan by Gary Burrell and Dr. Min Kao, Garmin (a name derived from their two first names) plans to hire more than 1,000 workers for its plant at Tree Valley Park in Tainan's Sinshih District, according to multiple media reports based on a company statement last week. Production in Taiwan accounts for 95% of the company's global output. Garmin aims to start up the expanded operations as soon as October, and is recruiting for positions this week at the industrial park, and on Saturdays at locations across Tainan over the next month.
Northern Ireland
Austin, Texas–based skilled trades workforce management platform Workrise last week announced it would establish a technology engineering cetner in Belfast, Northern Ireland, that will create 153 jobs over the next four years. "We are pleased with this meaningful expansion into Northern Ireland and the opportunity to tap into the impressive talent pool there," said Xuan Yong, Workrise co-founder and CEO. "We selected Northern Ireland as the location for this new centre based on the high-quality software engineers with industry skills, along with a strong pipeline of graduates from your excellent universities." Invest Northern Ireland has offered Workrise £994,500 of support toward the creation of the new technology jobs. Workrise technology claims to make it easier for skilled laborers to find work and for companies to find in-demand, trained workers across the solar, wind, construction, defense, and oil and gas industries.
CONWAY ANALYTICS SNAPSHOT
Anchorage, Alaska (pictured) and Portland, Oregon, are the only two U.S. cities of more than 200,000 residents with 0% combined local and state sales tax rates.
Photo by Frank Flavin courtesy of Visit Anchorage, visitanchorage.net
The Tax Foundation last week shared its latest update on sales tax rates across major cities, defined as the 124 cities with populations of 200,000 or more, among the 11,253 sales tax jurisdictions in the United States. "It's important to note that sales taxes should be considered in context," wrote Jared Walczak and Jeremiah Nguyen. "But while many factors influence business location and investment decisions, sales taxes are something within lawmakers' control that can have immediate impacts — especially as a growing number of major cities (now 23) have combined rates north of 9%." Among their findings:
Tacoma, Washington, after a 0.1% voter-approved increased went into effect July 1, now imposes the highest combined state and local sales tax rate, at 10.3 percent. "Five other cities — Fremont, Los Angeles, and Oakland, California; Chicago, Illinois; and Seattle, Washington — are tied for the second highest rate of 10.25%," the Tax Foundation reports. "Birmingham, Alabama, at 10%, rounds out the list of major cities with a combined rate of 10% or higher."
At the other end of the scale, Portland, Oregon, and Anchorage, Alaska, have neither a state nor a local sales tax. "Honolulu, Hawaii has the third lowest sales tax among major cities with a rate of 4.5%," the Foundation reports. "However, Hawaii's overly broad sales tax makes this not strictly comparable with other states." Madison and Milwaukee, Wisconsin, both have 5.5% combined state and local sales tax rates.
"Richmond, Virginia, had a 5.3% rate until October 1, 2020, when the Central Virginia region became the state's third region subject to the 0.7% regional state tax," the report states, causing a cluster of Virginia cities to become part of the dozen in the country with a still relatively low 6% rate, whose number also includes Washington, D.C.; Lexington and Louisville, Kentucky; Detroit and Grand Rapids, Michigan; and Boise, Idaho. "Fourteen cities with populations of 200,000 or more do not impose local sales taxes, though some have state sales taxes as high as 7% (Fort Wayne and Indianapolis, Indiana)," said the Tax Foundation. "The median combined rate for major cities is 8.04%."
While 15 major cities saw a combined rate increase of 0.25% or more over the past two years, Tampa, Florida decreased its sales tax rate by 1% to 7.5% earlier this year, when county commissioners voted to remove a transportation tax that was approved in 2018. — Adam Bruns
GOVERNOR Q&A
Missouri Governor Michael Parson reflects on the state's bicentennial and building momentum.
SITE SELECTION RECOMMENDS
Startup Genome's last report noted that Melbourne (pictured) was one of two Australian regions on the rise as a startup ecosystem. Watch for a new ranking making its debut September 22.

Getty Images
Our friends at Startup Genome have announced that the Global Startup Ecosystem Report 2021 produced in concert with the Global Entrepreneurship Network (GEN) will launch on September 22 during London Tech Week. Sign up here to get your copy as soon as it's available. And watch this space on September 23 for an exclusive excerpt and commentary on the findings from Startup Genome.
Startup Genome's insights and data have informed Site Selection's coverage of regional startup ecosystems for several years, most recently in this July 2021 feature. The GSER is the world's most comprehensive and widely-read research on startups, with data from over 3 million companies across 280 ecosystems. This year's report expands regional focus and includes rankings from top performers around the world, in addition to the top 30 ecosystems and the top 100 emerging systems. It also includes insightful commentary on equity, the value of accelerators, and public entrepreneurial financing.
2021 MISSISSIPPI DEVELOPMENT GUIDE
QUALITY OF LIFE
Seven reasons life is better in Mississippi.
Photo © Hossein Javadi courtesy of UNESCO
This 2017 photograph of a commuter train traveling the South line in Lorestan, Chamsangar Region, Iran, is from materials supporting the designation last month of UNESCO World Heritage status for the 865-mile Trans-Iranian Railway. The complete railway, built over 11 years, was opened in 1938, and includes 360 viaducts and bridges and 224 tunnels. Iran ranked No. 80 out of 163 countries in the calculations for the forthcoming 2021 Global Groundwork Index in the September 2021 issue of Site Selection.
A total of 34 properties were inscribed with World Heritage status this year. Reading through them is a fascinating world history lesson. "The site of Roșia Montană Mining Landscape (Romania) was inscribed simultaneously on the World Heritage List and on the List of World Heritage in Danger pending the removal of threats to its integrity posed by possible mining activities," said the World Heritage Committee, which also made "the exceptional and rare decision to delete Liverpool – Maritime Mercantile City (UK) from the World Heritage List due to the irreversible loss of the attributes for which it had been inscribed."