From Site Selection magazine, May 2000
---
T O P 1 0 D E A L S
Case Studies in Fast-Track Strategies
(CONTINUED)




Amazon: Coffeyville, Kan.; 1,000 Employees, $59 Million

Amazon in 1999 fully scrapped its original Net-centric model, which regarded facilities as an outsourced afterthought, repeatedly redoubling the size of its portfolio.

Its heaviest bulking up came in distribution, cutting its once heavy reliance on outside wholesalers. Underscoring that increased capacity, the new Coffeyville Midwest/Southeast center alone tripled Amazon's shipping capacity.

Rushing to get its new facility online for the hot-selling holiday season, Amazon didn't have time to build. And that turned economic adversity into a major location determinant. In 1998, after 20 years in Coffeyville (pop. 12,000), Golden Books folded, closing a chapter on 400 local jobs. But Golden left behind the 750,000-sq.-ft. (67,500-sq.-m.) facility it sold to a limited liability company called TGFW ("Three Guys from Wichita").

Amazon Chief Logistics Officer Jimmy Wright was quietly prospecting for center sites, with areas in Arkansas, Mississippi, Tennessee and Texas on the short list. But the old Golden facility sharply piqued the attention of Wright, who'd previously spent 13 years as a vice president of distribution with Wal-Mart, a product distribution wizard.

"I looked around there, and realized they had good people with a strong work ethic and lots of pride," Wright says. Amazon, he adds, also liked Coffeyville's "strategic location" between Kansas City, Oklahoma City and Tulsa. And the area's above-average unemployment signaled available labor.

State and local development officials rapidly hammered out an incentives package that sealed the deal for perpetually profit-challenged Amazon. Dollar values haven't been disclosed, but Wright says, "They wanted us here, but they didn't give away the farm." Amazon, he adds, admired the state's "progressive yet fiscally conservative" stance, which echoed Sam Walton's savvy frugality.

And with that, Coffeyville -- where the Dalton Gang disintegrated in 1892 while trying to simultaneously hold up two banks in broad daylight -- hit its own jackpot, with a big boost from technology. Says Lt. Gov. Gary Sherrer, "Technology's beauty is that it renders geography irrelevant."


Honda: Lincoln, Ala.; 1,500 Jobs; $400 million

Like some Southern rendition of "Home on the Range," seldom was heard a discouraging word about this deal. And that quietude likely reflects a larger U.S. evolution in thinking about foreign-owned firms' facilities and about what it takes to be a contender.

Consider the brouhaha of 1993, when Alabama landed the first U.S. Mercedes-Benz plant with $253 million in incentives. Immediately, the deal hit hot water, torpedoing then-Gov. Jim Folsom's reelection bid.

But Alabama legislators unanimously approved Honda's $158 million in incentives soon after Gov. Don Siegelman announced them. The deal began to take shape in 1998, as Honda raced toward hitting 1 million in U.S. sales for the first time. Honda needed more U.S. capacity, and it needed it fast.

Honda's site selection secrecy is legend. But Executive Vice President Tom Elliott allows that Midwest locations, particularly Tolono, Ill., were "briefly considered." Honda's search then skewed South, narrowing to eight Alabama sites, plus sites in Commerce, Ga., and Richmond, Va.

In September of 1998, Honda contacted Alabama. Siegelman immediately hit high gear and never slowed down.

"Gov. Siegelman's support, friendship, direct involvement and support were very important and invaluable," says Jeffrey Smith, American Honda senior corporate affairs and communications manager.

"From the beginning, [he] let us know he was personally interested and committed to doing whatever he could to assist us."

Despite that high-profile role, the Alabama team's ironclad confidentiality kept Honda's profile low. Representatives from the five-county area that will most profit from Honda's impact even signed confidentiality agreements.

Honda picked a 1,350-acre (540-ha.) tract in Lincoln (35 miles/56 km. east of Birmingham). "Important factors" in selecting the site, says Smith, included "transportation infrastructure, weather, seismology, work force and the Southeast location, so we could more widely disperse our North American operations."

And after Goodyear and U.S. Army layoffs, the Lincoln area had ready labor. In fact, the Alabama site may expand to 3,000 workers, Honda officials say.

Interestingly, incentives weren't a concern, say Honda officials (who prefer the term "necessary improvements").

What was a big factor, Smith asserts, was the tight teamwork among the Alabama Development Office (www.ado.state.al.us), the Economic Development Partnership of Alabama (www.edpa.org), the Birmingham Metropolitan Development Board (www.ci.bham.al.us) and the Talladega County Economic Development Authority (www.tceda.com).

And the partnering persists. Honda's new plant is being constructed by HHG, a new joint venture between Atlanta's Hanscomb Inc., Birmingham's Bill Harbert Construction and Greenville, S.C.'s Global Performance.


BMC Software: Houston; 4,750 Jobs; $250 Million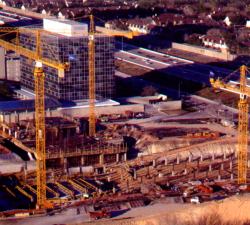 Though homegrown BMC is headquartered in Houston, the city was no site selection shoo-in for this deal.
The difference maker was some long-term creative thinking that facilitated BMC's nonlinear hyper-growth. 1999 total employment skyrocketed by 77 percent, as acquisition-happy BMC (once considered an acronym for "big mainframe computer") continued its successful push into hot fields like e-business management and application management software (where it's now No. 3 in the world).
With more growth imminent and its Houston-area facilities maxxed out, BMC began a broad site search. And with non-executive salaries averaging $80,000-plus, numerous areas avidly courted BMC's gob of jobs. BMC contemplated leasing or building in Austin, Texas; building in either Atlanta or Waltham, Md.; or using existing space in San Jose, Calif.
At the same time, BMC's analyses gave Houston high marks for labor availability, wage rates and quality of life.
Then came the decisive brainstorm: Bill Calderon, assistant director for the city of Houston's planning and development department, devised a strategy custom-tailored to cut BMC's operating costs during its highest growth.
The Houston City Council approved the plan, proposed by the Greater Houston Partnership (www.houston.org), creating the area's first-ever multiphase, single-contract property tax abatement. Significantly, that approved the entire project -- three office facilities built over the next seven years for 4,750 new employees.
"Our objective was to ensure that as much of BMC's growth as possible would occur in Houston," says Pam Lovett, Houston Partnership economic development president. "And Bill Calderon's creative, out-of-the-box idea facilitates BMC's expanding quickly without continually going through the approval process."
The three facilities' abatements, which gradually decline over 10 years, are also delayed and staggered, beginning in 2002, 2004 and 2006. That's when BMC anticipates its next potent growth surges. The Houston deal also provides BMC, Fortune's No. 4 "Most Admired Company," a predictable environment in which to continue its emphasis on high-end workplace environments.
"We want locations in attractive environments that provide us with the space we need today as well as room for growth," explains Corporate Marketing Vice President Wayne Morris. "We're firmly committed to providing employees with all the tools they need to succeed, from cutting-edge technology to employee-friendly settings."
While amenity-rich environments are routine, BMC goes the extra mile. Its headquarters complex even includes a car wash and a full-size basketball court, complete with electronic scoreboard and retractable bleachers.

Chase Manhattan: Tampa, Fla.; 2,140 Jobs; $148 Million
Call this one the battle of the Bush brothers: George W. and Jeb, the respective governors of Texas and Florida, the states that slugged out the final rounds for this blockbuster.
That tussle began when Chase announced that it was relocating 3,500 New York jobs. With almost half its workers based in its headquarters city, Chase was too concentrated, and the Treasury Technology and Diversified Consumer Services divisions were inefficiently scattered, the company said.
Dollar signs also steered the moving vans. Dallas and Tampa, which already had large Chase clusters, both offered costs lower than New York's for salaries, real estate, taxes, telecom and utilities, say Chase officials. Though total savings haven't been disclosed, they're so sizeable that New York wasn't tapped for a matching bid, says Chase spokesman Ken Herz.
Then there was the innovative state-local incentive package (still being finalized at press time) that helped guide Chase's migration to Florida's Gulf Coast.
"Some incentive estimates are subject to all sorts of uncertainties. But these incentives are realistic, achievable and add real value," says Jay Biggins, national incentives practice managing director for the law firm of Stadtmauer Bailkin, which often works on Chase projects.
"The state also very creatively acknowledged that old SIC codes have become irrelevant and made Chase's Treasury Technology division eligible for the Capital Investment Tax Credit (CITC) program as a targeted information technology operation," Biggins continues. "It's the first non-manufacturing project to ever qualify."
Hillsborough County also passed a bill authorizing granting Chase both 20 percent QTI Program matching funds and impact-fee mitigation. Previously, the county could only offer one of the two.
The deal continues a fruitful trend for Tampa, once something of a call-center mecca. Area officials have carefully nurtured local operations into higher-paying jobs in higher-end facilities. Chase, for example, arrived in 1987 with only a small call center, but had 2,235 Tampa employees before this deal. Similarly, the Citicorp call center launched in 1983 evolved up the value chain into the 2,400-employee Citicorp Center opened in 1998, which is the company's real estate prototype.
"With our major clients, we're focused on establishing and maintaining long-term relationships, not transactions," contends Robin Ronne, Greater Tampa Chamber of Commerce (www.tampachamber.com) economic development director.
In addition, Tampa recently ranked as the No. 1 U.S. job-growth area.
"We're very comfortable with growing here in Tampa, bringing in higher-level positions that our current employees can work for," says Gene Marshall, who heads Chase's Tampa operations. More growth may loom. The technology unit's large site east of Tampa is ripe for expansion. And if Chase creates 3,000 jobs in four years, it gets $11.1 million more in state-local incentives.
The Chase chase, however, wasn't futile for Dallas, which landed 1,400 of the relocated jobs. If that's the second-place prize, it only underscores just how big the Tampa deal is.

Dell Computer: Nashville, Tenn.; 3,000 Jobs; $200 Million
A phone call is worth thousands of jobs. Or it can be, judging from the January 1999 call fielded by Bill Baxter, Tennessee Economic and Community Development Dept. commissioner (www.tnedc.org). On the horn was Dell Computer. Middle Tennessee was one of 20 Southeast, West and Southwest areas being considering for U.S. expansion, said Dell, a Stradivarius of speed (see cover story).
Baxter and Gov. Don Sundquist quickly met with Dell, where Baxter offered to be a one-stop rapid-response shop. Baxter was soon a very busy man, as Dell's interest deepened like the flavor of aging Jack Daniel's. Meanwhile, state and local officials fashioned an offer sharp as the ring of a steel guitar.
Only three months after its phone call, Dell committed, bagging incentives valued at $166 million, including substantial job training and infrastructure improvements. But the biggest chunk is in tax breaks valued at $62.4 million, including a 40-year property tax break for all Dell operations. (All companies investing at least $10 million in facilities get the same incentives, Baxter emphasizes.)
It's the first U.S. expansion outside of Texas for Dell, which felt that it couldn't further strain the infrastructure and labor pool around its huge Austin, Texas, base. Dell, though, wanted a single large greenfield site, which initially bumped Nashville. But then-Nashville Mayor Phil Bredesen persisted, selling Dell on 800 acres (320 ha.) of contiguous acreage east of Nashville International Airport, with the city giving the PC powerhouse 150 acres (61 ha.) valued at $6 million-plus. Despite withering newspaper criticism, Bredesen (who left office in September) also spearheaded approval of the final $46 million in local incentives.
And Tennessee has walked the fast-track walk to back its talk. Less than seven months after calling Baxter, Dell had a 1,800-worker desktop manufacturing plant going full bore inside a 300,000-sq.-ft. (27,000-sq.-m.) facility built in only 62 days.
Says Dell Senior Vice President Paul Bell, "Competitiveness in our industry is measured in hours and minutes. We needed a place that could allow us to distribute products quickly and cost-effectively, a place with a supportive community, a growing talent pool, a central location, outstanding transportation and a focus on education. Tennessee custom-fit our needs."
And Tennessee's expansion music may get sweeter still. Dell is adding a second manufacturing plant, a technical support center and a sales office, pushing area employment to 3,000 by mid-2000 -- four years ahead of schedule. And incoming suppliers have already gobbled up more than 650,000 sq. ft. (58,500 sq. m.) of nearby space. What's more, Dell's discussing basing perhaps 10,000 employees in Nashville.
Much like Nissan's 1980 auto-industry arrival, Dell's big byte embeds Tennessee on the high-tech map.

Continue to Next Page