From Site Selection magazine, May 2000
---
C O V E R S T O R Y
Inside Dell's
Clicks-and-Mortar
Machine
b y J A C K L Y N E
Dell's e-business explosion has further ramped up
its legendary speed. And that cyber-surge has made
Dell real estate a Toulouse-Lautrec of time compression.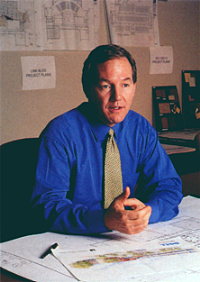 "We have a mantra in Dell corporate real estate: Set unrealistic expectations . . . and then exceed them," says Kip Thompson, flashing a smile that's both playfully devilish and dead serious.
Yeah, right, you say? After all, real estate by nature is a long-term process: 24 months to build a facility, 16-18 months if you're really cracking. At least that's what legions of industry vets insist.
But that logic won't sell at Dell Computer, where it would meet another mantra, one Al Pacino memorialized in "Donnie Brasco": Fuggedaboutit!
"We built our first Nashville facility (a 300,000-sq.-ft./27,000-sq.-m. plant) in 62 days," says Thompson, Dell vice president of worldwide facilities management and corporate real estate.
"Moving at the speed of Dell," wryly observes Kevin Theis, Dell's Nashville campus facilities manager, smiling and nodding at the mini-dust storm on Dell's massive, 800-acre (320-ha.) Tennessee site.
"Within a year," says Thompson, we'll build 1 million sq. ft. (90,000 sq. m.) of space in Nashville."
---
ABOVE: In its first year in Nashville, Dell will build 1 million sq. ft. (90,000 sq. m.) of space, says Thompson, part of corporate real estate's mantra: "Set unrealistic expectations, and then exceed them."
---
First Facility: A Dorm Room
Moving at the speed of Dell would leave a lot of real estate units in traction. In a 16-month span in 1998-99, Dell announced or completed five manufacturing facilities: one in Nashville, two in Ireland and one in China, one in Brazil. All with a staff of only 12 real estate professionals.
From the get-go, though, Dell has been something of a real estate renegade. Dell's first facility? A University of Texas dorm room, where Michael Dell founded the company in 1984, hiding his PCs in a roommate's bathtub during family visits.
Dell's unconventional real estate continues. Its heralded direct-sales model has always substantially slashed warehouse/distribution needs, requiring only six-day inventories, way below the 40-45-day industry norm.
The real estate equation has further changed with Dell's rise as one of the first clicks-and-mortar masters. Only online since 1996, Dell's Web site (www.dell.com) increased sales by 800 percent in less than 12 months, now wracking up average daily sales of US$40 million, half of total sales.
Says Dell CFO Tom Meredith, "Fortunes are won and lost in moments of transition; the Internet is a moment of transition."
Dell's e-commerce surge has a double-edged real estate slice. It's reduced requirements for some facility types, but for others, like the huge complex rising in Nashville, it's accelerated demand. Building in advance might seem the simplest coping strategy. But that's simply not the Dell way.
Explains Thompson, "The business model won't allow building ahead. We grow by keeping the Dell triangle in mind -- liquidity, profitability and growth -- ensuring growth at a profitable pace, building liquidity to enable continued growth. We'll start planning, design and architectural work; we won't pull the trigger to actually build, though, a moment before we know we need to."
But once that build-on-demand trigger is pulled, the process must mirror Dell production, fusing quickness with quality. In other words, at Dell's corner of strategy and space, it's almost always rush hour.

Real Estate as Model Citizen
Michael Dell's dorm-spawned vision, which has robustly endured as a sort of strategic Dorian Gray, is obviously the sine qua non of Dell's real estate rush hour.
"Though actually very simple, Michael's concept was radical in the business world: directly selling and rapidly delivering to customers the most current, best-priced, custom-made computers," Thompson says. "And the challenge Michael gave me was, 'I want real estate to work the way the rest of our business works,' " That would be a challenge. Robert May, University of Texas/Austin business school dean, calls Dell's business model "an ultimate efficiency concept; it's their center of gravity."
Underpinning that concept is Dell's belief that high-tech winners aren't first with the latest gadget; they're first to get innovations out in volume. At Dell's four plants near its Austin, Texas, headquarters, for example, the average time to custom build a PC has steadily shrunk from 12 hours to 5.5 hours. For most basic orders, it's three hours.
In that culture, real estate has to be a Toulouse-Lautrec of time compression.
"We've built every facility a little more efficiently, less expensively and better," Thompson recalls. "Of course, once we shaved it to eight months, in Dell's culture of constant pushing for faster, better and less expensive, the next thing we heard was, 'Why not build it in six months?' So we have shaved the average to six months.
"We're going to be challenged, though, to beat the 62-day Nashville facility. Actually, the Aug. 2 date we got operational was a day later than deadline," he adds -- and not without a trace of disappointment.

Continue to next page