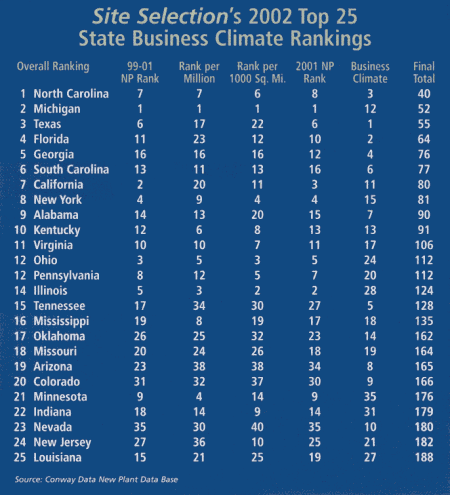 teps taken to make the Tar Heel State even more competitive with surrounding states are paying off. For the second year in a row, North Carolina has claimed the top slot in

Site Selection

's annual business climate ranking. Among the measures helping to boost the state's allure was passage in the state house of a tax credit for new businesses investing in the state. The North Carolina Economic Stimulus and Job Creation Act earmarks $540 million in cash grants paid for with income tax revenue from the employees of the businesses that get the grants. If signed into law, the Act will put North Carolina in the running to land significant new projects.
Another pro-business measure enacted was an extension of the carry-forward period for installments of the R&D tax credit from five to 15 years. A state-wide Certified Site program accelerates project start-up time, reduces out-of-pocket expenses for companies initiating projects and fosters a pro-business environment.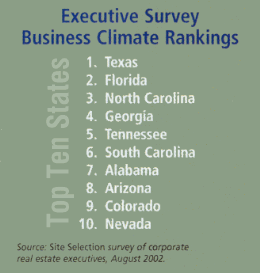 The North Carolina Department of Commerce was recognized by

Site Selection

as a top economic development group of 2001 (

Site Selection

, May 2002). And the state ranked 5th in our annual Governor's Cup competition, which reflects business expansion success.
Five criteria determine the business climate rankings:

Site Selection

publisher Conway Data's proprietary New Plant data showing total new and expanded corporate facilities for 2001; total new and expanded facilities for 1999 through 2001; total new and expanded facilities per one million residents for 1999 through 2001; and total new and expanded facilities per 1,000 square miles (2,600 sq. km.). The fifth criterion is states' performance in

Site Selection

's annual survey of corporate real estate executives, which determines which states they consider to be the most pro-business. These states are listed in the smaller of the two charts on this page — Texas wins that contest for a second year in a row.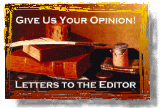 The first four criteria account for 50 percent of the overall ranking; the fifth accounts for the other 50 percent. Composite rankings for the top 25 states appear above. This system ensures that states are not ranked solely on the perception of survey participants. Strong business expansion activity over a three-year period demonstrates success and consistency in attracting capital investment to the state.

Continue to State Legislative Update