hat do you do in an industry that was estimated in 2003 to have global over-capacity equivalent to 40 OEM assembly plants? Compete, that's what.
That's what NAFTA's 10-year-old partners have been doing for automotive investment, whether against each other or, increasingly, banding together against the rest of the world. Sometimes the companies do that too. Take

Ford

and

General Motors'

six-speed transmission partnership, which will see GM invest US$350 million in Warren, Mich., and Ford invest $370 million at its plants in Sterling Heights, Mich., and Sharonville, Ohio.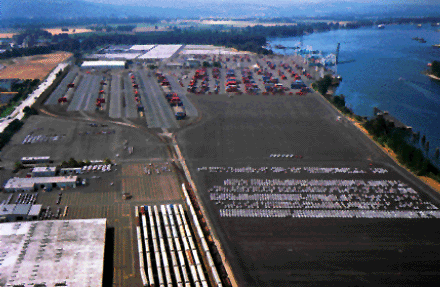 One out of 10 jobs in the U.S. is considered auto-related, and in Canada it's one in seven. So addressing the North American auto sector is virtually synonymous with addressing its core manufacturing economy.
In each of North America's three major nations, the supplier park is coming to be the racy new model. And the concept takes on added luster in the face of increasingly snarled port, rail and truck traffic.
In remarks to AIAG/AutoTech in Detroit in September 2004, ChryslerGroup President and COO Dr. Dieter Zetsche sketched out how his company's supplier park vision will come to be in Toledo, where the company's original $1.2-billion investment has come under scrutiny because of a recent federal appeals court decision calling Ohio's machinery and equipment tax breaks unconstitutional.
The new project, still proceeding apace, carries a $900-million price tag, and involves the co-location of suppliers

The Kuka Group

(body shop operations),

Durr Industries

paint shop operations), and

Hyundai Mobis

(chassis assembly). The physical footprint will include a 250,000-sq.-ft. (23,225-sq.-m.) facility to weld and assemble vehicle bodies; a 400,000-sq.-ft. (37,160-sq.-m.) paint shop; and a 200,000-sq.-ft. (18,580-sq.-m.) rolling chassis module building.
Tom LaSorda, Chrysler Group COO, said supplier investment would equate to $300 million in savings, "enough to pay for one additional derivative product." Key to the project was an eight-year agreement signed in December 2003 with the United Auto Workers.
"As many as twelve additional suppliers could become involved in this single project," said Zetsche.
That number of suppliers is already present at Ford's $250-million Chicago Manufacturing Campus, which officially opened in August 2004.
"When we talk about 'bull's-eye sourcing,' this is exactly what we mean," said Tony Brown, vice president, Ford Global Purchasing.
The 1,400 employees at

Brose North America Inc., Decoma International Inc., Facil LLC, Flex-N-Gate, Lear Corp., Plastech Engineered Products Inc., Summit Polymers Inc., S-Y Systems Technologies America LLC, TDS Automotive, Tower Automotive Inc., Visteon Corp.

and

ZF Lemforder Corp.

share four multi-tenant buildings containing 1.5 million sq. ft. (139,350 sq. m.) of manufacturing and office space. Some of the supplying goes between suppliers, as well as directly to assembly.
Sometimes the supplier park is less formal but no less effective, even on land formerly occupied by an OEM. Such is the case in Saginaw, Mich., where in March 2004, construction began on a $9-million building where three companies will eventually invest up to $60 million in processing operations on aluminum engine blocks for GM Powertrain's Saginaw Metal Casting Operations, which is investing $80 million and adding 112 jobs itself.