he projects considered for
Site Selection
's Top Deals of 2004 ranged far and wide. So did the innovation and creativity behind them.
As always, we started from objective jobs and investment data: total capital investment and number of jobs created. Then we took into account regional economic impact, value of jobs created, creativity, the role of incentives, competition for the project and speed to market. In some cases a particular economic development agency shone, but more frequently it was a team effort that included multiple agencies, utilities and other service providers, elected officials and company officials.
Of special note among the winners, and the entire candidate pool was the number of financial services deals, as companies manage risk by spreading out their operations geographically. Other projects were notable for the companies' and communities' sense of recommitment to an existing site. And, as always, the issue of existing or specially approved incentives was omnipresent.
Here, in alphabetical order, are the Top Deals of 2004:
Alenia/Vought
Charleston, S.C.
$560 million; 645 jobs
As documented in our March 2005 issue, this project came along in the wake of the Palmetto State's courtship of Boeing's 787 project. Not long thereafter, Italian firm Alenia Aeronautica and Vought Aircraft Industries were negotiating with Boeing and each other to form a joint venture to make fuselage sections for the 787, and the Charleston site rose quickly to the top.
At the state level, a US$116-million incentives package, backed by state bonds, could rise to as much as $160 million if an employment target of 1,400 is reached. Charleston County kicked in its own unique package, including subsidized leases during project construction, a revenue credit and a 30-year "straight-lined" fee-in-lieu-of-taxes, fixed at the 2002 millage rate.
Finally came hands-on negotiation work from elected officials like Gov. Mark Sanford, U.S. Sen. Lindsay Graham and U.S. Rep. John Spratt, backed by university research activity in composites and an already strong automotive cluster.
Countrywide Financial
Richardson, Texas
5,000 jobs
Calabasas, Calif.-based Countrywide Financial sowed the seeds for this project years ago when it vowed to move significant operations out of California because of high business costs. A cool $20 million from the Texas Enterprise Fund helped things move along, providing a full 10 percent of the overall funds for Countrywide's $200-million Texas buildout. Another 2,500 jobs will be created elsewhere in Texas, with 1,500 of them headed to Fort Worth. (The company has not disclosed what portion of its investment will go to Richardson alone.)
"By 2008, we hope to increase our market share from about 15 percent to 30 percent and would grow from 40,000 to more than 80,000 employees companywide. We expect to use Texas as a launch point for that growth over this and the next decade," said Countrywide CEO Angelo Mozilo at the announcement in December 2004. The company also announced in 2004 a 2,500-job expansion in Chandler, Ariz.
Richardson Mayor Gary Slagel was quick to point out the local part of the equation for the two-phase project.
"Incentives from local, county and educational institutions helped to facilitate and accelerate the decision by Countrywide Home Loans to purchase three buildings comprising 500,000 square feet [45,000 sq. m.] of office space in Richardson's Galatyn Park urban area," he said. The mortgage lender already employs 6,000 people in Richardson. The city will provide Countrywide with $950,000 in tax breaks over 10 years. The company expects additional incentives from Collin County, Collin County Community College District, Dallas County and Dallas County Hospital District.
The deal benefited more companies than Countrywide: The three buildings that the company will initially occupy were purchased from Prudential, which in turn had been leasing them to Nortel Networks, which needed to dispose of the space.
The transactions were facilitated by Texas-based real estate service provider Fischer & Co.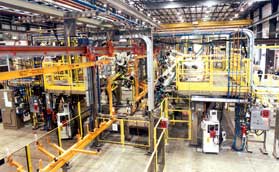 Flexibility is literally the operative term in automotive manufacturing, as exemplified by Ford Canada's big project in Oakville, Ontario. By mid-decade in North America, about half of Ford's body shops, trim and final assembly operations will be flexible. That number rises to 75 percent by the end of the decade.
Dell
Winston-Salem, N.C.
$115 million; 1,500 jobs
Dell has made a name for itself by walking the talk when it comes to keeping operations in the U.S. or returning them from offshore locations. That road is the one less traveled, but for Dell it has made all the difference. For more on this project, please see our
cover story
on p. 260.
Ford Motor Co.
Oakville, Ont., Canada
$818 million; 3,900 jobs retained
Ontario and Canada offering incentives? Yes, you heard that right. The $US82 million apiece offered by the provincial and federal governments made this project announcement historic. A new, flexible minivan plant will be one part of the result, creating an unspecified number of jobs at the same complex where Ford had to shut down a pickup truck plant earlier in 2004. In addition — and in keeping with new emissions goals formally announced since the project's November 2004 announcement — the project includes a new fuel cell R&D center.
Ontario officials said the project will spawn some 3,700 supplier and spin-off jobs. But the precedent the deal set has spawned a lot more than that: In March 2005, General Motors announced its own $2-billion multiple-plant expansion, garnering $194 million in incentives.
In December 2004, Ford Motor Co. appointed Joe Hinrichs, former director of manufacturing for the Dearborn, Mich.-based carmaker, as president and CEO of Ford Canada. His experience with both vehicle launches and union negotiations will prove vital to the flex plant's ramp-up as well as Ford's upcoming talks with the Canadian Auto Workers, whose contract expires in September.
Genentech
Vacaville, Calif.
$600 million; 570 jobs
Among the goals in Genentech's "Horizon 2010" strategic plan is to become the No. 1 U.S. oncology company in sales by that year. The doubling in size of its Vacaville footprint, about one hour northeast of San Francisco, will be a significant piece of that strategy. Company officials stated that California is outgunned by other states when it comes to offered incentives, but local advantages made up for it. A phone call from Gov. Schwarzenegger didn't hurt either.
Among the factors keeping Vacaville from coming up empty: A skilled work force, already existing facilities (allowing substantial time to be trimmed off the project timeline) and a streamlined permitting process. In addition to a 10-year property tax rebate, the city agreed to update the numbers on permits obtained previously by Genentech for a much smaller proposed facility expansion.
The facility spin-off is already in motion. Buzz Oates Real Estate is finishing off one new spec office building in the Vacaville Corporate Center, and has plans to break ground on five other buildings there by fall 2005.
Honorable Mention
Deals of 2004
IBM et al
Fishkill and Albany, N.Y.
$2.7 billion; 1,000 jobs
As with the Alenia/Vought alliance in S.C., collaborative venturing among companies is as much at the heart of a big project as negotiations are with its eventual home. In this case, it's 10 companies and three projects, backed by $150 million in state incentives.
The project list is headed by a $1.9-billion fab funded by Big Blue and six other semiconductor companies — Advanced Micro Devices, Charter Semiconductor, Infineon Technologies, Samsung, Sony and Toshiba — and connected to the $2.5-billion fab IBM completed in East Fishkill in 2002.
At the State University of New York in Albany, IBM is investing $450 million in a semiconductor production line at the Nanoelectronics Center of Excellence. And Netherlands-based chip lithography system maker ASML is welcoming funds from IBM for its $325-million R&D center there.
Gov. George Pataki worked hard to keep IBM in New York when he came into office in 1995.
Mag Instrument
Ontario, Calif.
$80 million; 1,600 jobs
Stater Bros. Markets
San Bernardino, Calif.
$200 million; 2,000 jobs
These two neighboring Inland Empire projects stood out as examples of companies whose pride in community was at least as great as that of the community officials with whom they were negotiating. And the two company leaders share a vision of their companies as embodiments of the American Dream.
In his efforts to pierce the darkness that has surrounded the emigration of business operations from California, Gov. Arnold Schwarzenegger may find a shining example in a flashlight designed by another immigrant, who also happens to be the founder of a California-based company.
"It's never dark in America," exclaims the slogan of Mag Instrument, the Ontario, Calif.-based maker of the universally hailed MagLite flashlight. It's a philosophy that springs directly from Tony Maglica, New York-born but Croatian-raised, who founded the company 50 years ago after escaping post-war Croatia in 1950. Driven by his twin faiths in free enterprise and commitment to quality, Maglica has never allowed the company to make any of its products outside the U.S. The company works to develop and cultivate domestic sourcing and has sometimes taken an operation in-house to avoid reliance on a foreign source of supply.
The company already operates a 500,000-sq.-ft. (46,450-sq.-m.) manufacturing facility that employs 800. With its latest project, announced in August 2004, Mag is building a 700,000-sq.-ft. (65,030-sq.-m.) manufacturing facility on a 30-acre (12-hectare) parcel.
Central to the forthcoming Stater Bros. Markets headquarters and distribution center is the redevelopment of Norton Air Force Base. Nearly all of the $3.5-million cost of demolishing 37 buildings and disposing of asbestos and lead paint is being funded by a grant from the U.S. Commerce Department's Economic Development Administration, applied for by Inland Valley Development Authority. But a bigger key is the involvement of Texas-based Hillwood Investments, which is developing its AllianceCalifornia project on the grounds. Other corporate arrivals to the Hillwood development have included Kohl's and Mattel.
As the 42nd largest private company in the U.S., Stater Bros.' success and growth is merely a reflection of its economically robust Inland Empire home. The new project will feature a 2.5-million-sq.-ft. (232,250-sq.-m.) distribution center on a 200-acre (81-hectare) site. The gargantuan dimensions of that DC will offer gargantuan savings as well, as the company consolidates from 11 different distribution sites in three cities. By 2006, when the facility is scheduled to open, the company will be serving 167 supermarkets in Southern California.
"It's a boyhood dream to be able to make a significant contribution to the people who not only built Stater Bros. into one of America's most outstanding supermarket chains, but also to do something nice for our hometown area," said Stater Bros. Chairman and CEO Jack Brown in March 2004.
Union Tank Car Co.
Alexandria, La.
$100 million; 850 jobs
As documented in our January 2005 issue, this project was Texas-bound before Louisiana officials convinced the Chicago-based company otherwise. (The same phenomenon occurred with an Alexandria-based company, Roy O. Martin Lumber.) Those officials were led by new Louisiana Gov. Kathleen Babineaux Blanco, who kept the lines of communication open with the Marmon Group company while an incentive package worth $65 million was assembled.
Now a new plant is being assembled on a greenfield site of more than 140 acres (57 hectares) adjacent to the England Industrial Air Park and Community in Rapides Parish.
Adjacency was the salient term with this deal. In addition to Alexandria being at the crossroads of four state highways, the new Interstate 49 and two railroads, Union Pacific rail service as well as utilities were already developed right up to the property line of the site.
The follow-up to the June 2004 deal is visible right on the company's Web site, where prospective suppliers and service providers are directed to staff with the Central Louisiana Chamber of Commerce as well as the company itself.
Hiring is expected to begin in mid-2005, with tank car production starting up in early 2006. The Louisiana team included the state's Dept. of Economic Development, its Labor Department and Community and Technical College System.
"The Ohio proposal offered the right mix of economic benefits, existing infrastructure, assurances concerning seismic conditions and schedule advantage for this important new facility," said USEC President and CEO William H. Timbers in mid-January 2004. (Timbers left the company in December 2004.) He noted that both Kentucky and Ohio offered "economic incentives underpinned by strong community support," but noted that Ohio's package involved local incentives.
The existing infrastructure was significant: Process buildings and other infrastructure left over from a gas centrifuge enrichment plant canceled in 1985. USEC negotiated with the U.S. Dept. of Energy to deploy much of that technology in a new way. In fact, the engineering, procurement and construction management contract for the project has been awarded to the same company that started that former project 20 years ago: Fluor Enterprises.
The deal is a regional success as much as a local one. In October 2004, the company announced that both Boeing and Honeywell would be making machines for the new centrifuge plant, with production coming from Oak Ridge National Laboratory in east Tennessee. According to USEC financial statements, the company invested more than $64 million in 2004 on the demonstration project for the plant and anticipates spending $110 million in 2005 as it approaches operation of that pilot plant this year. USEC expects to be operating the full-scale centrifuge plant in Piketon by 2010.