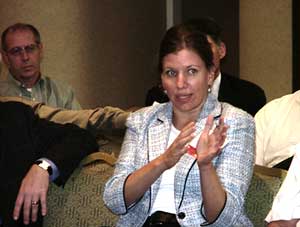 Melissa Bauer, with the Quad/Graphics real estate dept., makes a point to her colleagues at the popular "Get Some Help" session in Corpus Christi.
IAMC corporate members turned out in force at the town-hall style "Get Some Help" session at the Fall 2005 Professional Forum on Tuesday afternoon, Oct. 11, in Corpus Christi, moderated by IAMC Board member Rick Little, director of real estate at Weyerhaeuser Corp.
Whether or not to outsource lease administration audits was among the topics. Most corporates handle the task internally. One had outsourced the function for two years and then brought it back inside, citing complexity issues and fees. Another topic was the extent to which corporate real estate managers are involved in facilities management. Most preferred not to oversee that area, so that they could focus their resources more thoroughly on transactions. The norm was to leave that task to the plant managers or corporate headquarters.
Whether centralized or decentralized real estate management works better depends largely on the corporate culture or cultures, especially where mergers and acquisitions are concerned. Either way, the directive must come early from top management so that corporate real estate managers are seen as acting on instructions from the C-suite.
One topic likely to find its way into future programming is the role of corporate real estate managers in disaster-recovery planning, particularly in the wake of the hurricane damage in the Gulf Coast region. Look for some corporations to assign business-continuity experts to site-selection teams.
Opinions on donating properties as part of an asset disposition strategy were varied, but all agreed on the need to have a formal donation policy in place. Risk avoidance is a key driver of decisions to donate buildings or property, but hidden risks can jeopardize donations made with the best intentions.
The session revealed a disparity in when or if corporate real estate managers participate in the logistics and supply chain management functions. Ideally, the group agreed, the corporate real estate team should be a key player in those discussions from their earliest instances.
- Mark Arend
---
What does your company manufacture?
Aluminum and aluminum related products.

To whom do you report?
Treasure.

How many years have you worked in the profession?
12 years.

Where and what did you study?
Duquesne University, Accounting/Finance

Describe the most important transaction or project for which you were responsible.
Disposition of $250 million in surplus properties.

What is the biggest professional challenge you face on a regular basis?
Too much to do with too little time. Not enough resources to perform transactions, quickly, efficiently and accurately.

How is the role of Director of Real Estate evolving?
My responsibilities are increasing with no change in the number of staff to perform the work. We are now training outside resources to be the experts on our real estate transactions, policies and processes.

Which technology do you consider to be essential in your professional life?
A Real Estate database so that we can report real time in an ever changing capital environment.

What is the value of IAMC membership to you?
It is a place where I can ask questions and get answers and ideas quickly. It also has helped me form lasting professional relationships with experts in every aspect of real estate.