More Than Just a Helping Hand
The new fabs cost a bit more too, both to build and to operate: Intel CEO Paul Otellini famously testified to the U.S. Congress in 2005 that it costs about $1 billion more to put a chip fab in the U.S. rather than foreign countries like India or Ireland.
But the White House and Congress in 2006, driven by dire reports on worker skills and education, are addressing the challenge of growing American competitiveness with renewed fervor in 2006. Simultaneously, multinational companies are managing their global facility portfolios to keep their enterprises competitive. And all parties are evaluating the importance of open world trade and free markets to both kinds of competitiveness.
Such context gives added heft to Intel's many projects, whose development processes are as ongoing as the critical power and water flows in the fabs themselves.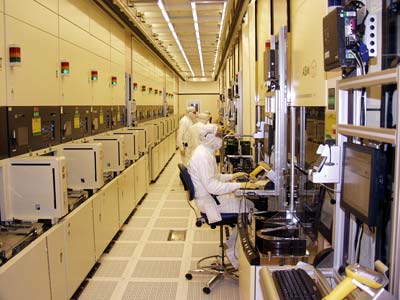 "Intel can only be strong if it has a work force that's capable of making sure this company is competitive in a global economy," said Pres. Bush during a February 2006 visit to the company's Rio Rancho, N.M., complex.
"Intel constantly evaluates sites for potential projects," says Leising. "For both of these projects we considered a number of sites, both existing and greenfield. At that time the Arizona and Israel sites were deemed to be the best choices. We do not talk about the specifics of an evaluation, but [Gov. Janet Napolitano's] signing of the single sales factor legislation in Arizona that reduced a disincentive to capital investment was certainly critical, as was Israel's granting of capital investment grants."
The 2004 Homeland Investment Act, which encouraged repatriation of foreign profits, also played a significant role in Intel's current investments in Arizona, Colorado Springs, Colo.; Rio Rancho and Hudson, Mass. Leising points out that "other activities at Intel, most notably R&D, are also eligible as part of the Homeland Investment Act." But the act was "a one-time waiver and does not resolve the long-term issue of the approximately $1-billion cost hurdle the U.S. faces in fab development and operations."
As it happens, $1 billion is approximately the value of the expansion price increase. Intel made a $2-billion expansion investment in Rio Rancho, N.M., about five years ago. That project, like the new one at Ocotillo, involved 1 million new sq. ft. (92,900 sq. m.), with a clean room space amounting to 135,000 sq. ft. (12,542 sq. m.). The investment was backed by a $2-billion industrial revenue bond from Sandoval County, payable over 20 years.
Fab 32, expected to employ 1,000 workers, will be the company's sixth 300-mm. wafer facility. Four of them are in Oregon, Ireland and New Mexico, churning out the equivalent of eight 200-mm fabs. Others under construction in Arizona (Fab 12) and in Ireland (Fab 24-2) have either just come on line or will do so soon. The upgrade of Fab 12 in Chandler is a $2-billion project.
The standards for water and power also continue to rise. Last year, we learned from Portland Gas & Electric in Oregon that the company's new standard for electric reliability is 99.999999 percent. Leising declined to respond on how utilities are measuring up or how much it's costing to do so, but on the importance of water, he says, "Water and wastewater are critically important, especially for fabs. If you cannot provide the necessary water and wastewater infrastructure and quality required, you will not be considered. It is a hinge factor in the decision."