o doubt Serta mattresses were long a staple item in the mattress departments of Sears, Roebuck & Co. stores across the U.S.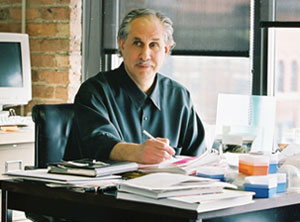 Andrew Metter, FAIA
Now the mattress maker is bedding down on former Sears land in Hoffman Estates, Sears' headquarters town a half-hour west of downtown Chicago.
Serta International
will situate its 90,000-sq.-ft. (8,361-sq.-m.) corporate headquarters on a 19-acre (7.7-hectare) parcel of land in Prairie Stone Business Park, a 780-acre (316-hectare) master planned high-tech business park 20 minutes from O'Hare Airport that boasts such amenities as a 100,000-sq.-ft. (9,290-sq.-m.) fitness center, on-site child care and a strong respect for the natural landscape illustrated by 100 acres (41 hectares) of open landscape. Construction began in the spring and will be completed by summer 2007. The transaction was brokered by Studley, which also serves as project manager. Due to the project's location in an enterprise zone, no sales tax will be paid on materials used for construction.
The visionary design comes courtesy of IAMC member organization and architecture, engineering and construction firm A. Epstein & Sons' annex|5 architectural design studio and its renowned architect Andrew Metter, FAIA.
"Outstanding architecture and beauty will be reflected in every aspect of Serta's new international headquarters," said Barbara Bradford, senior vice president of marketing for Serta International. It was her eye for unique design that landed on another Metter creation at Prairie Stone, the Renishaw building. That in turn sparked a query to Renishaw, where Metter's reputation meant she had to travel no further than the receptionist to learn the architect's name.
"Barbara is very geared toward aesthetics," Metter tells
Site Selection
. "Her responsibilities at Serta revolve around that – fabrics, the feel of material and so on. She responded to the building that way."
The project comes about after the 2004 merger of Serta and National Bedding, whose former facility has been housing the newly formed Serta International in 17,000 sq. ft. (1,579 sq. m.) of space. The new complex will house 110 administrative employees and will include a 20,000-sq.-ft. (1,858-sq.-m.) research center, a showroom and an auditorium for sales training. But it will endeavor to be so much more: "The design intent of the building is to float lightly on the landscape reinforcing the notion of environmental sustainability and echoing the lines of the prairie landscape," reads a statement from A. Epstein & Sons. Paramount to the design is plenty of natural light and equal visual access to the nearby wetlands for all employees.
Asked how important it was for an innovative design to have a park concept like Prairie Stone supporting it, Metter says, "We did look at other sites initially. One was in Elgin, one was in Elk Grove Village, all along the tollway. But a lot were rejected because the master plans did not lend themselves to a logical flow through the park that gave each building a dignified presence. For instance, you'd go past the loading docks of other buildings to get to your building. Prairie Stone is well planned, has a philosophy and a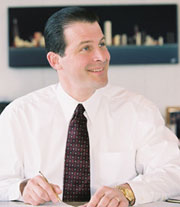 John Patelski
very sophisticated notion of landscaping involving the whole idea of preserving wetlands and storm water management. The green strategy allows for more innovative design. That was an important aspect of it."
Many of Metter's designs over 25 years were green long before any rating system was in place to assess them, incorporating natural light, ventilation and views as structural members of their worker-friendly aesthetic. One aspect of the Serta project that captures that aesthetic is the fact that its impervious area is around 35 percent, or 55 percent below the allowable threshold. In addition, even in a development that includes a forthcoming Cabela's store and stadium, the views from Serta headquarters promise to remain "pastoral," says Metter, helped by the parcel's proximity to the wetlands, its cardinal orientation and a 50-ft. (15.2-m) conservation easement required to be maintained by Serta.
IAMC member John Patelski, one of three newly appointed executive managing directors at the now 100-percent employee-owned A. Epstein & Sons, says the same word-of-mouth cycle may be beginning again, after someone asked him about the Renishaw project. A meeting with Metter quickly ensued, with the promise of another "site-specific exploration" glimmering on the corporate prairie.
– Adam Bruns