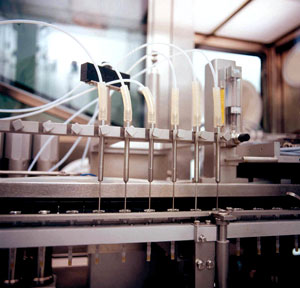 The flu vaccine syringe filling process at the Novartis cell culture facility in Marburg, Germany.
Two months after being one of five pharmaceutical companies to be awarded a total of more than $1 billion by the U.S. Health and Human Services Dept. (HHS) to develop domestic cell- based flu vaccine production, IAMC member company
Novartis
announced in July that its vaccine and diagnostics subsidiary would invest $267.5 million in a new plant in Holly Springs, N.C., southwest of Raleigh.
That cost will be borne in part by the $221 million awarded by HHS, as well $41 million in incentives from state and local governments. But Novartis leaders have said the total investment at the 350- worker complex could climb to $600 million as the vaccine is brought to market. The new 300,000- sq.- ft. (27,870- sq.- m.) plant, to be constructed on a 167- acre (68- hectare) parcel in Holly Springs Business Park, will have regular capacity of 50 million doses a year when it inaugurates operations in 2011, with the ability to ramp up to 150 million doses in case a pandemic strikes.
Chiron Pharmaceuticals, acquired by Novartis in April 2006, first looked into the Raleigh area in 2004. New scrutiny of the area occurred in the wake of the May 2006 awards from HHS.
Novartis is also making additional investments in its Marburg, Germany, site to expand capacity for flu cell culture vaccines production in Europe. In a press release, Novartis said it is seeking to become the first to commercially produce and market flu cell culture vaccines for European markets as well. As U.S. clinical studies continue, vaccines for EU and US clinical trials have been produced at the Marburg site.
The awards below for flu vaccine production were announced in May 2006 by the U.S. Dept. of Health and Human Services. Previously, HHS awarded Sanofi Pasteur a $97 million contract for development of a cell- based vaccine in April 2005. The total value of the contract to DynPort is actually $242 million, but that total amount is dependent on the company achieving certain milestones over the course of the contract.
Company
Funding Amount
GlaxoSmithKline
$274.75 million
MedImmune
$169.46 million
Novartis Vaccines
& Diagnostics
$220.51 million
DynPort Vaccine
$40.97 million
Solvay Pharmaceuticals
$298.59 million
Total
$1.004 billion
"We are taking the lead in moving flu cell culture vaccine manufacturing closer to a commercial reality now that the site for a U.S. manufacturing plant has been chosen and the first EU submission for a flu cell culture vaccine has been completed," said Dr. Daniel Vasella, chairman and CEO of Novartis.
However, France- based Solvay Pharmaceuticals, another one of the HHS award recipients, is also basing its U.S. vaccine development on already- completed work in Europe. In its case, Solvay is just finishing up a facility in the Netherlands, which will be the source for materials for U.S. clinical trials later this year, says Solvay U.S. spokesman Neil Hirsch. As for the company's U.S. site search, "the process is still ongoing," he says. Asked if there is a clause in the HHS contract stipulating a site selection deadline, Hirsch says there is not, though it is a milestone- based contract. Though no site has been chosen, he says, "Right now we're on track to produce during the 2011- 2012 season out of a new facility."
Marc Wolfson, public affairs spokesman with HHS's Office of Public Health Emergency Preparedness, tells
Site Selection
that the "contracts stipulate each company must submit a plan for establishing manufacturing facilities in the USA within nine months of the contract award." The contracts were awarded on May 4, 2006.
IAMC member
GlaxoSmithKline
is also aiming for the 2011 flu season. The company's U.S. headquarters are in the same Research Triangle area where Novartis is investing, but its flu vaccine investment is taking place in Marietta, Pa., where the company is refurbishing a plant formerly owned by IAMC member company
Wyeth
. GSK's HHS grant totaled $274.75 million, and came after the company had already committed $100 million toward the plant rehab. GSK on August 31, 2005, received FDA approval to make its current flu vaccine, Fluarix, available in the U.S. in time for the 2005- 2006 flu season. That supply was being manufactured at the company's Dresden, Germany, complex, which has seen doubling of capacity to meet worldwide demand.
GSK also recently announced it is investing $188 million in a new vaccine plant in Singapore, its first vaccine plant in Asia. The investment, involving 915,000 sq. ft. (85,000 sq. m.) in the Tuas Biomedical Park, is part of a plan to invest $2.5 billion over the next five years in vaccine development and product launches. The first phase of the Singapore investment will be devoted to pediatric vaccines. The company's vaccine production base is currently located primarily in and around Rixensart, Belgium, where most of GSK Biologicals' 1,500 employees work. Employing more than 200, the new Singapore facility complements GSK's existing presence in the city- state's successful Biopolis complex,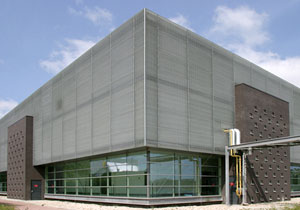 Solvay's new cell culture vaccine production facility outside of Amsterdam.
and brings the company's total investment in Singapore to more than $1 billion. GSK opened its Centre for Research in Cognitive and Neurodegenerative Disorders in Biopolis in 2005, and announced in November 2005 that it would add to its manufacturing presence in Jurong with a new $72- million R&D and pilot plant complex devoted to the development and manufacture of Active Pharmaceutical Ingredients. Novartis also recently opened an operation in Biopolis.
Though not an HHS grant recipient, IAMC member firm
Merck
is also developing a pediatric vaccine plant in the Research Triangle area: a $300- million, 272,000- sq.- ft. (25,269- sq.- m.) plant that will employ 200 when it opens in 2008. As documented by
Site Selection
in 2005, Merck's vaccine division is based in West Point, Pa., but there was not enough space there to accommodate the project, which will produce vaccines for measles, mumps, rubella and chicken pox. The search came down to North Carolina and a site west of Atlanta, Ga., on I- 20. That general vicinity was also in the running for the Novartis plant, and now is being robustly promoted to the Atlanta- based U.S. division of Solvay.
The more than $1 billion in HHS awards to the companies was part of $3.3 billion in Fiscal Year 2006 appropriations from the federal government for pandemic preparation, which also includes a separate round of contracts to companies developing antigen- sparing technologies, which stimulate protection using a smaller amount of vaccine. In June 2006, Fiscal Year 2007 emergency funding of $2.3 billion for the same purpose was passed by Congress. In earlier testimony before Congress, HHS Secretary Mike Leavitt had said that approximately $4.7 billion of the President's original $6.7- billion funding request would go toward "creating pandemic influenza vaccine production capacity and stockpiles" that would involve manufacturing capacity of 300 million courses (two doses per person) in case of a pandemic. Plans call for reaching that goal in phases between 2008 and 2013. HHS spokesman Wolfson says, "While Congress appropriated less than the President requested, the relative proportion of funding that will go to vaccine production will most likely remain."
That could spell more facility development opportunity for corporations and territories alike.
— Adam Bruns