'Freaking Awesome' City
Tops All U.S. Metro Areas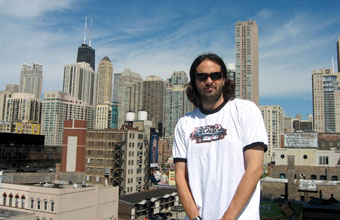 JUST HANGIN' OUT: Kudo Tsunado may be the vice president and general manager of EA Sports' regional headquarters in Chicago, but he's just like everyone else when it comes to enjoying all the amenities that downtown Chicago has to offer. Tsunado said the Windy City's vibrant pace and abundance of young talent led him and the other members of his executive team to select Chicago over such competing locations as Austin, Texas.
sk Kudo Tsunoda to explain why
EA Sports
selected Chicago for a new regional headquarters, and the executive at the global video game giant speaks in frank business terms: "The city is freaking awesome. It has such a vibe and pace to it."
At Electronic Arts, the world leader in electronic sports games, talk like that is part of everyday life in the business world – and Chicago's economic developers hope to hear a lot more of it.
By landing EA Sports' US$6 million, 200- job regional headquarters at 215 West Ohio in Chicago's River North neighborhood, the Windy City capped a remarkable year that saw the metro area secure 165 corporate facility projects totaling more than $5 billion in capital investment, according to the criteria established by the Conway Data New Plant database.
The Chicago- Naperville- Joliet area (including suburbs in Illinois, Indiana and Wisconsin) easily outdistanced No. 2 Washington, D.C.- Northern Virginia, which had 110 projects, and No. 3 Atlanta, which had 107. Chicago's victory made it two years in a row and five of the last six for the MSA with more than 9.5 million residents and a work force of over 4.5 million.
Rounding out the top 10 metros of 2006 were No. 4 Dallas- Fort Worth, followed by the metro areas of Cincinnati, Detroit, Houston, Charlotte, Indianapolis and Nashville.
While Phoenix did not make the top 10 in projects, the Arizona MSA placed second in capital investment, at $3.365 billion. St. Louis came in third with $2.315 billion.
Governor's Cup victor Ohio claimed the most Top Metros in 2006, with nine, followed by Virginia and Florida with eight each; New York, Alabama, Pennsylvania and Texas with seven each; and Indiana with six.
Tsunoda, vice president and general manager of the Chicago office of EA Sports and producer of the new Def Jam: Icon video game, tells
Site Selection
that his executive team selected Chicago because the city stimulates creative minds and enables EA to effectively recruit top young talent.
"Chicago is filled with cool neighborhoods," says Tsunoda, who grew up in New York City. "There's something for any kind of lifestyle you're looking to live."
Tsunoda says the selection of the seven- story, loft- like headquarters between the freeway and Michigan Avenue was the result of a collaborative process. Tsunoda and his team scoured the central U.S. looking for a vibrant, high- tech city that provides the quality of life EA needs to recruit top- end software designers, game developers, graphic artists and computer engineers.
These are the people who make the popular Madden NFL, NBA Live, Fight Night, Tiger Woods PGA Tour, NCAA March Madness and other sports video games that rank among the top- selling games in the world.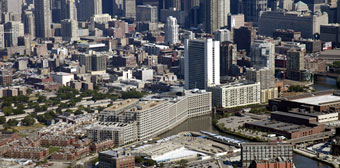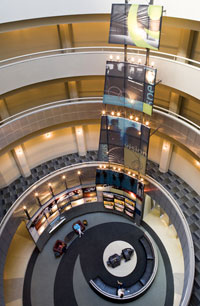 The recently renovated 600 West anchors Chicago's thriving new business hub in River North, located just minutes from traditional business centers in Chicago's downtown and Loop.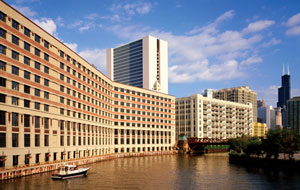 EA also owns the licensing rights to make games for NASCAR, the National Hockey League and FIFA, the international governing body for soccer.
"We looked at Austin, Texas, but it is hard to find a city that stacks up with Chicago," Tsunoda says. "I can walk from my office and see something cool just about anywhere I go. Chicago has a really good video game community already here. It is active, thriving and growing."
The new EA complex, which opened in late October 2006, is designed as a "pure game development studio," adds Tsunoda. "Eventually, we will add other publishing functions, marketing and public relations support for getting the games to market. This building will hold around 300 people, so we have plenty of room to grow."
Staubach Realty represented EA, "and they were extremely helpful in finding the locations and working through things with the city and the building," Tsunoda says. "Chicago is cutting- edge and has been very supportive of our relocation from Hoffman Estates. Both the city and the state of Illinois were very helpful in bringing us here. The hope is to make Chicago a long- term home and make it one of the premier studios within the EA world."
Paul O'Connor, executive director of World Business Chicago, calls EA Sports "a critical piece. Chicago historically has been a town of radical economic change. We had been manufacturing based, but the shift in our economy had been toward white- collar jobs and professional business services. The lagging piece was the engagement of the technology sector. To see that piece kicking in strongly, combined with our professional talent pool, means the Chicago economy can play with anybody and adapt in the global economy."
The Chicago building boom won't subside anytime soon, O'Connor says. "This city is really on fire. It is rocking and rolling. Mayor Richard Daley's transformation of the neighborhoods is making these areas a great place to live and raise a family, and that in turn has created the highest- end talent pool that is clustered within three or four miles of downtown."