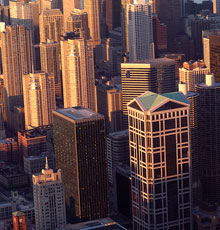 In a site selection process that garnered plenty of attention if not a lot of suspense, United Airlines chose to keep its corporate headquarters in the Chicago metro, coming downtown to locate at 77 West Wacker.
Corporate Attraction a
Full Contact Sport
Other major projects of the past year include
United Airlines
and
The Big Ten Network
. United invested $72 million to establish its new corporate headquarters at 77 West Wacker Drive.
Stating that "it's time to fly," United Airlines Chairman, President and CEO Glenn Tilton in July ended months of speculation by declaring downtown Chicago as the permanent world headquarters of "our hometown airline."
United had been headquartered in Elk Grove Township since 1961, but competing offers had come in from Denver and San Francisco. In the end, United decided to stay home and become part of Chicago's central city renaissance. United will consolidate several of its suburban facilities and create an operations center on its campus in Elk Grove Township. Those who support day- to- day operations now will be together in one location.
"Chicago has everything a world- class corporate headquarters could ever want – the best and the brightest people, the ability to travel virtually anywhere and a great quality of life,"
said Illinois Gov. Rod R. Blagojevich.
United will receive $5.25 million in tax increment financing from the city of Chicago and $1.35 million in grants from the Illinois Department of Commerce and Economic Opportunity for infrastructure improvements and job training. Additionally, both the city and the state will propose legislation to cap the jet fuel tax for the next five years.
The chase for The Big Ten Network, ironically, was a preview of the Super Bowl, pitting Chicago against Indianapolis for the right to win a $23.5- million capital investment and 136 jobs.
After intense competition worthy of Roman numerals, the network announced it would locate its studios and offices in a 44,000- sq.- ft. (4,088- sq.- m.) complex at 600 West Chicago, formerly the Montgomery Ward & Co. Catalog House. The site was designated a national landmark in 2000.
"It is fitting that The Big Ten Network, a channel dedicated exclusively to collegiate athletics and university life, will make its home in Chicago, a city that is so passionate about college sports and education," said Big Ten Commissioner James E. Delaney.
O'Connor said it didn't hurt that a "very dense population of Ohio State graduates lives right here in Chicago."
Fresh off that sports win, Chicago has its sights set on landing an even bigger prize: hosting the 2016 Summer Olympic Games. By mid- April, the United States Olympic Committee will decide which of two American cities – Chicago or Los Angeles – will be submitted to the International Olympic Committee for the IOC's final decision in 2009.
"You have to guarantee $25 million from local businesses just to cover the cost of bidding to the IOC," says O'Connor. "But if you believe in yourselves and your city, you do it."