This week the U.S. Bureau of Economic Analysis (BEA) for the first time revealed data on foreign direct investment in the U.S. in 2022 that showed a 51% decrease to $177.5 billion (preliminary) — significantly below the average of $298.8 billion for 2014-2021. The manufacturing sector, at $55.2 billion, accounted for 31.1% of total expenditures.
"Total planned expenditures for greenfield investment initiated in 2022, which include both first-year and future expenditures, were $85.7 billion," the BEA reported. "By industry, total planned expenditures for greenfield investment were largest in semiconductors and other components manufacturing and in electrical equipment, appliances, and components manufacturing, which includes batteries."
The United States accounts for 4% of the world's population and 13.7% of the world's inward FDI.
sources: BEA and UNCTAD
By region of ultimate beneficial owner (UBO), Asia and Pacific had the largest total planned expenditures. By U.S. region, the Southwest had the largest total planned expenditures.
Among other findings (and one major caveat):
By state, California received the most investment, totaling $29 billion, followed by Texas ($20.7 billion) and Illinois ($10.9 billion). Here is how the rest of the Top 10 shake out:

| | |
| --- | --- |
| 4. Pennsylvania | $10.6 billion |
| 5. New Jersey | $10.3 billion |
| 6. Florida | $9 billion |
| 7. North Carolina | $8.3 billion |
| 8. New York | $7.6 billion |
| T9. Massachusetts | $6,682,000,000 |
| T9. Tennessee | $6,682,000,000 |

However (here's that caveat), FDI investment figures in 18 different states — including prominent FDI recipients such as Arizona, South Carolina and Georgia — were suppressed "to avoid disclosure of data on individual companies." Those undisclosed figures total nearly $18 billion, or almost 10% of the U.S. total.
California and Florida had the largest employment resulting from new investment (13,400 each), followed by Texas (13,300) and Illinois (11,200). Next in the Top 10:

| | |
| --- | --- |
| 5. Pennsylvania | 8,500 |
| 6. New York | 8,300 |
| 7. Ohio | 7,000 |
| 8. Indiana | 6,300 |
| 9. New Jersey | 4,800 |
| 10. Wisconsin | 4,600 |

The manufacturing sector accounted for a full 65% of greenfield FDI with a total of $5.3 billion, led by computer and electronic products ($1.8 billion). By state, California is cited with the highest level of greenfield investment ($1.5 billion), but again, that leaves out such multibillion-dollar FDI recipients as Georgia and Arizona.
By country of UBO, the country investing the most was Canada, with expenditures of $37.9 billion. The United Kingdom ($34.7 billion) was second, followed by France ($16.5 billion). By region, Europe contributed 57.4% of new investment in 2022.
FDI Into Europe
Does the U.S. return the favor? Another recently released FDI resource is the EY European Attractiveness Survey 2023, which finds that European inward FDI was up by 1% in 2022 but remains 7% below pre-COVID-19 level. U.S. corporate investment accounts for 21% of the projects (1,240 total), by far the most of any country.
Companies announced 5,962 greenfield and expansion projects in 44 European countries in 2022, compared with 5,877 in 2021. Meanwhile, FDI-affiliated jobs created fell by 16% year-over-year. A C-suite survey conducted as part of the research found that 29% of responding businesses have postponed planned investments as a direct result of the energy crisis.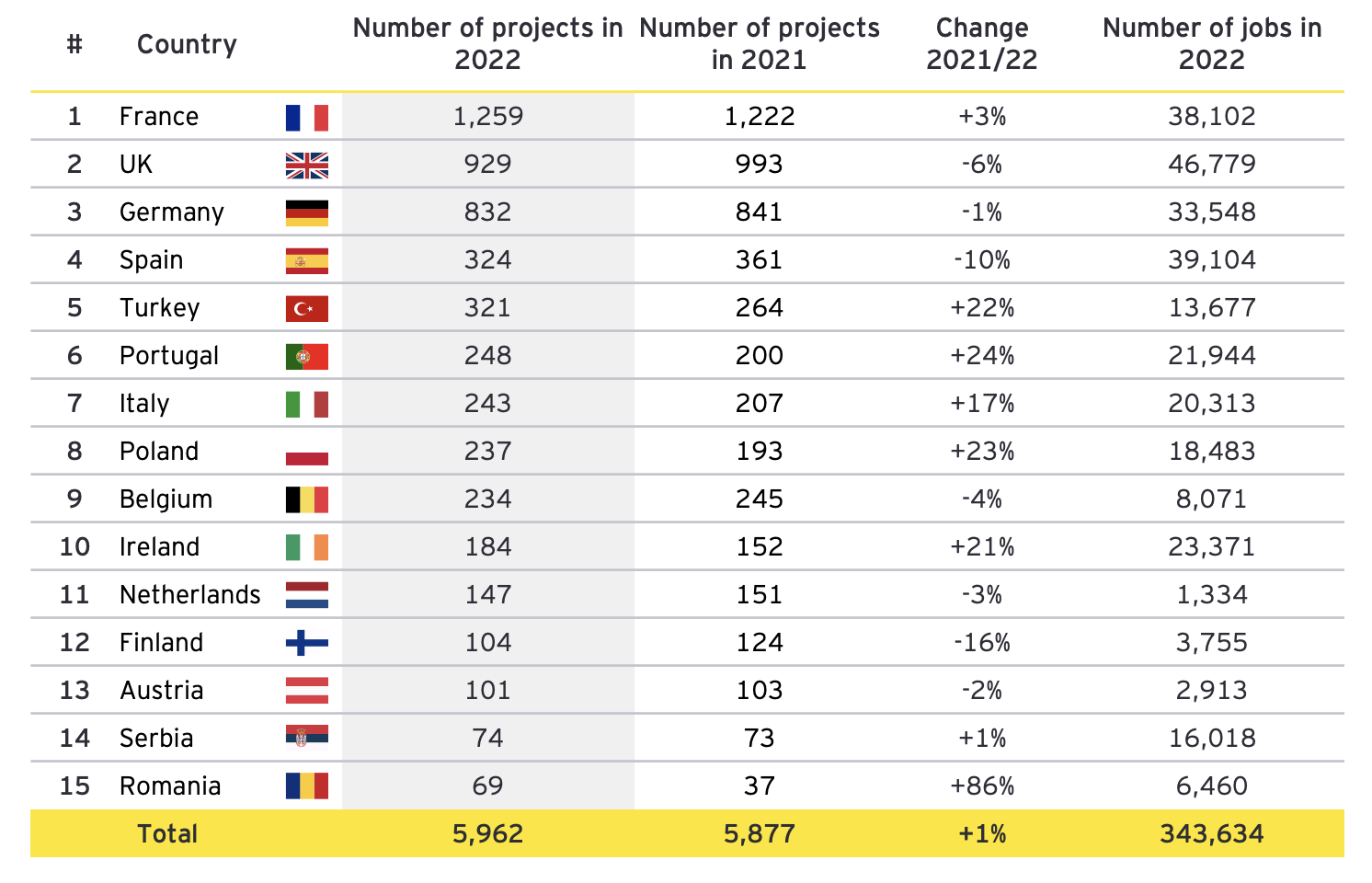 source: EY
"France, the UK and Germany continue to attract the bulk of FDI and retain the top three spots, accounting for around half of total projects," the report stated. "But in 2022 their performance was muted: FDI projects edged up 3% (1,259 projects) in France but were down 6% in the UK (929) and 1% in Germany (832)."
"There is scope for optimism, as 67% of the businesses surveyed indicate plans to establish or expand operations in Europe over the next year," the EY report stated. Among other findings:
Romania is among the top 15 countries in Europe in terms of the number of FDI projects, with 69 projects in 2022, a significant increase of 86% compared to 2021, and pronounced investment in the semiconductor manufacturing sector. "Romania demonstrates that it has become a mature economy with substantial future growth potential, ranking fourth in Europe in terms of new job creation with 239 jobs created per new project in 2022, after Serbia, Spain and Hungary," said EY. "One of the most striking features of the 2022 vs. 2021 data is the growth of FDI projects in several southern, central and eastern European states, including Italy (+17%), Poland (+23%), Portugal (+24%), Romania (+86%) and Turkey (+22%)."
Ireland, where FDI investments were up by 21%, "bucked the trend by recording a substantial increase, partly reflecting its agile, pro-business agenda and appeal to large U.S. corporates."
The biggest sector for FDI projects in 2022 was software and IT services, up 8% and accounting for 20% of total projects. It was followed by business services and professional services, up 27%. However, only 33% of respondents plan to increase their investment in manufacturing. "Encouragingly," the report said, "64% of executive respondents expect to increase their European footprint in R&D over the next three years." (Watch for more analysis of further EY findings in an upcoming installment of the Site Selection Snapshot.)
The Rest of the World
For global FDI perspective, UNCTAD's World Investment Report 2023 published July 5 finds that global FDI declined by 12% in 2022, to $1.3 trillion, after a strong rebound in 2021 following the steep drop induced by COVID-19 in 2020. That means the above-cited U.S. inward FDI figure of $177.5 billion accounted for roughly 13.7% of all global FDI last year. (The U.S. population of 335 million, meanwhile, accounts for just over 4% of the world's total of 7.98 billion.)
Among the report's findings:
Developing countries accounted for two-thirds of global FDI in 2022, with Latin America and the Caribbean experiencing a significant increase as flows increased by 51%, reaching $208 billion, the highest level ever recorded.
"In South America, flows to Brazil rose by 70% to $86 billion — the second-highest level ever recorded — due to a doubling of reinvested earnings," the report said. "The number of international project finance deals rose by 29% to 138, ranking the country fifth worldwide. FDI more than doubled to $15 billion in Argentina, doubled in Peru to $12 billion and rose by 82% in Colombia, to $17 billion. Flows to Mexico, the second-largest recipient in Latin America, increased by 12% to $35 billion, with a rise in new equity investment and reinvested earnings. The value of net cross-border mergers and acquisitions (M&As) jumped to $8.2 billion (from less than $1 billion in 2021).
While FDI flows to Africa declined to $45 billion in 2022 from the record $80 billion set in 2021, the number of greenfield project announcements rose by 39% to 766. "Six of the top 15 greenfield investment megaprojects (those worth more than $10 billion) announced in 2022 were in Africa," UNCTAD said. While many regions of the continent declined, North Africa was on the upswing as Egypt "saw FDI more than double to $11 billion as a result of increased cross-border merger and acquisition (M&A) sales," UNCTAD said. "Announced greenfield projects more than doubled in number, to 161. International project finance deals rose in value by two-thirds, to $24 billion."
— Adam Bruns