E
ven if you're a major-domo at
IBM
, simple technology can bedevil you at the damndest moments.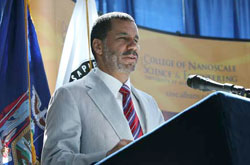 That's just what happened to John E. Kelly III on May 11th, as the IBM senior vice president and director of research was answering an important phone call. At the other end of the line was
New York
Gov. David Paterson. The governor and Kelly had been playing phone tag, trying to talk some serious turkey about IBM's expansion plans.
But when the two men finally hooked up on Mother's Day, they hit a communications breakdown – the IBM's executive's phone wasn't quite working. Kelly's cell kept cutting out from his vacation digs, nestled on Lake George in northern New York's Adirondack Mountains.
Nonetheless, Kelly and Paterson managed to forge a big-time connection. That call set the wheels in motion for IBM's July 15th announcement that it's going to spend US$1.5 billion in expanding and upgrading its operations in New York, creating 1,000 new high-end jobs and retaining 1,400 more. In exchange, New York is ponying up $140 million in incentives.
"This [expansion] had been discussed for some time with the previous administration," Paterson said in explaining the phone call. "The case was that time was running out. IBM was on the threshold of a major business problem. So what I called Mr. Kelly to say was, basically, 'I'm new here. I'd like to try to work this out.' "
Paterson was definitely a new kid on the governmental block. As lieutenant governor, he'd unexpectedly stepped into the governorship on March 17th, when Eliot Spitzer abruptly resigned in the wake of a scandal. New York's neophyte governor, though, was spot-on in his assessment of IBM's business dilemma, Kelly noted at the expansion announcement, held at the College of Nanoscale Science and Engineering at the University at Albany (Albany NanoTech).
"Time is of essence in industry," Kelly explained. "We need to move forward, for technology to move forward at a rapid pace called
Moore's Law
.
"We can't slow down. We need to meet certain time schedules to be competitive on a global basis. It took the governor's personal interest and intervention in this to make this [expansion] happen."
IBM will now accelerate its technological development via three separate New York projects:
• a $375-million expansion of its operations at Albany NanoTech that will create 325 new jobs;
• a new $125-million, 675-employee R&D center for advanced semiconductor packaging, which will be owned and managed by Albany NanoTech and located at a still-to-be-determined site in
upstate New York
; and
• a $1-billion upgrade to IBM's existing semiconductor manufacturing operations in East Fishkill in Dutchess County.

$140M Incentives 'a Very Pragmatic Move'
In addition, IBM signed on for a substantial job-retention commitment in the bargain to secure New York's $140-million aid. The company promised that it won't ax any of East Fishkill's 1,400 existing semiconductor positions during this year.
That pledge comes as the company is cutting jobs in its slumping microelectronics sector.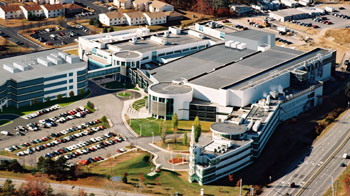 On June 24th, for example, IBM laid off 180 employees at its semiconductor manufacturing and development facility in Essex Junction, Vt. The Vermont plant now has 5,400 employees, 36 percent less than the 8,500 that it had in 2001.
"When IBM has to decide where it wants to grow, we wanted that answer to be New York," said Avi Schick, president of the Empire State Development Corp. "When they have to contract or lay off, we want that to be elsewhere. And I think that's the commitment we got today."
Holding IBM's expansion announcement inside Albany NanoTech underscored one of the deal's central elements. A $3.5-billion, 450,000-sq. ft. (40,500-sq.-m.) complex,
Albany NanoTech
will be the key research partner in the two IBM projects creating the 1,000 new jobs. And that kind of linkage, Paterson asserted, is an essential element in jump-starting the state's economy.
"This is a momentous occasion, and it is a tremendous example of the cooperation between the public and private sector, which is what we're going to need to reignite the engine of this state's economy," the governor said. "This is going to bring to New York what IBM did in the 20th century. This … and so many other companies, acting in public-private partnerships, is going to restore what is really prosperity in New York."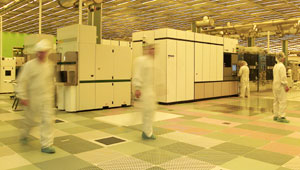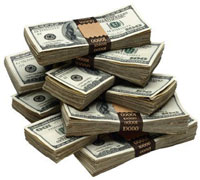 A sizable sum at any time, the state's $140 million in incentives are particularly striking considering the $26.2-billion deficit New York is facing over the next three years (see "NY's Mounting Money Problems"). Paterson, though, maintained that the incentives are an investment that will yield a rich return.
"When you look at the jobs savings and job creation, when you invest $140 million and get back $1.5 billion, I think that even in the worst of times it makes this a very pragmatic move," the governor said at Albany NanoTech. "This is one of the steps we took to turn New York around
"We talked about [IBM's incentives] for a period of time before we did it," Paterson continued. "We didn't want to rush into this hastily or uninformed. We can't afford to be investing in anything that we're not absolutely sure is going to be for our benefit."
The Armonk, N.Y.-based company will receive $90 million in state grants from the current 2008-09 budget, with another $50 million coming from the 2009-10 budget.

Pondering the Payoff
At least on paper, New York seems set to reap a major economic return from IBM's expansion. Nonetheless, granting $140 million in incentives during New York's stern financial crunch inevitably raises a question: Will those incentives actually pay off?
Only time, and results, will provide solid answers. A 2000 IBM deal in New York backed by substantial state subsidies yielded mixed results.
For the moment, one observer who sees a strong rationale for the IBM incentives is Kent Gardner, a New York-based economist and president of the nonprofit Center for Governmental Research (CGR). In the past, Gardner has sometimes felt quite differently,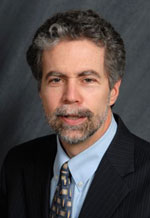 criticizing the state's economic development subsidies.
"While I'm often cynical about the use of public funds to promote specific industries, I believe that this is an appropriate expenditure," Gardner tells the SiteNet Dispatch from CGR's offices in Rochester. "That's particularly true since only a portion of the state's investment will be used to directly enhance an IBM facility. Given the challenges confronting the state of New York's economy, retaining jobs with IBM and creating additional R&D jobs in the semiconductor industry is very important."
But will those additional new jobs actually materialize? They ultimately did after
IBM's 2000 announcement that it was going to create 1,000 new positions at a $2.5-billion East Fishkill chip plant
. That project was supported by $660 million in state and local incentives.
On the other hand, there's what's happening in Tulsa, Okla., where IBM announced in late 2004 that it was going to create 1,000 new jobs by 2009. In return,
Oklahoma
agreed to grant a 10-year, $35.2-million tax rebate. But a January state Commerce Department report showed that Big Blue had about 1,200 Tulsa employees – roughly the same number it had back in 2004.
But the largest slice of New York's subsidies – $65 million – is going for job-retention grants to keep East Fishkill's semiconductor jobs intact. That, Gardner feels, is also a prudent use of state funds.
"No one outside IBM knows whether the 1,400 jobs at IBM's Fishkill facility are truly at risk," he says. "If they are, then the return on the state's investment in incentives is significantly higher. To the extent that these jobs are at risk, this is an appropriate use of public funds. Jobs like the ones at IBM are enormously important to the economy of the region and state."
IBM, however, didn't meet its job-retention goals in the New York expansion announced in 2000. The biggest portion of the company's incentives in that deal was pegged to Big Blue's
statewide
employment. And despite the 1,400 new semiconductor jobs created in East Fishkill, IBM's overall New York employment actually dropped in the subsequent years the subsidy agreement covered. As a result, the company wasn't awarded $475 million of the state's $660 million in pledged tax breaks and incentives.

Getting Smaller Meant Getting Bigger
One factor, though, seems to bode particularly well for the jobs involved in IBM's New York growth – the mission-critical importance of the expansion initiative. The genesis of IBM's large-scale New York growth springs from a world of microscopic fractions far smaller than a human hair. The Empire State expansion is being driven by IBM's accelerated efforts to pack more and more computing power onto ever-smaller computer-chip circuitry.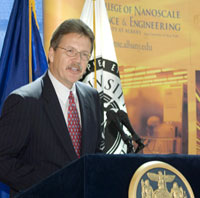 "Today we have nearly 1 billion transistors on a semiconductor chip the size of a fingernail," Kelly said. "With nanotechnology, we will increase that to 10 [billion] to 100 billion transistors per chip in the next several years."
For IBM researchers at Albany NanoTech, the near-term goal will be to create chips features with widths of only 32 nanometers – the size of a few atoms. Then IBM's research team will work to further minimize etched-in chip features to 22 nanometers, said Kelly. By way of comparison, a single human hair has a thickness of approximately 80,000 nanometers.
"Once you're able to manage individual atoms and molecules, you can build any system, you can design it to have any properties you want," Albany Nanotech CEO Alain Kaloyeros explained as IBM unveiled its plans. "So it's basically the holy grail."
IBM's existing nano-chip operation at Albany NanoTech is the college's largest tenant, with more than 200 employees. IBM's presence has been a strong draw for the school, which was ranked last year by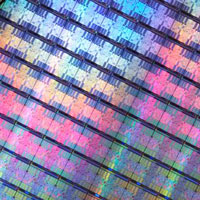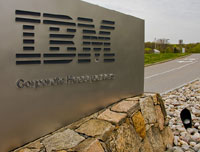 Small Times
magazine as the world's No. 1 college for nanotechnology and microtechnology.
ASML
,
International Sematech
and
Tokyo Electron
are among the other major companies that have set up operations at the Albany complex.
IBM's upgraded East Fishkill plant will manufacture the more advanced chips developed at Albany NanoTech. Corporate customers are already lined up to buy those chips, according to IBM officials. Nano-chips are used in a broad range of products, including high-end personal computers and laptops; high-performance servers and supercomputers; virtual reality and advanced electronic games; and medical components and devices.

Packaging Center Could
Have 'Enormous Impact'
IBM is still in the process of selecting a site for the R&D semiconductor packaging center. Thus far, the company has only indicated that the 120,000-sq.-ft. (10,800-sq.-m.) facility will be somewhere in upstate New York.
That center will play a major role in IBM's nano-tech plans. In the world of advanced semiconductors, the packaging process is essentially a final stage of assembly. Packaging entails encasing the chips and their interconnections so that they're ready for use in electronic devices. And as chips become more complex, so, too, does their packaging.
"The new packaging center will allow us to connect the macro world with that nano-scale world, and the impact will be enormous," Kelly said.
In addition to Albany NanoTech, Rensselaer Polytechnic Institute (RPI) will be an academic partner at IBM's new packaging center. RPI will be a tenant as well in the new building.
IBM says that it will begin its New York investment and job creation by 2009, with all three projects completed by 2011. Not all of the company's $1.5-billion investment will be in cash, company officials said. An unspecified portion of the funds for the Albany NanoTech expansion and the new packaging center will come in the use of IBM intellectual property and equipment, they explained.
How IBM's New York expansion plans play out in reality obviously remains to be seen. CGR's Gardner, though, feels that the company's three new projects will ultimately strengthen the state's economic competitiveness.
"Much of New York's traditional industrial base has been lost to emerging economies around the world and more vigorous economies in other parts of the United States," he says. "But the state retains an usually deep higher education/R&D infrastructure. It makes abundant good sense to continue to support one of the economy's bright spots."
Paterson sounded a similar note in explaining the state's weighty IBM subsidies.
"This IBM expansion is going to cement New York as the world leader in nanotech, and in science and technology research development," the governor said at the Albany announcement. "We're going to play a hot hand."