HAMILTON, Ontario, Canada
– Breaking ranks with the Canadian government's heretofore hands-off posture,
Ontario
(
www.gov.on.ca
) has created a five-year $US369-million incentives fund squarely aimed at the auto industry. Home to a large segment of Canada's sizable auto sector, Ontario ranks second only to Michigan in North American state/
provincial output.
"It would be a huge mistake to take Ontario's success in the auto sector for granted," Premier Dalton McGuinty said at a news conference announcing the incentive initiative at McMaster University.
"Ontario faces unprecedented competition for auto industry investment," continued McGuinty, who chose to make the announcement near the site of the Canadian Automotive Parts Manufacturers' Association (CAPMA at
www.apma.ca
) annual conference. "We're competing with jurisdictions around the world, and these people are extremely aggressive."
Ontario's subsidies are aimed at large projects that either involve a capital investment of at least $222 million or that create or save more than 300 jobs. (All dollar amounts in this report are in U.S. currency.) The incentives are limited to a maximum of 10 percent of an individual project's total investment.
Many Canadians over the last few years have been pushing loud and hard for stronger auto incentives. Three assembly plants have closed in the last 24 months. In addition,
DaimlerChrysler's Chrysler Group
in early 2003 pulled out on its plans to build a $1.2-billion, 2,500-workers assembly plant in Windsor, Ont. (For
full details, read Managing Editor Adam Bruns' story "
Chrysler's 'End of the Day' Not Kind to Windsor
" from the
Special Report archives
.)
Canadian Auto Workers (CAW at
www.caw.ca
) President Buzz Hargrove reacted to the cancellation by blasting the lack of state and federal auto incentives.
"One more time, we have blown an incredible opportunity to stop the decline of Canada's most important industry," said Hargrove, who personally heard the first news of the pullout from Chrysler Group Senior Vice President of Employee Relations John Franciose. "We were absolutely devastated when they informed us that they were not going to do the project. It is just a horrible decision for Windsor, our union, the province of Ontario and Canada.
Incentives Hefty in Many
Recent Auto-Industry Projects
The federal government is still mulling over what it will do about auto-industry incentives. Ontario, though, has pulled the trigger on its own. And this time around, the CAW's Hargrove was elated.
"This strategy was something Premier McGuinty talked about during the election," he said at the incentives announcement. "The big thing I've been yelling for is, 'Let's stop the bleeding.' He (McGuinty) has listened to us and this strategy is going to be good news for this industry and great news for the province of Ontario.
"This is a positive and welcome change from previous governments," continued Hargrove. "[They] took our sector for granted, when other jurisdictions were stepping up to attract investment and jobs that we want for Ontario."
Indeed, hefty incentives have been a fixture in most recent auto-plant announcements. Many of those projects have gone to the U.S. South - or "Detroit South," as some industry observers have taken to calling the region. Five new plants, for example, have either come online recently or are being built in Alabama, Mississippi and Texas.
Incentive packages in recent years in the South have included Alabama's $158 million for
Honda's
$400-million, 1,500-employee plant; Mississippi's $363 million for
Nissan's
$1.4-billion, 5,300-job plant; and Texas' $133 million for
Toyota's
$800-million, 2,000-employee plant.
But lavish incentives certainly aren't limited to below the Mason-Dixon Line. In recent years, for example, Michigan ponied up $256 million in subsidies to entice
General Motors
to build two new plants, while Indiana's $62.5 million in incentives helped land
Hummer's
$239.5-million, 1,500-employee plant.
Opposition Charges That Program
Is Simply a Shift of Existing Funds
McGuinty's opposition, however, charged that the Canadian Liberal Party premier had only shifted funds that had already been allocated by the previous Tory administration, headed by Ernie Eves. Eves' administration created a $462-million R&D fund last year. That fund was designed to facilitate investments from manufacturers including aerospace, automotive, chemical and pharmaceutical companies. Eves' initiative marked the first time that automakers were allowed to compete for such subsidies.
McGuinty conceded that his program will use the $369 million that remains in the Eves-created fund. He countered, however, that the new initiative's focus and guidelines are a sharp departure.
"We're actually saying we are dedicating this to the auto sector," McGuinty said. "That makes it dramatically different from the Tories."
Another difference in the new program is the greater latitude that it gives auto firms in spending the subsidies as they wish. That approach mirrors what automakers have been recommending through the Canadian Automotive Partnership Council (CAPC), a joint industry-government committee that was created in 2002.
At the same time, though, companies that qualify for the subsidies will have to meet still un-quantified guidelines, Ontario Economic Development Minister Joseph Cordiano explained at the program's announcement. Firms will only receive the full amount of incentives if they meet guidelines in five specific categories that are eligible for spending. Those spending categories for subsidies include innovation and research and development, infrastructure, energy efficiency, environmental technology, and training and skills development.
"Those things are going to be legacies for Ontario, and they're going to be investments for the long term, not short-term handouts," Cordiano explained.
Ontario's Move Ups Heat on Ottawa
Ontario's move ratchets up pressure for the Canadian government to devise its own subsidies.
"Now it's time for the federal government to pony up," McGuinty said.
Similarly, Hargrove stressed that action in Ottawa is "absolutely crucial. Our industry is in crisis."
Further upping the heat on the federal government is the proposal that
Ford Motor Co.
announced in early March for a $740-million flexible assembly operation in Oakville, Ont. The new plant would be created from Ford's existing Oakville minivan assembly plant and the company's adjacent truck plant. (The truck plant is scheduled to close in July as part of the cost-cutting moves that Ford announced in early 2002.) The new operation would retain the two existing plants' 3,000 jobs and could possibly create thousands more.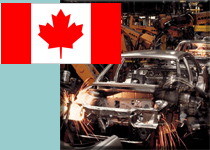 Canada's Auto Industry:
By the Numbers
50,000: The total number of workers currently in Canada's assembly plants.
331,000: Estimated number of direct and indirect jobs in Canada's auto industry.
$2.28 billion: Average annual investment in Canada's auto industry during 1990-99.
45: The percentage of 2003's total exports that the auto industry accounted for in Ontario, the stronghold of Canada's automotive sector.
400: The number of auto-parts manufacturing firms in Ontario.
16: The number of auto assembly plants in Ontario, 14 of them making light vehicles, the other two making heavy trucks.

Sources: Federal and provincial statistics.
Incentives, though, are where the proposal could hit a major snag. Ford has indicated that it's looking for government assistance of between $139 million and $208 million. Ontario's new program could provide some of that amount, but not all. With the 10-percent maximum per project, the province's assistance would top out at $74 million.
That's where federal government assistance will - or won't - come in.
Politicos in Ottawa have made encouraging noises of late.
"There is a kind of urgency here," Industry Minister Lucienne Robillard told the CAPMA conference in the wake of Ontario's incentives announcement. At the same time, though, Robillard told conference attendees that the federal incentives policy probably won't be in place before the end of the year.
GM Exec: 'We Cannot Put
Decisions or Actions on Hold'
Whether federal action comes in time to affect Ford's decision remains to be seen.
"Auto assembly plants are the engine that drives this economy," General Motors of Canada President Michael Grimaldi said at the announcement of Ontario's new subsidies program.
But regardless of political schedules, auto-industry decisions do - and must - go on, he added.
"No one's waiting for government to take action," said Grimaldi, who's also co-chairman of the CAPC. "We cannot put decisions or actions on hold. That has been very clearly communicated to all levels of government. A sense of urgency is needed."
Ontario, it seems, has grasped that urgency.
"We have put our money where our mouth is," McGuinty said.