PORTLAND, Ore. — Locked in a battle with Singapore (www.sedb.com) Portland, Ore. (www.pdc.us) is amassing a whopper of an incentive package for Siltronic's (www.siltronic.com) new 300-millimeter silicon wafer plant.
The Oregon city's support spans a very broad-ranging front. Siltronic's proposed incentives include funds from a new industrial urban renewal district, the Governor's Strategic Reserve Fund (for training) and the U.S. Department of Housing and Urban Development (HUD at www.hud.gov). Another major Portland lure is an under-wraps plan to have private parties build Siltronic's plant and then lease it back to the German company.
Siltronic is projecting that its new 300-millimeter manufacturing facility will cost from US$466 to $565 million. The plant will at first employ 500 workers, with that number subsequently rising to 1,000 if a tentatively planned expansion pans out.
A division of Wacker Chemie, Siltronic announced its expansion plan in May of 2004. Initially company officials said that five cities were under consideration, with Portland the lone Western Hemisphere contender. The competition has reportedly narrowed to Portland and Singapore, two cities in which Siltronic already has 200-millimeter wafer plants. The company in May estimated that it would make a final site decision as early as July.
But other issues derailed that schedule. Siltronic on March 24th delayed its European IPO, expected to raise as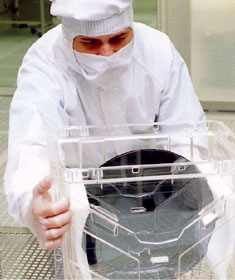 much as $1.2 billion. That would've bankrolled the new 300-millimeter plant. The IPO pullback came after high-profile terrorist attacks in Spain and Israel added market risks and weakened European tech stocks. Another German firm,
X-FAB Semiconductor,
pulled its IPO a week earlier, citing similar market conditions. With sluggish chip demand, Siltronic's public offering remains on hold.
Portland, though, is continuing to finalize an inventive incentive scheme to give the restructuring company's expansion a very big boost. Going against Singapore, that strategy is a virtual necessity. In addition to far lower wages, the Asian city-state offers subsidized construction loans and partial or full tax holidays. Siltronic's Singapore holidays would likely last six to 10 years.
PDC Backs New Urban Renewal District
One big piece of Portland's recruiting strategy snapped into place on Oct. 13th: The Portland Development Commission's (PDC) board unanimously voted to propose creating a new industrial urban renewal district in the city's northwest area. The district would span 751 acres (300 hectares) along the Willamette River.
The actual creation of the district now moves to the Portland City Council. A council vote is expected in late November.
If approved, the new district would generate about $200 million over a 20-year period for industrial development, according to city officials' estimates. The funds would come from new and increased property taxes. Those tax revenues would then be used to pay for area revitalization projects, most financed with bonds.
In addition, local leaders plan to earmark some $65 million of the district's funds that Siltronic could recapture in property taxes if it picks Portland.
"We would help ensure that a company that already provides quality jobs remains a vital part of our community," said Portland General Electric CEO Peggy Fowler, co-chair of the PDC's Portland Ambassadors committee that's spearheading Siltronic's recruitment. "The community would get hundreds of new jobs and millions more [dollars] in new taxes. And we would utilize industrial land that would otherwise remain vacant."
Siltronic, in fact, was first drawn to Portland in part by an urban
renewal area. In 1978, the city created the Front Avenue urban renewal area to develop support infrastructure for a wafer plant proposed by what was then known as Wacker Siltronic. The company opened its Portland facility in 1979. The plant now employs some 1,100 people on an 84-acre (33.6-hectare) site on the Willamette's west bank. (The Front Avenue urban renewal area expired in 1992.)
HUD Support Totals $28 Million
The new renewal district's added property taxes would also fund cleaning environmentally polluted land. About 150 acres (60 hectares) of the proposed renewal area are undeveloped, but unusable in its current condition. Siltronic's proposed plant site was once home to an oil gasification plant.
HUD on October 14th gave Portland a boost in cleaning up that site. The federal agency awarded the city $28 million in grants and low-interest loans.
That funding includes a $2-million Brownfield Economic Development Initiative grant to assist with the Siltronic site's cleanup, plus $26 million in guaranteed low-interest loans. The city applied for HUD assistance as part of its effort to recruit Siltronic.
Portland Mayor Vera Katz called the award a "very valuable economic development tool. The $2-million grant. . . is a critical piece of an aggressive and compelling incentive package we have assembled to recruit the Siltronic expansion to Portland."
The HUD assistance is expressly for the German firm's expansion. If Siltronic decides to locate elsewhere, the city will lose the aid - at least if local officials can't convince the agency that the funds can be used for other economic development.
(The Portland assistance was part of HUD's award of $24.6 million in grants and almost $119 million in loan guarantees to 17 communities. For a full listing and project descriptions, go to
http://www.hud.gov/news/release.cfm?content=pr04-112.cfm
.)
Leaseback Offers Major Financial Returns
City officials have played it close to the vest with details of the proposal for private investors to build Siltronic's plant. But company officials have allowed that the plan is a major attraction for the wafer plant.
The Portland Family of Funds (
www.portlandfunds.com
), a community investment bank that structures real estate and business investments, is rumored to be the organization that will coordinate the Siltronic plant's private financing. The city's development agency incubated the bank. Bank officials, however, are refusing comment.
The leaseback offers Siltronic multiple bottom-line returns. Obviously, it would dramatically reduce the capital required to get the wafer plant online, and it wouldn't require a public share offer to secure capital. In addition, the leaseback would give Siltronic tax credits on the new facility's depreciation.
Just as importantly, the private-financing scheme could add more capacity for 300-millimeter wafers, which are fast becoming the industry standard. A 300-millimeter wafer has double a 200-millimeter wafer's surface area, boosting chipmakers' productivity and cutting production costs by almost a third.
Fourth-quarter 2003 demand for 300-millimeter wafer was 430,000 a month, according to Gartner Dataquest research. By 2004's end, though, those analysts expect 300-millimeter demand to rise to 700,000 per month. And by 2007, they're expecting monthly
demand to more than double to 1.5 million.
Portland two years ago missed out on landing a 300-millimeter Siltronic plant. The project went instead to Freiberg, Germany, as the German government offered about $161.5 million in incentives. The $542-million Freiberg facility opened earlier this year with 600 employees.
This time around, the city's sweeping effort aims to avoid a similar outcome.
"If we continue to develop creative solutions to encourage business development," said Fowler, "we'll be ensuring the economic viability of our community and our state for generations to come."