BEIJING and SHANGHAI — To paraphrase Paul Revere: The Chinese chip-makers are coming; the Chinese chip-makers are coming. And with the aid of China's rich subsidies, they're moving fast. China's snowballing growth in domestic chip-making is getting some serious momentum from the generous incentives coming from the country's all-powerful central government. And Beijing's subsidies are adding appeal to a country that has already long been offering low operating costs in key areas like land and labor.
China's fast-growing homegrown semiconductor industry — a sector that virtually didn't even exist a few years ago — is beginning to have a very broad impact. The Asia-Pacific, after all, is now the world's largest chip market. Moreover, the US$19-billion Sino semiconductor market by itself ranks as the world's third-largest; and it's the fastest-growing as well.
China's domestic chip-making is expanding so furiously, in fact, that it could conceivably spur an industry-wide semiconductor recession next year, some high-profile observers are warning. By 2005, in fact, Sino semiconductor production is on pace to provide 20 percent of the entire world's made-to- order chip capacity. If that huge output stimulates a chip-making recession, it would end the larger industry's current profit surge — and only three years after its worst-ever downturn.
In the meantime, China's fetching subsidies for domestic semiconductor manufacturing are already altering some non-Sino firms' site-selection moves. Asian projects that were initially ticketed for established chip meccas like Taiwan have instead wound up locating on the mainland.
Two major homegrown semiconductor players — Grace Semiconductor Manufacturing Corp. www.gsmcthw.com) and Semiconductor Manufacturing International Corp. (SMIC at www.smics.com) — particularly demonstrate Sino-based chip-makers' advantages. Both Shanghai-based firms are very rapidly increasing their output.
But there's also a counter-trend at play here: China's preferential aid for its own homegrown chip-makers is showing signs of erosion. A strong U.S. backlash caused some major Sino subsidy cutbacks earlier this year in the face of potential World Trade Organization (WTO at www.wto.org) sanctions.
China's Strong Support Infrastructure
Buoys Domestically Based Operations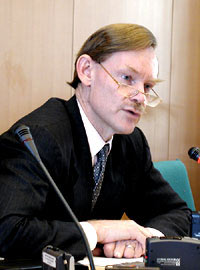 U.S. Trade Representative Robert B. Zoellick (pictured) earlier this year charged China with "discriminatory tax policy. As a WTO member, China must live up to its WTO obligations; it cannot impose measures that discriminate against U.S. products."
Even so, Grace and SMIC have already gotten a huge boost from the nation's robust subsidies for domestic semiconductor-makers, which China has offered since 1999. For example, local chip operations enjoy two major advantages :
100-percent corporate income tax exemptions for five years, followed by a 50-percent rate for five years at 7.5 percent.
An effective 3-percent value-added tax (VAT) rate on China—made chips.
By contrast,
imported
chips pay a 17-percent VAT. That provides domestic semiconductor firms with a potent double dip: They can invoice customers for the full 17-percent tax and still get 14-percent VAT rebates. Domestic chip-makers can also access a
lot
more aid, including additional tax holidays and enterprise income tax rate reductions. In addition, they can secure substantial location subsidies from areas in which they site operations.
Regulations that aid skilled professionals' recruitment are further fueling China's semiconductor growth. Company stock options given to imported chip-making recruits, for example, are doubly lucrative. Those Chinese stocks aren't taxed at market value; but they can be sold without paying any capital-gains taxes.
Moreover, China's government makes substantial direct investments in prominent homegrown chip-makers. Beijing, for example, owns 62 percent of
Advanced Semiconductor Manufacturing Corp.
www.asmcs.com
) (which was known as
Philips Semiconductor Corporation
of Shanghai from 1989 until 1995).
Well connected men: One of Grace Semiconductor Manufacturing's founders is Jiang Mianheng (pictured left), son of Jiang Zemin, former People's Republic of China president. And Grace's board members include Neil Bush (pictured right), the younger brother of U.S. President George W. Bush.
Grace's Heavyweight Connections
Have Hastened Company's Growth
Significantly, Grace and SMIC are contract foundry players, making chips for other firms.
Such contract companies are getting a major boost from the semiconductor industry's staggering capital-intensiveness. New fabs now cost around $3 billion, and retooling operations for crucial nex-generation products is a huge capital drain as well. For many companies, the more cost-effective solution is outsourcing some chip-making to big Asian foundries that pool multiple semiconductor manufacturers' requirements. Those industry trends, combined with China's support network, have clearly sped Grace's and SMIC's growth. Grace also illustrates another truism in Chinese chip-making: There's no such thing as being too well-connected.
One of the company's two founders, for example, is Jiang Mianheng, son of Jiang Zemin, the former People's Republic of China president. And Grace's other founder is Winston Wang, son of billionaire industrialist Wang Yung-Ching, one of Taiwan's richest men and chairman of
Formosa Plastics Corp.,
the top Taiwanese petrochemical player. Some observers credit Jiang and Wang with raising almost $1 billion for Grace in low-interest Chinese bank loans.
On top of that, one member of the Grace board is Neil Bush, the younger brother of U.S. President George W. Bush (R). Bush was awarded a $2-million-a-year-salary when he was tapped for board membership in 2002. (The quietly arranged appointment became public during Bush's contentious 2003 divorce.) The American brought no chip-industry experience of note to his board role. Grace picked Bush, many observers feel, to try to get the U.S. to ease limits on technology transfer to China
(which hasn't happened).
Grace Expanding Fab1A
Grace landed a recent major investment that further illustrates that clout counts in Chinese
chip-making.
Late last month, Hong Kong billionaire Li Ka-shing, Asia's richest man, announced that he would spend $90 million for a Grace stake.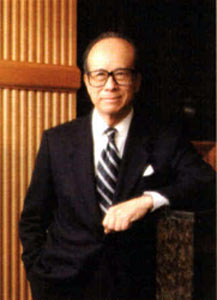 Clout counts: Grace Semiconductor will use a recent $90—million investment by Hong Kong billionaire Li Ka—shing (pictured), Asia's richest man, to expand its Fab 1A in Shanghai and to fund its IPO.
That investment is coming through two of Li's companies:
Hutchison Whampoa Ltd.
and
Cheung Kong Ltd.
"We are very excited by this latest investment from the two most accomplished and prestigious companies in Hong Kong today," said Grace President Dong Yeshun. "Given their investment experience in the Chinese telecommunications and information-technology sectors, their expectation that Grace will become one of China's leading semiconductor foundries represents a substantial endorsement of our farsighted business strategies."
The company will use the new capital to increase advanced R&D and expand its Fab 1A in Shanghai's Zhangjiang Hi-Tech Park, Dong added. Fab 1A's current monthly output of 25,000 eight-inch wafers will increase to 33,000 in the first half of 2005, Grace is projecting.
The new investment will also help fund Grace's initial public offering, corporate officials said. The firm hopes to raise $700 million to $1 billion with IPO placements in Hong Kong and
the U.S.
Companies Reflect `Close Followership' Approach
Grace and SMIC also demonstrate the "close followership" tenet of China's industrial development strategy. That policy strongly supports inward investment by similarly providing non-Chinese firms with most of the same location subsidies awarded to homegrown industries. Significantly, though, only non-Sino companies with China-based joint venture partners can receive those subsidies. China's equal-access incentives have spurred billions of dollars of inward investment. Foreign investments in Chinese chip-making alone are projected to hit $12 billion by 2005, more than doubling to $25 billion by 2013.
That payoff also advances another central value in China's "close followership": absorbing and diffusing foreign technology. The cooperative Sino approach markedly differs from the "leadership model" for industrial development employed in other world regions like the European Union. That strategy essentially treats U.S. industry as a rival, particularly in the technology arena. But China is trying to glean all it can from American technology.
Grace's and SMIC's technological alliances mirror that approach. Both firms, for example, are partnering with Dallas-based
Texas Instruments
(TI at
www.ti.com
). SMIC announced in late October that it had signed an agreement with TI to develop process technologies for 90-nanometer chips. Grace says that it plans to enter its own 90-nm. processing agreement with TI next year. The two firms' other alliances similarly focus on absorption and diffusion.
Grace's technological tie-ins, for example, include Toshiba, as well as
Silicon Storage Technology,
which has invested $50 million in Grace in cooperatively working on embedded-flash technology. SMIC's partnerships range even farther afield, including
Chartered Semiconductor Manufacturing, Elpida Memory, Fujitsu, Infineon Technologies, IMEC
and
Toshiba.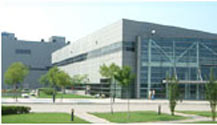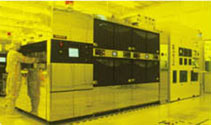 Growth signs: China's fast—growing homegrown chip industry is reflected in SMIC's eight—inch Tianjin fab (top), originally a

Motorola

chip plant that the U.S. company last year exchanged for stock in the Chinese firm. More indigenous growth is evident at Grace Semiconductor's Fab 1A in Shanghai (bottom), which will up wafer capacity by a third in 2005's first half.
Like Grace, SMIC has grown very rapidly, but on an even broader scale. The capacity of China's largest chip-maker now extends well beyond the company's three Shanghai-based fabs, which this year will register a projected 70-percent increase in eight-inch-wafer capacity. SMIC also has added an eight-inch Tianjin fab that was originally a
Motorola
chip plant. The U.S. company late last year exchanged that facility for SMIC stock. In addition, SMIC will soon open a new 12-inch fab in Beijing, and it has plans to add more new fabs in 2005 and 2006.
Risk of Recession?
It remains unclear, though, how fast-growing Chinese manufacturers like Grace and SMIC will ultimately affect the larger semiconductor industry. Some high-profile observers, however, see recession as one likely outcome.
One of them is Morris Chang, chairman of
Taiwan Semiconductor Manufacturing Co.
(
www.tsmc.com
), the world's largest made-to-order semiconductor-maker. Chang set off alarms inside the chip industry with his speech at the Semiconductor Industry Outlook 2003 conference in San Jose, Calif. Surging Sino chip production, he advised, could well mean a semiconductor industry recession as early as 2005.
That outcome, Chang noted, had strong historic precedents. The glut of China-made chips, he explained, could repeat the recession-triggering overcapacity that came from Japan in the 1980s and South Korea and Taiwan in the 1990s.
"Taiwan has become the dominant foundry country and the second most important design country after the U.S.," said Chang. "China will go on the same journey that Taiwan started 30 years ago." Chang last year reiterated his assessment.
U.S. WTO Complaint Spurred
China's VAT Rate Equalization
Since then, though, the chip-making equation has undergone a major change. China on July 8th of this year
China in late 2001 celebrated (pictured right) its acceptance for membership in the World Trade Organization (whose Geneva headquarters is pictured on the left). That membership, however, eventually triggered the elimination of China's VAT differential, which was in place before joining the global trade group.
announced that it would equalize its VAT rate for imported
and
domestically made chips at 17 percent.
That policy shift began to take shape on March 18th, when the U.S. filed a WTO complaint against China's unequal VAT rates. That marked the first WTO action against China since it joined global trade's governing body in late 2001. "The United States believes that this discriminatory tax policy is inconsistent with the national treatment obligations that China assumed when it joined the WTO in December 2001," U.S. Trade Representative Robert B. Zoellick said as the American complaint was filed. "As a WTO member, China must live up to its WTO obligations; it cannot impose measures that discriminate against U.S. products."
The VAT agreement came only after extended negotiations between China and the U.S.
"Elimination of the discriminatory features of China's VAT regime will assure a level playing field for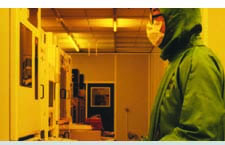 Sino support for homegrown chip-makers includes direct government investments in companies like Advanced Semiconductor Manufacturing Corp. (ASCM) in Shanghai (where a worker is pictured above). Beijing owns 62 percent of ASCM.
all competitors," commented George Scalise, president of the Semiconductor Industry Association (SIA at
www.sia.org
), which represents more than 85 percent of the American semiconductor industry. The National Association of Manufacturers (NAM at
www.nam.org
), America's largest industrial trade association, also heartily welcomed the VAT equalization. "This isn't just about semiconductors, as important as that industry is," said NAM Vice President for International Economic Affairs Frank Vargo. "The real importance of this agreement is that China recognizes that VAT discrimination is inconsistent with its WTO commitments and is willing to end the practice unilaterally."
What's Next after VAT Equalization?
China agreed not only to immediately cease certifying VAT refunds for any new chip manufacturers or products. The nation also consented to discontinue VAT refunds for all domestically made semiconductors on Apr. 1, 2005. Those changes will dramatically alter the Chinese chip-making scenario, some prominent industry-watchers feel.
Cheng Ming-kai, for example, a semiconductor-sector analyst with CLSA (
www.clsa.com
), said in a note to investors, "The impact will be a structural one, as investors will start to realize that the main advantages of producing chip products in China have disappeared. The move will have an obvious impact on the likes of SMIC. [SMIC's] incentive to produce will decline, since the VAT incentives to offset production efficiency differences will disappear." But other observers don't foresee any such outcome.
Contract manufacturers like SMIC, they point out, will likely stay in steady demand, considering how established outsourcing has become for made-to-order chips. The VAT differential's end, those analysts add, won't touch the rest of China's strong financial support for homegrown players. (Many critics of America's chip-making strategy, in fact, want the U.S. to emulate China's support of its indigenous firms.)
As for non-Sino firms, major chip manufacturers like
AMD, Intel
and
NEC
will certainly continue to operate their own on-the-Chinese-ground joint-venture fabs and R&D centers. Those operations are essential, such companies believe, to keep a finger on customers' collective pulse inside what's destined to be the world's biggest semiconductor market.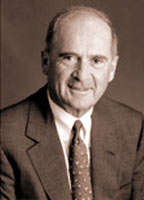 Semiconductor Industry Association President George Scalise (pictured) said that China's VAT equalization "will assure a level playing field for all competitors."
That line of thinking was underscored by last month's expansion decision by two foreign chip-makers: South Korea's
Hynix
(
www.hynix.com
) and Switzerland's
STMicroelectronics
(
www.st.com
). The two companies announced on Nov. 15th that they will establish a $375-million joint-venture fab in
Wuxi City.
Employing 1,500 workers, the plant will make DRAM and NAND flash chips for the Chinese markets, the two companies said.
For U.S. chip-makers, profits will rise with VAT equalization, the SIA is projecting. That payoff, say SIA analysts, follows simply from the fact that U.S. firms control about 50 percent of the world chip market. (China, for example, still imports about 80 percent of its new chips each year.)
As for Sino chip manufacturers, they're still newcomers to the chip-making game. Nonetheless, China's indigenous semiconductor players seemingly have a guaranteed long-term revenue stream in a potent combination: ingrained chip outsourcing, plus the nation's low costs and the government's financial support. And that suggests another certainty: The Chinese chip-makers are coming.