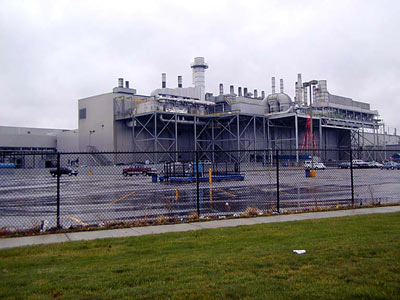 Ford's decision to invest $300 million in its truck-assembly plant (pictured) in Wayne, Mich., ensures 3,500 jobs.
Photo: Jim Rees
FLINT and WAYNE, Mich. — Ford Motor Co. (www.ford.com ) and General Motors (www.gm.com ) are independently investing $740 million in three of their existing plants in Michigan, with the state and local agencies adding a sizable catalyst with some $130 million in subsidies. The decisions ensure the future of more than 7,500 existing Ford and GM jobs. And GM's project will create 350 new positions as well.
The two companies' announcements came in bang-bang fashion on Dec. 14th and 15th. The news had to trigger huge relief among affected workers. With Big Three plant closings anything now but uncommon, they had to be waiting to exhale.
UAW Contract Signed at Last,
Wayne Plant Will Become Flexible Factory
More than a little drama in labor-management relations accompanied Ford's decision to expand its truck assembly plant in
Wayne, Mich.
Drama had been a frequent Ford plant visitor since the automaker announced its cost-cutting "Revitalization Plan" in 2002. In what Chairman and CEO William Clay Ford Jr. called "painful but necessary steps to make us competitive going forward," the plan will shut down seven company plants and eliminate 35,000 jobs. The automaker has already closed its pickup assembly facility in Oakville, Ontario, and it has plants ticketed its plants in Edison, N.J., and Lorain, Ohio, for shutdown.
For weeks before Ford announced its $300-million expansion on Dec. 15th, the Wayne plant was buzzing with apprehension. There were rumors that a work shift might be eliminated. The automaker had already said that it would halve the work force for one shift at its Hazelwood, Mo., assembly plant. Ford implemented that decision on Jan. 3rd, laying off about 800 workers at the suburban St. Louis operation.
Nonetheless, the Wayne plant's 3,100 unionized workers twice voted down Ford's proposal for a more flexible, team-focused approach. (Four hundred other workers at the suburban Detroit facility are in salaried positions.) The UAW and the automaker finally reached agreement in late November. Ford conceded to take employee seniority into account in making work assignments. In return, United Auto Workers Local 900 agreed to reduce the number of plant job classifications.
The expansion will convert the Wayne plant into a flexible manufacturing facility. That designation seems a survival imperative in Ford's cost-cutting climate. Aiming to match the efficiency of
Toyota
and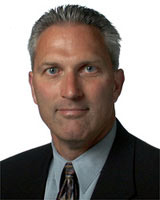 Ford's Wayne expansion supports "our goal is to build stability and standardization into our North American assembly and stamping plants, which is what flexible and lean manufacturing is all about," said Matt DeMars (pictured), Ford vice president of vehicle operations.
Honda,
the U.S. automaker has vowed to convert three-fourths of its 19 North American assembly plants to flexible production by 2010.
"This has been a tough, but gratifying year in manufacturing for Ford," said Matt DeMars, Ford vice president of vehicle operations. "We've transformed our plants to bring more products faster to our customers. Our goal is to build stability and standardization into our North American assembly and stamping plants, which is what flexible and lean manufacturing is all about."
Wayne Plant Manager: Project
'Reinforces Our Future, Long-Term Viability'
DeMars said that work would begin immediately on the Wayne expansion. The project will create a new 240,000-sq.-ft. (21,600-sq.-m.) flexible body shop. The complexity and cost of that facility makes it the most important element in Ford's flexible production system, DeMars explained.
The Wayne plant currently builds the Ford Expedition and Lincoln Navigator sport-utility vehicles. Beginning in 2007 the facility will make redesigned versions of the Expedition and the Navigator. And with its newly installed flexibility, the plant will be able to make other models as well. Flexible systems give facilities the ability to make up to four different vehicles based on two product platforms, with market demand dictating output.
In the future, the Wayne plant could make stretch editions of the Expedition and the Navigator, as well as pickups. Ford officials declined, however, to speculate on which models the Wayne facility will make once the new system is in place.
"This is an extremely exciting time for this plant and for the employees here," said Wayne plant manager Gary Johnson. "It reinforces to everyone our future, the long-term viability of the Michigan truck plant and our work force. The new body shop expansion and flexible tooling give us a strong future with the capability of producing exciting new products."
The Wayne plant will be Ford's fourth flexible manufacturing facility. Fully operational flexible plants are already in place in Chicago and Dearborn, Mich. And the automaker announced in November that it would install flexible production capabilities at its auto-assembly facility in Oakville, Ontario. (For further details, see "Subsidies At Last Secured, Ford Unveils $818-Million Ontario Expansion" at
www.conway.com/ssinsider/bbdeal/bd041108.htm
).
Ford has deep roots in Wayne County. Henry Ford (pictured right) started his mass production of autos in 1913 in a facility in the county (left) that's now a National Historic Landmark.
Ford's embrace of flexible production is part of the automaker's plan to deliver 65 new Ford, Mercury and Lincoln products in five years. In 2004, the automaker began assembling the F-150 in Dearborn, Mich.; the Ford GT in Wixom, Mich.; the Escape Hybrid in Kansas City; the Ford Five Hundred, Freestyle and Mercury Montego in Chicago; the Mercury Mariner in Avon Lake, Ohio; and the Ford Mustang at the AutoAlliance International operation in Flat Rock, Mich.
"We are committed to getting our launches right," said DeMarrs. "We know that a strong launch is critical to a vehicle's success."
Subsidies Total Nearly $100 Million
Wayne assisted in the expansion's launch by providing a 12-year city tax abatement that will be worth almost $40 million. The project is getting more assistance in the form of a 20-year state business tax credit worth near $50 million.
State officials cited a University of Michigan study that found that each job at Ford's Wayne truck-assembly plant and the company's adjacent 2,100-worker auto-assembly facility supports three other local jobs. The study was initiated when the automaker applied for the state business tax credit.
Ford is also utilizing that credit for an expansion of its Wayne auto-assembly plant that the company announced in early 2004. The automaker is consolidating all North American production for its Focus compact car at the Wayne facility. All Focus production in North America had been concentrated in Hermosillo, Mexico.
This year, though, the retooled Wayne auto-assembly plant will start making three-door and five-door 2006 Focus hatchbacks. The Hermosillo facility is undergoing its own retooling, and this year will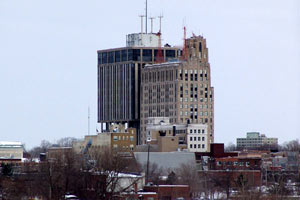 GM's expansions of its two Flint plants will create 350 new jobs and ensure the future of more than 4,000 existing positions. (Pictured: Downtown Flint, including Genesee Towers, the taller of the facilities in the center, which is actually built atop a parking garage.)
Photo: Jason B. Hill
begin to make the 2006 Ford Fusion, Mercury Milan and Lincoln Zephyr midsize sedans.
GM Spending $450 Million in Flint
GM, on the other hand, is spending $450 million to expand two of its plants in Flint, Mich. - the city profiled in "Roger and Me," Michael Moore's acerbic 1989 documentary.
Some $300 million of that capital will go to expand the automaker's engine plant in Flint. That facility is the only GM operation in the world that now makes the Vortec 4200 six-cylinder engine used in the automaker's mid-size SUVs. The expansion, which will add 500,000 sq. ft. (45,000 sq. m.) of new space, will equip the facility to make the new advanced V-6 that GM plans to use globally in its future models for cars and SUVs.
GM is spending another $150 million to retool its truck assembly plant in Flint. That facility currently makes Chevy Kodiak and GMC Topkick commercial trucks, and the full-size Chevrolet Silverado and GMC Sierra heavy-duty crew-cab pickups. The expansion will ready the Flint assembly plant to make the full-size new trucks that GM is planning for the future, company officials said.
"GM's $450-million commitment to Flint is further proof this city remains an important part of GM's future manufacturing plan," Guy Briggs, GM group vice president of North American manufacturing and labor relations, said at the projects' announcement on Dec. 14th. "These two projects are instrumental in our efforts to strengthen and expand our core manufacturing capabilities in the United States and in the state of Michigan."
The expansion will create 350 new jobs in GM's Flint plants, Briggs explained. The truck assembly facility now employs some 3,100 hourly and 280 salaried employees. The engine plant has 600 hourly and 90 salaried employees.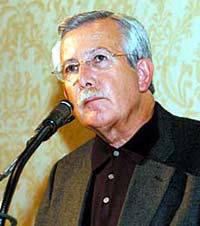 GM's dual expansions in Flint will "strengthen . . . the job and economic security of UAW members at these two facilities, along with the well-being of many people and businesses connected to these plants," said UAW vice president Richard Shoemaker (pictured).
Incentives Top $40 Million
The Flint expansion announcements came as several other GM plants were dealing with bad news.
In early December, the automaker disclosed that it would lay off 950 workers at the company's truck plant in Linden, N.J. The layoffs coincide with the company's decision to discontinue production of the Chevrolet Blazers and GMC Jimmy SUVs that are assembled at the New Jersey plant.
That development followed GM's announcement in mid-November that it will close its 1,100-employee van assembly plant in Baltimore in 2005. The Maryland shutdown is also connected to product obsolescence. The Chevrolet Astro and the GMC Safari vans that are made at the Baltimore facility are being discontinued.
"Today's announcement is very good news for the greater Flint area," UAW vice president Richard Shoemaker said of the expansions 70 miles (112 kilometers) northwest of Detroit. "The job and economic security of UAW members at these two facilities will be strengthened along with the well-being of many people and businesses connected to these plants through an economic change extending throughout the Flint community."
GM is receiving $28.2 million in state business tax credits. The city of Flint is also supporting the projects with city tax abatements worth $11 million and $1 in infrastructure upgrades.
"These projects will have a lasting impact on Flint's economy and thousands of families in the community," said Michigan Gov. Jennifer M. Granholm (D). "Every time a company like GM invests hundreds of millions of dollars, you can be sure that the result will be the most modern, high-tech facilities and equipment needed in our 21st century economy. I am pleased the state could help ensure that these investments happen in Michigan."
Editor's note: For more on projects involving Ford, GM and Michigan, check out several stories in the just-published January 2005 issue of Site Selection, including our cover story on the North American Automotive Industry.