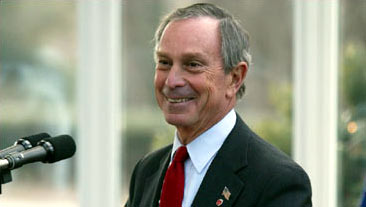 "We believe that our new industrial initiatives will stem this tide and grow our manufacturing sector," said Mayor Michael Bloomberg (shown while announcing the initiative in East Brooklyn).
NEW YORK — New York City is intent on keeping its half-a million-job manufacturing sector alive, well and contentedly inside the Big Apple.
Mayor Michael Bloomberg (R) has announced a broad-ranging plan that will provide the city's industrial sector with both financial and logistical assistance. The initiative's subsidies certainly aren't huge. But the program's support could still register substantial impact, for New York's manufacturers aren't a deep-pocketed bunch. Small companies account for almost all of the city's industrial jobs.
Bloomberg in his Jan. 12th State of the City address details his plans for "diversifying our economy." A new industrial emphasis, he said, was in the works as part of that initiative.
"Diversification, though," he pointedly emphasized during his speech, "also means industry."
The full-blown plan surfaced on Jan. 19th, when the mayor and other city officials unveiled the details in Brooklyn. The announcement was made at the East New York neighborhood property that's currently occupied by Arc Metal Group, a local manufacturer that's expanding.
"Today," said Bloomberg, "we are launching a comprehensive industrial policy that involves designing new business zones and creating new incentives to encourage long-term investment in manufacturing, warehousing and other industrial businesses throughout the five boroughs."
"Over the past half century, the city's industrial base has declined, along with many other American cities," he continued. "But the industry remains a powerful engine of our economy. Its 500,000 jobs represent about 15 percent of our work force. We believe that our new industrial initiatives will stem this tide and grow our manufacturing sector."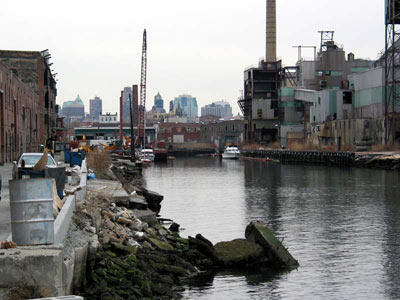 New York's new Industrial Business Zones will include part of the Red Hook neighborhood. (Pictured: part of the pier area in Red Hook.)
Alper: 'Creating a Better Partnership With City's Many Industrial Companies'
The centerpiece of New York's manufacturing push is the newly created
Office of Industrial and Manufacturing Businesses
(OIMB), part of the city's Department of Small Business Services (SBS at
www.nyc.gov/html/sbs
). The OIMB will manage the creation of the city's new Industrial Business Zones (IBZs) and will and oversee aid initiatives that include relocation tax credits and employee-training programs.
"Mayor Bloomberg's economic development strategy focuses on three key initiatives: making the city more livable, more business-friendly and diversifying our economy," said Andrew Alper, president of the New York City Economic Development Corporation (
www.newyorkbiz.com
). "Improving business conditions for our critical manufacturing sector touches on all three. This new policy will help us create a better partnership with the city's many industrial companies and create the proper conditions to catalyze job growth."
New York City is investing some $17 million in the manufacturing program through 2009, city officials said. During that same period, they explained, the Big Apple will provide about $9 million in projected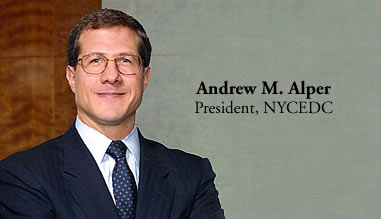 "Improving business conditions for our critical manufacturing sector touches on all three key initiatives in Mayor Bloomberg's economic development strategy," said Andrew Alper (pictured), president of the New York City Economic Development Corporation.
incentives (at least if those subsidies are approved by this year's session of the New York Legislature).
Some IBZs Already Designated
The OIMB's incentives will revolve around the IBZs. Those zones will replace the city's existing In-Place Industrial Parks program, an initiative that New York officials described as "outdated."
The IBZs will be designated, city officials explained in a release accompanying the program's announcement, "based on existing land uses, the industrial character of the neighborhood, traffic patterns and Empire Zone boundaries." (Companies locating and/or expanding in a state Empire Zone are eligible for sales tax exemption and real property and business tax credits for 10 to 15 years.)
The city has already identified some of the IBZs, reported Carl Hum, the newly appointed director of the OIMB. Neighborhoods in which zones have been established, he explained, include the following:
Bathgate; East New York; Eastchester; Flatlands; Hunts Point; Jamaica; JFK Industrial Corridor; Long Island City; North Brooklyn; Port Morris; Southwest Brooklyn
including
Sunset Park
and parts of
Red Hook
and
Gowanus; Steinway; West Maspeth;
and
Zerega
. Other IBZs will be designated, Hum said.
"Even with the challenges of a global economy and changing urban landscape, the industrial sector still manages to significantly contribute to the city's economy and provide gateway employment for many workers with minimal skills and limited English proficiency," said Hum, the former SBS chief of staff and special counsel. "The Office of Industrial and Manufacturing Businesses will not only help retain current businesses but help them grow and attract even more businesses to New York."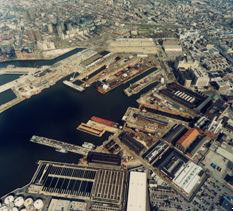 In addition to the new Industrial Business Zones, the Brooklyn Navy Yard (pictured) is one of the locations to which companies can move and qualify for New York City's one-time relocation tax credits. The federal government closed the Brooklyn Navy Yard in 1966.
Tax Credits for IBZ Relocations
OIMB's help includes a tax credit for manufacturing companies that relocate to either an IBZ or to the
Brooklyn Navy Yard.
That one-time credit, city officials explained, would be geared toward firms that can't expand at their current locations. The subsidies would cover program-eligible relocation expenses of up to $1,000 for each relocated industrial job.
Other program initiatives will expand the city's services in helping companies recruit, screen and train employees, said Hum. The idea, he explained, is to help industrial businesses reduce labor costs and access employee-training funds.
The OIMB will offer $1 million in grants for industry-specific training programs or for special initiatives that bring services closer to industrial businesses, Hum said. The grants, he added, will also be offered for technical assistance to help industrial businesses access additional state training grants.
Arc Metal, which makes retail displays, architectural metal detail and custom furniture, is taking advantage of the city's existing manufacturing support programs in its expansion. The city's Industrial Development Agency (IDA at
www.newyorkbiz.com/nycida
) is providing $730,000 over 25 years to assist the company in buying the building it now leases. The aid — which includes a mortgage recording tax waiver, and real estate and sales tax abatements — will enable the company to expand and remain competitive with companies in less expensive locations, IDA officials explained.
Taking the Guesswork Out
Of Future Zoning Decisions
New York's industrial push also addresses a persistent beef for city manufacturing firms: uncertainties about how present and potential future sites will be used. The Bloomberg administration is committed to not rezoning any part of an IBZ for residential use, the mayor said.
"By making an ironclad commitment to maintain manufacturing zoning in key industrial areas and not