A
lot of folks in Greenville, Mich., must feel like a line from an old blues song: "If it wasn't for bad luck, I wouldn't have no luck at all." In March, the city's star- crossed economic fortunes hit the deepest trough yet:
Electrolux closed its Greenville refrigerator plant
, pulling up stakes for a new US$150- million plant in Tijuana, Mexico.
The story line is numbingly familiar: Another company shutters a U.S. plant to shift to a lower- cost locale. For tiny Greenville, though, the pain from Electrolux's exit was inordinately acute. Closing the 1.7- million- sq.-ft. (157,930- sq.-m.) plant ended 2,700 workers' jobs – this, in a city with only 8,000 residents.
A bitter pill for any community to swallow, losing Electrolux was practically a whole bottleful for the western Michigan area. Greenville had become a company town that had lost its company. Electrolux's huge plant had provided a whopping 20 percent of the city's tax revenues.
Other Greenville operations were ailing as well.
Greenville Wire Products
(GWP), for example, shut down its 90,000- sq.-ft. (8,361- sq.-m.), 160- worker refrigeration shelving plant early last year, shortly after Electrolux told the local plant supplier that the move to Mexico meant terminating its contract to supply the plant.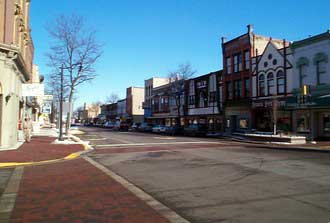 Losing Electrolux's 2,700 jobs dealt a major blow to Greenville (pictured), a city with 8,000 residents.
Then there was the restructuring
Tower Automotive
, founded in Greenville in 1874, which announced in February that it will close its 300- employee local metal stamping plant at year's end. In addition, bankrupt
Federal Mogul
still says it may downsize its 300- employee Greenville auto bearings factory, even after workers agreed to wage and benefit cuts in 2004 to keep the operation open.
In short, the area had suffered enough harsh slings of outrageous fortune to make Job think he might've gotten off easy.
Finally, though, a shaft of light has illuminated Greenville's dark times. Not long after Electrolux padlocked its local plant,
United Solar Ovonic
announced that it was coming to town to build a new 202,000-sq.-ft. (18,766- sq.-m.) plant with 200 new jobs. And the Michigan- based manufacturer of solar power products was just getting warmed up. It said that it plans to build five more plants on its Greenville site, creating another 1,000 jobs.
Added Subsidies Sway Decision
The United Solar deal, though, almost didn't go down in Michigan. The world's largest maker of thin film solar products came very close, in fact, to sending its $132-million project to South Carolina.
But then state officials further upped the total incentives ante to almost $37 million. The Michigan Economic Development Corporation (MEDC) added a 20-year Single Business Tax (SBT) credit worth $5.7 million to United Solar. That 11th- hour add-on made Michigan's incentives a little higher than South Carolina's offer.
And that proved to be more than a little important. Subsidies had become a tiebreaking factor, since United Solar had decided that either of the two finalist sites would be equally suitable for its plant. In the end, United Solar made what President Subhendu Guha called "a line- by- line" comparison of the offers and then picked Greenville.
"We appreciate the state's support," said Robert C. Stempel, chairman and CEO of Rochester Hills, Mich.- based
Energy Conversion Devices
(ECD), United Solar's parent. "We are pleased that Michigan continues to be interested in attracting and retaining high- tech, innovative companies," Stempel added as the company announced Greenville as the new plant's site.
It was no surprise that Michigan Gov. Jennifer Granholm was also a prominent figure at United Solar's announcement. The governor was a vocal leader in a fierce but ultimately futile drive to keep Electrolux in Greenville, comparing the looming plant closing to "a nuclear bomb going off."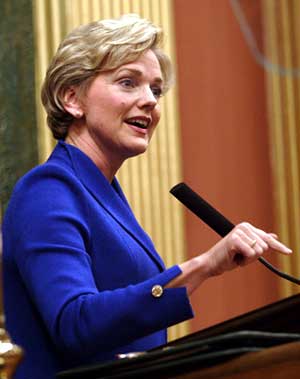 "We have worked fervently to bring new jobs to Greenville since the day Electrolux announced its closing," said Granholm.
"Since the day Electrolux announced its closing," Granholm noted at United Solar's announcement, "we have worked fervently to bring new jobs to Greenville… The city's leadership and its outstanding work force" played key roles in "adding another strong anchor for Michigan's alternative energy industry," she added.
The key role for project subsidies went well beyond the SBT credit. Michigan granted the plant site 15 years of tax- free operations as part of the Renaissance Zone program, a benefit worth $20.4 million to United Solar. (The state designated all of Greenville Industrial Park a Renaissance Zone in 2004.) State support also includes employee- training assistance valued at about $2 million.
Greenville, too, chipped in with deal- sealing incentives. The city is providing United Solar with a 12- year tax abatement worth $3.6 million. In addition, the city is receiving an MEDC- approved $5-million federal Community Development Block Grant for infrastructure improvements in Greenville Industrial Park; United Solar has purchased a 93-acre (37-hectare) site in the park.
Twenty- six states made incentive offers for the plant, Guha said.
Project on the Fast Track
Rapid response was a prerequisite for any contender hoping to make the short list. United Solar was fast- tracking the project, its planning engine already in high gear.
By the time a location was announced, in fact, nine months of design work had gone into the new plant.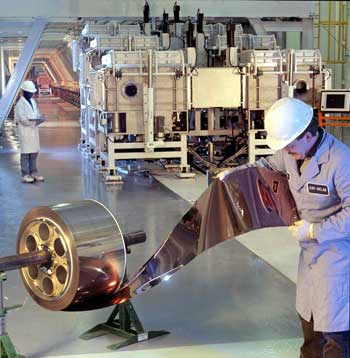 Greenville workers will attach thin- film solar cells to stainless steel sheets a mile and a half (2.4 km.) long.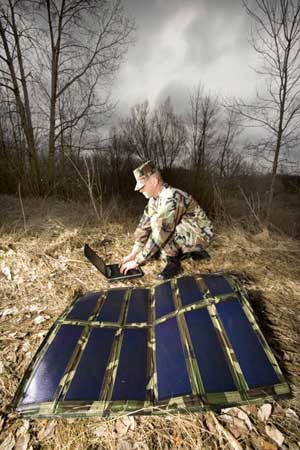 Convenience and durability are two reasons why the military is one significant user of United Solar's portable products.
Having no knowledge of the plant site didn't impede that work, company planners said. United Solar's plant was designed so that the building could be rapidly adapted to any location that was selected, they said.
Greenville officials also aided their case with fast- moving United Solar by proactively creating the Greenville Industrial Park, says Whittaker Associates President Dean Whittaker. His Holland, Mich.- based company has been working with Greenville since November "to develop an economic roadmap [with] the close of the Electrolux facility."
In 2004, city officials responded to the news of the appliance giant's planned closing by setting the wheels in motion for a new business park. "With the help of federal and state resources, the Greenville community planned ahead and constructed a new industrial park with utilities and streets that was shovel- ready," Whittaker explains.
United Solar didn't wait long in getting its shovels going in Greenville. Site preparation began less than a month after the plant location was announced. The company expects the operation to be online by the end of 2007.
The Greenville facility's operations will focus on cost- effective, high- volume production, Guha said. One process, for example, will attach thin- film solar cells to stainless steel sheets a mile and a half (2.4 km.) long. The plant will be capable of simultaneously handling as many as six sheets. Finished sheets will be cut into different shapes and sizes for the company's products.
The highly automated Greenville plant will use gases like silane (widely used in making integrated circuits) to produce silicon for the solar units made inside the facility. United Solar's initial Greenville operation will consist of two buildings, with a single gas farm serving both. Gases will be stored in an above- ground tank; underground piping will run to each production line. United Solar considered building one gas farm to supply all six facilities planned for the site. Ultimately, though, it decided that the safer option was to have a dedicated tank for each individual plant.
The solar devices that will be made in Greenville are already used in a wide variety of applications. The energy that those products convert from sunlight is most frequently used in power systems for homes, industrial operations and commercial space. The government and defense sectors also use solar power products in certain military operations, oil pumping and water irrigation systems.
'Plugging into the Energy of the Universe'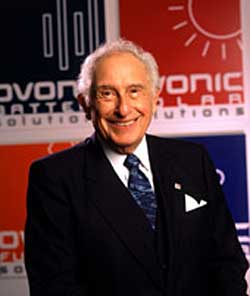 "You don't have to go to war over the sun," said Stanford Ovshinsky, founder of Energy Conversion Devices, United Solar's corporate parent.
United Solar's Greenville blueprint calls for cheetah- speed growth. Five more plants will be built on the site by 2010, each employing 200 workers, ECD founder Stanford Ovshinsky explained to a group of local, state and federal officials visiting the Auburn Hills plant.
"You don't have to go to war over the sun," the 84-year-old Ovshinsky said. "When you plug into the sun, you are plugging into the energy of the universe."
ECD's board of directors approved a plan in February to expand United Solar's solar module manufacturing capacity to 300 megawatts (MW) by 2010. That's 12 times the company's current capacity. At present, United Solar only solar module plant is a 25-MW, 167,000- sq.-ft. (15,514- sq.-m.) facility in Auburn Hills. Construction is nearing completion on a second 25-MW module Auburn Hills plant, with the 170,000- sq.-ft. (15,793- sq.-m.) facility expected to open in July. The new Greenville plant will add 50 MW of annual capacity.
United Solar's ambitious growth plans coincide with steady growth in solar power demand. For the last 15 years, solar energy usage has registered an average increase of 25 percent, according to Solarbuzz, a San Francisco- based solar energy research and consulting concern. By comparison, hydrocarbon energy demand is now increasing by about 2 percent a year. Solar costs, long a drag on growth, are edging down as well. Since 2000, solar power prices have decreased by an average of 4 percent a year.
Japan is clearly the reigning national leader in solar- cell production, accounting for 50 percent of the world's total. By comparison, the U.S. accounts for 12 percent.
U.S. Solar Push Could Aid Aggressive Expansion Plans
But U.S. solar production – as well as United Solar's growth plans – will likely get a substantial shot in the arm from the federal government's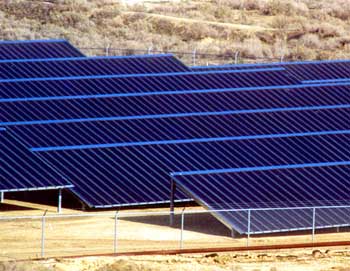 Solar power demand has annually grown by 25 percent over the last 15 years.
alternative energy emphasis. "We have a serious problem: America is addicted to oil, which is often imported from unstable parts of the world," President George W. Bush noted in his 2006 State of the Union Address on Jan. 31st.
Bush's energy plans include the Solar America Initiative (SAI). That proposal aims to accelerate solar photovoltaic cell development by increasing fiscal- year 2007 funding to $148 million – a 78 percent increase from 2006. In addition, the SAI's goals include making solar power cost- competitive with conventional energy by 2015. With that cost- competitiveness, the SAI envisions 5 to 10 gigawatts of solar power being deployed in the U.S. power grid in 2015. (A gigawatt is the equivalent of 1,000 megawatts.)
That much solar energy would represent 20 times more than current U.S. capacity, Solar Energy Industries Association President Rhone Resch noted. The volume of solar power, he added, would be the equivalent of 20 large natural gas- fired peaking power plants. But Resch doesn't see solar energy developing that rapidly without tax credits.
"That [SAI] goal is reachable if Congress extends the solar tax credits for homeowners and businesses beyond 2007," he contended.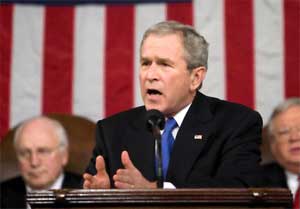 "America is addicted to oil," said Bush in his 2006 State of the Union Address.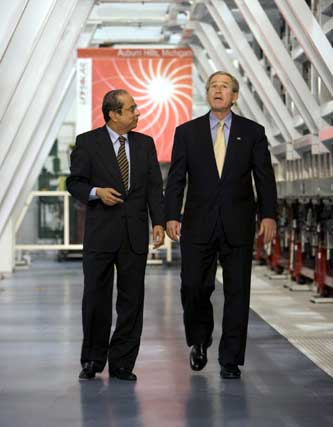 Bush toured United Solar's Auburn Hills plant with company President Subhendu Guha.
"A 10-year extension of the solar tax credits will avoid a stop- start industry cycle [and] create market conditions that allow solar companies to make more long- term investments." Those investments, in turn, "will reduce costs, and create 40,000 new U.S. solar industry jobs during the next decade," he added.
Bush Goes to United Solar
The SAI program got a high- profile photo op in February when Bush visited United Solar's Auburn Hills plant.
"This is real," the president said after touring the facility. "The ultimate goal is to have solar technology on your home, and that home will become a little power- generating unit unto itself, and that if you have extra electricity, that you could put it back in your grid, so you become a power producer… [But] you're using renewable sources of energy to power your homes and to fire up your refrigerators."
Refrigerators, of course, are still a bit of a sore spot for Greenville. Nonetheless, Greenville's quest for economic recovery continues.
Whittaker says his company has completed the first phase of its work with the city, which focused on gauging "the community's strengths, weaknesses, threats and opportunities." Now, he added, Whittaker Associates is moving into "identifying a series of companies that fit the desirability and feasibility [of] considering a relocation or expansion [in Greenville]."
United Solar, of course, has moved far beyond simply considering the area. Its focus is on rapidly creating a raft of new plants and new jobs. And the energy in that process is producing a powerful byproduct in Greenville – a sunny shot of hope.
As Greenville Mayor Lloyd Walker told United Solar officials after hearing the company's bold expansion plans, "You certainly recharged my batteries."
---
PLEASE VISIT OUR SPONSOR • CLICK ABOVE
©2006 Conway Data, Inc. All rights reserved. Data is from many sources and is not warranted to be accurate or current.