N. Carolina's $69M
Investment in Fidelity
Yields 2,000 New Jobs
The Financial Titan Will Triple the Size of Its Work Force in Research Triangle Park.
T
he deal sounded a bit like a high- stakes poker game – one played 'round a burnished board- room table.
North Carolina laid down a hefty bid: US$69 million in incentives.
Fidelity Investments
took a long look at its abundant hand of expansion options and then made its own whopping wager: a $100- million investment and 2,000 well- paying jobs.
The financial giant announced its big bet on the Tar Heel State on Aug. 2 at the old capitol building in Raleigh. Fidelity will start next year on the construction of a new $100- million campus on a 268- acre (107- hectare) site in Research Triangle Park (RTP), where the company already has 1,000 employees.
But the Triangle area wasn't a sure bet to add 2,000 more jobs. The company looked at a number of other sites, including its regional centers in Florida, Kentucky, New Hampshire, Rhode Island and Texas, Fidelity officials said. But when ante- up time rolled around, the nation's largest mutual fund company put its money on the Triangle.
"We've had a tremendously positive experience in North Carolina since we first began doing business here in 2002," Fidelity Senior Vice President and North Carolina Director Don Haile said at the project's announcement in Raleigh.
One positive that drove Fidelity's expansion, Haile explained, was the Triangle's strong capacity to "provide us access to a highly educated talent pool. We very carefully looked at what's available and the stream of people getting educated and the number of degrees [awarded] in what we want."
The area's pool of well- schooled grads runs inordinately deep. After all, the initial idea behind RTP was to create a research park between Duke University in Durham, North Carolina State University (NCS) in Raleigh, and the University of North Carolina (UNC) in Chapel Hill. Spanning 7,000 acres (2,800 hectares), the vast development that followed ranks as the world's largest research park.
Fidelity will be working with the area's universities and colleges as part of its incentive package. The company will partner in training its new employees with NCS, UNC and the North Carolina community college system.

Numerous Transfers in Project
Up Premium on Quality- of- Life Factors
The Triangle's "incomparable quality of life" was another key factor in Fidelity's decision, Haile continued. "I know what a special place this is," he said. Before joining Fidelity in 1998, Haile worked for 34 years with IBM, much of it in RTP. He returned in 2002 to manage the financial titan's operations in the prestigious park.
With a sizeable number of relocated employees involved in the project, quality- of- life factors loomed particularly large. Local hires will make up "at least half" of the 2,000 new Carolina jobs, which will pay salaries averaging almost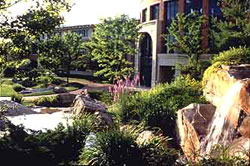 Headed in different directions: Fidelity is moving 1,500 jobs out of Massachusetts,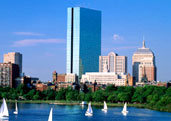 where it has its Boston headquarters (right), and it's adding 1,500 employees in a consolidation at its campus in Covington, Ky. (above).
Covington campus photo: Pressley Associates Landscape Architects
$60,000 a year, company officials explained. The rest of the positions, though, will be filled by transfers from Fidelity's other U.S. sites.
Some of those transfers could be coming from Massachusetts, which also courted the project. Fidelity announced in January that it would move as many as 1,500 existing jobs out of Massachusetts by 2008. (Many of those jobs are already ticketed to go to the company's regional campus in Smithfield, R.I.)
In contrast, Fidelity has greatly expanded its operations in Florida, Kentucky, Ohio and Texas in recent years. For example, the company announced a 1,500- employee
consolidation
of Midwest operations in Covington, Ky., about a year ago; and on June 20th, it unveiled plans for a new 1,200- worker customer call center in Jacksonville, Fla.
Fidelity has been criticized in Massachusetts, not only for taking jobs out of its home state, but also for expanding at out- of- state locales at the same time. Company officials have countered by emphasizing that Fidelity still has almost 13,000 workers in the Bay State, more than one- third of its 37,000 worldwide employees. In addition, the company now has 200 job openings in Boston, they've added. So why the out- migration? "Geographic diversity," Fidelity officials have repeatedly emphasized.
Even so, many major financial services players are taking the opposite tack, clustering operations near their headquarters. Significantly, the areas in which Fidelity has been growing share certain expansion- friendly characteristics. Compared to Massachusetts, they offer attractions including less expensive housing and real estate, and lower average wages. The Bay State, in fact, was ranked as the third most expensive U.S. state in the
Milken Institute's
2005 Cost of Doing Business Index, scoring 25.5 percent above the U.S. average. North Carolina ranked 30
th
in the index, with costs 8.4 percent below the national average.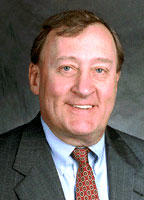 Fidelity's Don Haile acknowledged that Carolina's $69- million incentive package was "very important."

The Incentives Factor
Fidelity's Carolina- bound project drew sizable subsidy offers from other states as well, company officials reported. They didn't disclose any specifics on other bids.
Massachusetts Gov. Milt Romney's office conceded that the state didn't have the subsidy programs in place to match North Carolina's $69- million package. Romney's then- pending $700- million
economic stimulus bill
included numerous expansion- friendly tax incentives. That legislation passed in late June after a long delay, allocating some $437 million to promote corporate job growth.
"The incentives were very important in making the decision," Haile acknowledged in Raleigh. "The state's significant commitment allows us to expand and diversify our operations."
The lion's share of Fidelity's subsidies will come from a $54.6- million, 12- year Job Development Investment Grant (JDIG) – the largest ever awarded to a single company. Created in 2002, the JDIG initiative rewards qualifying firms with annual grants equaling 75 percent of state withholding taxes on income from new jobs.
Fidelity's other state incentives include:
• a $2- million grant from the One North Carolina Fund;
• an estimated $3.8 million in state sales tax refunds on building materials and equipment; and
• $4.6 million in training services and grants.
Wake County government is also providing a $1- million infrastructure grant and property tax rebates estimated at $4 million.
Since 2001, Gov. Mike Easley pointed out, the JDIG and One Carolina programs have helped attract projects involving more than 30,000 new jobs and $5 billion- plus in investment.
"Today's announcement offers proof that our innovative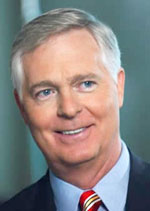 Gov. Mike Easley (right) pointed out how Fidelity's expansion will help "the rural counties in North Carolina in their ability to grow and prosper," with $18.2 million of the project's incentives funding infrastructure improvement grants in economically distressed areas.
incentives programs, combined with our skilled work force and No. 1 ranked business climate, provide the right mix for companies looking to locate and expand in the state," Easley said at Fidelity's announcement. "We've been recognized by
Site Selection
magazine for [four of] the last five years as the
No. 1 business climate
in America."
Some of Fidelity's incentives will be funneled back into the state. Fidelity will contribute $18.2 million of its JDIG grant to the state's Industrial Development Fund (IDF), which provides infrastructure improvement grants for economically distressed areas. By virtue of Fidelity's expanding its operations in an economically prosperous "Tier 5 county," JDIG statutes automatically dictate that payment to the IDF.
"We're also very excited about what this project means for the rural counties in North Carolina in their ability to grow and prosper," Easley he said.

State Landing Jobs 'Based
On Knowledge, Talent and Skill'
Fidelity's expansion is the largest- ever corporate job- creation commitment in the Triangle. The project is also one of North Carolina's biggest job generators in history, state officials said.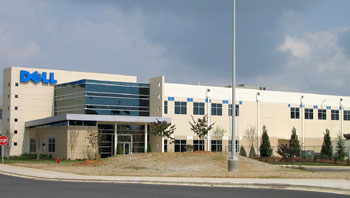 The Fidelity expansion is the state's largest since Dell's 2004 announcement of its 1,500- employee PC plant in Winston- Salem (pictured).
Fidelity is the state's largest deal since
Dell
's late- 2004 announcement of a 1,500- employee
PC plant in Winston- Salem
. Dell's project got a huge incentives package worth $318 million, including a $14.1- million JDIG. (That subsidy package, which included special state legislation specifically targeting Dell for $242 million in aid, is facing a sharp
legal challenge
that's spearheaded by a former North Carolina Supreme Court Justice.
State officials used the Fidelity announcement to emphasize North Carolina's sizable financial services industry.
"This project … builds North Carolina's solid reputation as a financial leader, not only in the country, but in the world," Easley said. "North Carolina has more than 200,000 people working in the banking and finance industry, second in the U.S. only to New York. I want to send out the word: We're hard after the Big Apple."
Carolina's financial industry includes
Bank of America
and
Wachovia
, two of the four largest U.S. banks, both headquartered in Charlotte. Recent financial- sector expansions have included
Credit Suisse
, which announced in April that it's doubling its RTP employment, adding 400 workers with average annual salaries of $86,512. In addition, the
Twin financial towers: Carolina's financial industry includes the Charlotte- based headquarters of Bank of America (left) and Wachovia (right).
American Institute of Certified Public Accountants
announced late last year that it's relocating one of its major offices, a 400- employee operation, to Durham from Jersey City, N.J.
That burgeoning financial community is part of North Carolina's economic transformation from its one- time status as a manufacturing- intensive location. As in other states, the precipitous declines of long- time Carolina industries like furniture, textiles and tobacco emphasized the vulnerability of depending heavily on concentrations of production operations.
"What you're seeing in North Carolina now is an economy growing based on knowledge, talent and skill," Easley said in the press conference after the announcement. "There's security. There's insecurity in low- skilled jobs."
The state will continue that push for knowledge- based jobs, the governor asserted.
"We will continue to make the necessary investments in education, infrastructure and work- force development to support North Carolina's financial industry," he said.

Campus Could Handle 5,000 Workers
Fidelity's expansion will spur an overall skills upgrade for the company's local work force. Most current Fidelity employees in the Triangle handle customer service calls from fund shareholders. But the 2,000 new jobs added over
The U.S. Environmental Protection Agency also has a major presence in Research Triangle Park, with more than 1,500 employees at its campus (pictured).
Photos: HOK Sustainable Design
the next three years will include senior management and skilled technical functions, as well as entry- level positions, Fidelity officials explained. Those new jobs will pay average annual salaries of $58,400 plus benefits.
Fidelity is still determining which corporate divisions will expand or move to RTP. Now housed in leased space for the most part, all of Fidelity's current workers in the Triangle will relocate to the new campus when it opens in 2009. Fidelity will use its own staff in developing the project, the company said.
More Fidelity jobs could be in the offing. The company's new site in RTP could accommodate as many as 5,000 employees, according to local developers.
Fidelity first arrived in the Triangle area four years ago, albeit in roundabout fashion.
IBM
in 2002 outsourced management of its pension fund to the financial heavyweight. Fidelity then hired Big Blue's 450 Triangle employees working on the IBM pension plan and relocated them in newly leased space. Since then, the company has rapidly expanded its local operation to 1,000 employees, adding a new investor center last year.
---
PLEASE VISIT OUR SPONSOR • CLICK ABOVE
©2006 Conway Data, Inc. All rights reserved. Data is from many sources and is not warranted to be accurate or current.