The waiting is over in the Wolverine State, thanks in part to Michigan's $151 million in incentives. Local-area aid could ultimately double the total subsidies for Ford's upgrades.
T
hat huge sigh of relief you heard last week was coming out of
Michigan
: On Jan. 9th, beleaguered
Ford Motor Co.
announced that it's going to spend US$866 million in upgrading six Detroit- area plants (see accompanying chart).
/
But the Dearborn- based automaker isn't the only one ponying up multiple millions.
Following Ford's Michigan Money
Michigan is also making its own sizable investment in Ford's projects — $151 million in state tax incentives.
/
Ford's announcement comes after state recruiters and auto workers had been waiting five months to exhale, wondering what the automaker was going to do.
/
The Wolverine State's Ford- watching scenario opened on an ostensibly promising note on Aug. 9th. Gov. Jennifer Granholm that day announced the $151- million subsidy package if the company committed to investing as much as $1 billion in its Michigan plants. "There is no vision for Michigan's new economy," said Granholm, "that does not include Ford cars and trucks designed, engineered and made in Michigan."
/
Granholm was joined by Ford President of the Americas Mark Fields. The joint summer announcement, he said, "underscores our serious commitment . . . to keep Ford's future a huge part of Michigan's. We thank the people of Michigan for their support of the 'home team' and for believing in the importance of American auto companies."
/
More worrisomely important to many Michiganders was what Ford
hadn't
said. For all its gracious gestures in August, the company didn't give any concrete indication of
how
it planned to respond to the state's offer.
Ample Cause for Anxiety
That was more than enough to create a thick cloud of anxious doubt.
/
Michigan's bad memories were still fresh from the events of early last year. Despite Granholm's $115- million incentive offer, Ford in January 2006 still decided that it would close the 1,600- employee Detroit- metro plant in Wixom in June of 2007.
/
Things got a little stickier after Michigan's joint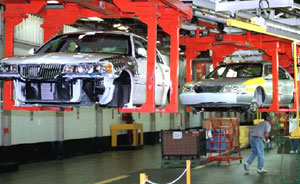 Despite Michigan's efforts, Ford's Wixom plant will close this year.
announcement with Ford in August of 2006. Competition rapidly materialized for the automaker's plant upgrades. Emboldened by Michigan's $151- million offer, a number of other states proffered their own subsidy packages. On top of that,
an internal Ford report that leaked last summer
indicated that the company and its suppliers planned to invest $9.2 billion and create 100,000 more jobs in Mexico in the next six years.
/
By early 2007, then, Michiganders had done a whole lot of listening for the sound of Ford's next expansion shoe hitting the floor. Finally it did, this time falling Michigan's way.
/
"Today, we're putting a stake in the ground here and now," said Fields. "Michigan is our home, and here we're giving our plants and our people an opportunity to be the best and to build the best vehicles in the world."
/
In addition to its six- pack of announced projects, Ford will pick other Michigan plants for upgrades, in the process increasing its total investment to more than $1 billion, Fields added. The company is considering upgrading five other Detroit- metro facilities, according to its incentives application with the Michigan Economic Development Corp. (MEDC).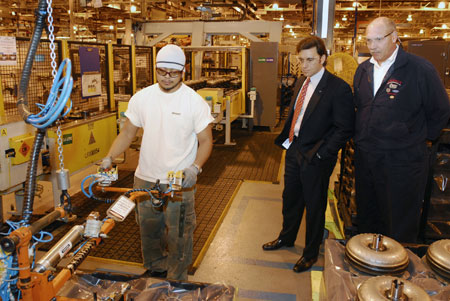 Livonia, Michigan, January 9, 2007. Mark Fields, middle, executive vice president and president of the Americas for Ford Motor Co.; Michael Rowley, right, Livonia Transmission Plant manager; and Glen Abenes, left, on the assembly line at the Livonia Transmission Plant, where Fields announced Ford's $886-million, six-facility Michigan investment plan.
Upgrades Will Ensure Future
For Some 13,700 UAW Line Jobs
A crowd of some 1,200 raucously cheering members of the United Auto Workers gathered at Ford's Livonia transmission plant to hear the company's Michigan plans.
But despite labor's enthusiastic embrace, Ford's big- money investment will only create a few new positions. The only additional Michigan jobs in the upgrades will come from an extra shift at the Dearborn F- 150 assembly plant.
/
Nonetheless, Michigan's UAW ranks had major reason for relief. Ford's announcement comes as the company is in the midst of a precipitous downsizing. Announced in early 2006, Ford's "Way Forward" turnaround plan calls for shuttering 16 of its North American plants by 2012 — seven assembly facilities and nine components operations. Nine plants are already ticketed for closure (see accompanying "Closed Door Policy" chart), and others are sure to follow. All told, the company expects its wave of shutdowns to eliminate between 25,000 and 30,000 production jobs.
/
Ford is also now offering buyouts to all of its hourly UAW employees. About half of those some 75,000 employees thus far have indicated that they'll accept a buyout.
/
But the employment picture is now far more upbeat for the six Michigan plants selected for upgrades. Ford's unveiling of its long- awaited plans will preserve as many as 13,740 production jobs, according to the company's MEDC application. Those jobs pay an average of $960 a week, the company noted.
/
"This is a great day for the state," MEDC President and CEO James Epolito said at Ford's announcement. Greater even than 13,740 retained jobs, he added.
/
"This not only saves thousands of jobs," Epolito explained, "but every job at Ford saves
| | |
| --- | --- |
| | |
| "This not only saves thousands of jobs," said MEDC President and CEO James Epolito, "but every job at Ford saves three or four other jobs in the communities." | Ford North America Manufacturing Vice President Joseph Hinrichs |
three or four other jobs in the communities. Ford is a cornerstone of Michigan's economy."
/
The company, he noted, currently spends $22 billion annually in buying parts and services from Michigan- based suppliers. It spends another $5 billion each year in R&D in the Wolverine State, he added.
/
According to a University of Michigan economic analysis, Ford's investment will save an additional 42,460 indirect jobs in the state.
Plant Upgrades Important
Part of Ford's Comeback Bid
The Michigan upgrades will entail installing flexible manufacturing systems and advanced powertrain technologies.
/
"Our turnaround in North America and our return to profitability is based on strategic investment, not just cost- cutting," Fields said. "With this investment, we're expanding our commitment to small cars, producing fuel- efficient powertrains and fortifying our truck leadership."
/
The production upgrades are long overdue, many analysts contend. Ford's current product line is the oldest of the six top U.S. auto manufacturers. The company's U.S. sales have fallen for six consecutive years, dropping by more than 26 percent since 1999.
/
The Michigan upgrades address two linked operational changes that are widely considered as base- line essentials in Ford's survival: more rapid implementation of vehicle designs, combined with in- place flexible manufacturing systems to quickly adapt to changing market tastes.
/
"With these investments . . . we stand ready to deliver the cars and trucks that people want," North America Manufacturing Vice President Joseph Hinrichs said of the upgrades. "We're solidifying our manufacturing base and positioning ourselves for future growth."
| | |
| --- | --- |
| | |
| The Chicago assembly plant was the first Ford facility to implement flexible manufacturing. (Pictured: the first model of the Ford Five Hundred rolling off the Chicago line.) | Opened in 1952, Ford's Wayne stamping and assembly plant will get a $130-million upgrade. |
Other States' Subsidies
Stirred Up 'Quite a Competition'
Ford's $151 million in incentives will come from a 20- year credit to the state's Single Business Tax (SBT). Even with Michigan foregoing two decades of SBT proceeds, Ford's upgrades will produce a net positive state revenue impact of almost $4.3 billion, according to an MEDC analysis.
/
Some critics, however, are characterizing Michigan's generous assistance as an unnecessary waste. The troubled automaker, they say, would've had to upgrade its plants regardless to remain competitive.
/
Michigan officials, however, insist that the state's subsidies helped sway Ford's decision on which plants it selected for upgrading. And, they add, the state faced competition for Ford's capital right up until the automaker's final decision.
/
"It became quite a competition," Epolito said of the states that continued competing with Michigan for the upgrades. (State and Ford officials didn't identify any of the states that pursued the company.)
/
Ford's total incentives for its upgrades will probably be far greater than the state's $151 million. Some of the local governments where the plants are located have already made subsidy offers; others are considering following suit. State officials expect that Ford's local- level incentives will ultimately total between $150 million and $170 million.
Will Capacity, Sales
Still Be Out of Synch?
In the meantime, Ford still faces a number of pressing broad- scale issues.
/
Some veteran industry- watchers are already questioning whether the combination of drastic downsizing and plant upgrades will be enough to right the company's long- listing ship. Particularly troubling, they say, is the apparent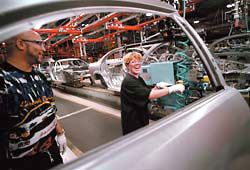 After closing 16 North American plants, Ford will have a capacity of producing about 3.4 million vehicles a year.
UAW Photo by George Waldman
One of Ford's new ideas, the Interceptor concept car, was introduced at this year's North American International Auto Show in Detroit. A manual six-speed with 400 horsepower, the Interceptor runs on E-85 ethanol.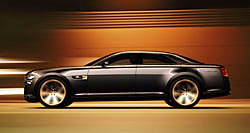 imbalance between Ford's recent sales and its projected North American capacity.
/
Ford's North American plants have been running well below capacity, operating at only 75 percent during 2005 (final 2006 figures aren't yet available). After Ford completes its multiple plant closings in 2012, it will have a North American production capacity of around 3.4 million vehicles a year. In 2006, Ford's U.S. sales totaled 2.9 million vehicles, an eight percent annual drop. And those U.S. sales include import brands like Land Rover and Volvo.
/
Ford seems to be aiming to eliminate much of that discrepancy by putting out products that attract new buyers. Fields described part of that strategy at last year's ceremonies for the 2006 Henry Ford Technology Awards.
/
"Our goal is not just to compete, but to change the basis of competition by coming out with great innovations — the kind that are so relevant to the lives of their users that they bring new customers to a market," he said at the event honoring employees' ideas.
/
Ford's newly created Innovation Leadership Council is one step that the company's taking to promote new ideas, Fields explained. The cross- functional team of engineers, designers and marketers meets regularly to analyze customer needs and map out how the company can meet them. Ford, Fields added, is also developing a new intranet Web site that will make it easier for employees to globally collaborate on ideas.
/
"Small innovations sustain our competitiveness," Fields said. "Big innovations change the game. Big innovations are the key to turning around Ford Motor Co."
The Automotive Elephant in the Room
Even a more innovative Ford, however, will still face other tough turnaround hurdles.
/
One of them is the cooling U.S. auto market. 2006's final tally for North American vehicle sales is expected to be the lowest in nine years, a slump attributed to a softened housing market and a weakened economy.
/
Ford also faces another major obstacle: the elephant in the global auto showroom —
Toyota Motor Co.
The Japanese automaker's North American sales have produced a problem that's the polar opposite of Ford's:
Toyota late last year opened its seventh North American plant, a $1.28-billion Tundra truck plant in San Antonio that will employ 2,000 workers.
Toyota needs to build more plants —
a lot
of them.
/
The company is reportedly considering a plan to construct as many as five new assembly plants in North America over the next 10 years. That jackrabbit growth would likely involve spending at least $5 billion and creating about 10,000 new jobs.
/
That course would mark a major departure for Toyota. The Japanese company has traditionally taken a measured, methodical approach to expansion. But Toyota's snowballing sales in the
North American market
may necessitate a radical change from incremental growth. Toyota's 2006 U.S. sales of 2.54 million units signaled a 13- percent annual increase. That surge pushed the company's U.S. market share to 15.4 percent, passing
DaimlerChrysler
to rank No. 3 in the U.S. market, trailing only Ford and
GM
. In 2007, Toyota may well overtake GM to become the world's biggest automaker.
/
But that same success has left the Japanese giant with its own North American sales/capacity imbalance. Sales have clearly maxed out the 1.5- million- units- a year capacity of the company's seven existing North American plants. Consequently, the Japanese firm last year had to import almost 1.2 million vehicles from Japan to meet North American demand. That number represented 46 percent of Toyota's total 2006 sales in North American.
/
Dramatically increasing North American capacity is the only apparent way to avert a major political problem. Toyota is sure to face mounting U.S. criticism if it continues to import such a high percentage of American sales.
/
Building five new North American plants in rapid- fire fashion would pose a stern growth challenge for Toyota. Then again, that's the sort of problem that American companies like Ford would dearly love to have.
---
PLEASE VISIT OUR SPONSOR • CLICK ABOVE
©2007 Conway Data, Inc. All rights reserved. Data is from many sources and is not warranted to be accurate or current.