E
lectronic information heavyweight
Thomson Corp.
has sent
Minnesota
business recruiters a sizable stream of data to chew on: a US$100- million capital investment that would cover more than half a million sq. ft. (45,000 sq. m.) and create 2,000 new jobs — and perhaps 5,000 in the longer term.
Before that happens, though, the Toronto- based supplier of specialized information wants something supplied to its end of the project bargain: a subsidy package of about $16.5 million.
Thomson has made it clear that it much prefers the Minneapolis- St. Paul suburb of Eagan as the site of its big expansion. The company already has a hefty presence there, with 6,800 workers clustered at a 1.2- million- sq.- ft. (108,000- sq.- m.) campus. That's the largest employee concentration for Thomson, a $9- billion- a- year global business with about 41,000 workers in 600 locations.
The 2,000 jobs that may be added in Eagan, most of them in technology and operations, are quality positions. They'll pay average annual salaries of $70,000, Minnesota officials said.
"The decision to grow in Minnesota affirms the importance of the Eagan campus and ensures that it will continue to be a critical center for Thomson operations in the future," Vice Chairman Brian Hall said in announcing the company's growth plans on Jan. 24th.
Thomson first began building its Eagan presence in 1996 in its $3.4- billion acquisition of locally based West Publishing Company.
In 1997, Thomson merged with West, a leading provider of legal information. The company's Twin Cities presence has expanded to include not only Thomson West's headquarters, but also the headquarters for Thomson Legal & Regulatory, the business unit with the largest market. In addition, the Eagan campus houses employees from all of the company's departments, who assist Thomson's worldwide network.
Of the 2,000 positions in Thomson's growth plans, 1,100 will be new hires for the Eagan- headquartered units, Hall noted. Existing employees will relocate to fill the 900 other jobs, which will support Thomson's global operations.
"Thomson West has been an important part of the Eagan area for more than 20 years, and these are the very kinds of jobs that help to support the economic vitality of our area," said Sen. Jim Carlson, whose district includes the expansion site.
State officials said that all 2,000 jobs would be in place by 2012.
Company Aiming for Fast- Track
Addition of 505,000 Sq. Ft. of New Space
But that equation includes a major if — supporting subsidies. If the company doesn't get the incentives it wants, the Eagan campus probably won't get that big jolt of added jobs, Thomson says.
Thus far, the company's board of directors has only granted "preliminary approval" for the Minnesota expansion, Thomson officials clarified after the announcement.
Nonetheless, the company spelled out its Gopher State growth plans in considerable detail. The blueprint calls for building an 80,000- sq.- ft. (7,200- sq.- m.) underground data center and an eight- story, 425,000- sq.- ft. (38,250- sq.- m.) office tower.
In addition, the expansion has a tight time line that puts those projects on a short fuse. Thomson says that it plans to spend the allotted $100 million within two years. The Eagan data center's planned groundbreaking is in April, with occupancy in November, said Hall. The office tower's construction start is scheduled for August, with move- in by October of 2008, he explained.

A rendering of how the entire Eagan site would look after the expansion, when the campus would have about 1.7 million sq. ft. (153,000 sq. m.) of work space.
Thomson also considered expanding at its campuses in Carrollton, Texas, and Mason, Ohio, said John Shaughnessy, senior director of corporate communications for Thomson Legal & Regulatory. But the company decided that Eagan was the only existing site capable of accommodating the projected growth, he explained.
"The Eagan site here makes operational sense for the expansion," Shaughnessy said of the company's need for project subsidies. "The incentives package would help it also make sense from a business and financial point of view."
Thomson's Had Extensive
Talks about Expansion Subsidies
Thomson had been in discussions with state and local officials for months about a possible expansion and the assistance it would want, Minnesota officials said. The state started its dialogue late last summer, and Eagan leaders began talks in September.
Local support for the project seems solid.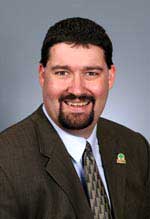 Eagan Mayor Mike Maguire
"We're certainly very pleased that Thomson has chosen its Eagan location," Eagan Mayor Mike Maguire said of the expansion. "The city and Thomson West have enjoyed a long and successful partnership. Thomson's continued investments enhance Eagan's reputation as a technology leader."
A city of some 66,000 residents, Eagan has a sizable business cluster. About 50,000 employees work in city businesses. Eagan's major employers also include
Northwest Airlines
' 1,100- employee headquarters, plus major operations for
Blue Cross Blue Shield
and
Lockheed Martin
, which have 3,000 and 1,750 employees, respectively.
Local officials say that the expansion of Thomson's campus to 1.7 million sq. ft. (153,000 sq. m.) wouldn't put a major strain on the strong infrastructure systems that support city companies. The growth wouldn't require any additions to fire and police functions, Eagan officials noted. And Superintendent John Currie reported that local schools have sufficient space to accommodate any sudden surge in enrollment.
Governor Backs JOBZ Exemption
"We think this is great news for the community, and for all Thomson colleagues who live in the area," Hall said of his company's projected expansion.
Gov. Tim Pawlenty's reaction to the announcement was similar.
"Thomson's plan to add 2,000 good, high- paying jobs in Eagan is great news for Minnesota's economy," said Pawlenty. "We look forward to working with Thomson on their expansion."
That work will include trying to hammer out a winning incentive package.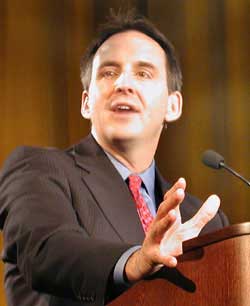 Gov. Tim Pawlenty's 2008- 09 budget included an $8.7- million sales tax exemption for a then- unspecified "major Minnesota employer."
Photo: Minneapolis- St. Paul Metropolitan Council
Thomson's benefits were included in the fiscal year 2008- 09 budget that Pawlenty proposed on Jan. 22nd. That aid came in a recommendation of an $8.7- million sales tax exemption for a then- unspecified "major Minnesota employer." Thomson's tax exemption would be on expansion construction materials and on equipment purchased in furnishing and fitting out the two facilities.
Minnesota already has an incentive program that could provide that tax exception. In January of 2004, Pawlenty spearheaded the creation of state
Job Opportunity Building Zones
(JOBZ), which provide local and state tax exemptions to both new and expanding businesses that qualify.
Thomson's expansion would be far and away the biggest new- job generator that's received JOBZ benefits, according to the Minnesota Dept. of Employment and Economic Development (DEED). To date, the JOBZ- aided venture that's involved the most jobs was
Polaris Industries' $4- million expansion
in 2005 of its flagship snowmobile plant in Roseau. That project helped retain Polaris's 2,000 existing jobs (which also included engineering and R&D positions), but it only created four new positions.
Thomson's total state subsidy package could be as much as $15 million, including road improvements, employee training and low- interest loans, Minnesota officials said.
The company is also looking for local assistance of about $1.5 million, state officials reported. Those funds would come from the creation of a tax- increment financing (TIF) zone. The deferred taxes would fund site improvements, the company says. The city council will vote on a TIF resolution later this month, Maguire said.
State Revenue Head: 'A Rare Opportunity'
Minnesota lawmakers must approve all state subsidies for Thomson's expansion, including the creation of a new JOBZ zone in Eagan. The Legislature would also need to sign off on any TIF plan that local officials recommend.
Gopher State lawmakers have been in session since Jan. 3rd, with adjournment scheduled in May.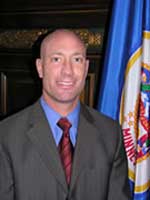 "With this sales tax exemption, we have a shot," Revenue Commissioner Ward Einess told a Senate Committee.
Ostensibly at least, approving Thomson's subsidies would seem like a sensible move: making a comparatively modest $16.5- million investment for 2,000 jobs. The resulting benefits would include about $10 million a year in new income taxes alone, according to the company's estimates of the expansion's impact on the Eagan payroll.
The project's sizable stakes have prompted a number of state officials to express strong support for Thomson's subsidies.
"You don't get many opportunities like this to get a major global competitor do a major expansion in your state," State Revenue Commissioner Ward Einess told a Senate Tax Committee meeting to review Pawlenty's budget recommendations. "This is a rare opportunity. We want to seize it.
"We wanted to make ourselves competitive relative to other sites being considered," added Einess, who previously served as DEED's acting commissioner. "With this sales tax exemption, we have a shot."
And Minnesota could now be shooting for far more jobs than the 2,000 it's projecting. Einess told the Senate committee that the company is considering a two- phase expansion. If the Minnesota site lands both those phases, it could add as many as 5,000 jobs, he said. (Thomson hasn't commented on a second- phase plan.)
Senator: Subsidies 'Grossly Unfair'
Some state lawmakers, however, have misgivings about Thomson's proposed incentives.
"Any business that's planning to build here would be wise to ask for [JOBZ incentives]," Sen. John Marty acknowledged at the tax committee meeting.
"I just have problems because it's always inequitable if somebody else, even if they don't have a competitor in this field, is paying less in taxes," he continued. "Somebody else is picking up the tab. It strikes me as grossly unfair."
Other observers question how much competition Eagan has for Thomson's expansion. The Ohio site in Mason fell out of the competition in November of last year when the company decided to sell its Thomson Learning businesses. The Mason campus is the headquarters for Thomson Custom Solutions, part of the higher education unit.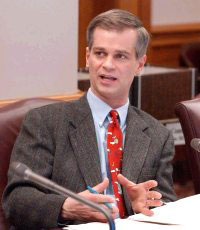 Said Sen. John Marty of Thomson's proposed JOBZ break, "It's always inequitable if somebody else is paying less in taxes."
"Thomson Learning is an excellent business, but it does not fit with our long- term strategic vision," President and Chief Executive Officer Richard Harrington said in explaining the divestiture decision. Thomson Learning could sell for as much as $6 billion, analysts say.
In the meantime, as state lawmakers considered Thomson's incentives, another major subsidy package surfaced in Minnesota. The Metropolitan Airports Commission (MAC), which oversees Minneapolis- St. Paul International,
approved a $240- million incentive package
for Northwest Airlines on Feb. 8th. That aid was spurred by concerns that the bankrupt airline would default on its airport lease.
'Hell to Pay'?
A separate tempest over Thomson's incentives developed after news broke that seven of the company's top executives had contributed to Pawlenty's 2006 reelection campaign. The governor, a native of Eagan, has known those officials since he served on the city council in the late 1980s and early 1990s.
Those donations, however, seem to have created little uproar. The seven checks totaling $9,000 were all listed in Pawlenty's contribution disclosures and were within the legal limit for individual donations.
Regardless, it seems highly unlikely at this point that Thomson won't get the incentives it wants for a Twin Cities expansion.
"There would be hell to pay if Thomson expanded elsewhere," Neal St. Anthony observed in a column in
The Minneapolis Star Tribune
. "And there are plenty of other cities standing in line."
Look for reporting on new corporate projects in the Twin Cities by Thomson, Target, Cargill and others in the Upper Mississippi River Corridor feature in the March 2007 issue of
Site Selection
.
---
PLEASE VISIT OUR SPONSOR • CLICK ABOVE
©2007 Conway Data, Inc. All rights reserved. Data is from many sources and is not warranted to be accurate or current.