I
ndia's
Man Industries
was understandably eager to establish its first U.S. plant.
Although American demand is surging for the company's petroleum-line pipes, the supply chain is gobbling up big loads of capital and time. Currently, Mumbai-based Man must ship its large, weighty products to the U.S. from its plants in India.
Now, though, Man's American supply chain will be dramatically shortened with a new US$100-million plant in Little Rock. And that facility on the Arkansas River will be up and running rapidly, as soon as early next year, the company says.
One reason that
Arkansas
was able quickly to seal that deal was the $3.5 million in incentives that Man is getting from the state's Quick-Action Closing Fund (QACF). Signed into law a year ago, the QACF – and economic development in general – were major planks in Gov. Mike Beebe's successful gubernatorial run in 2006.
"The Quick-Action Closing Fund is a very valuable tool for our state," Joe Bailey, director of business development for the Arkansas Economic Development Commission (AEDC), tells the SiteNet Dispatch. "It's designed to help our team close deals, and that's what we've used it for, so far very successfully.
"With Man Industries, we've sold them on our ability to work together to address their project needs and to get them ready to operate as quickly and efficiently as possible," he continues. "The governor's [QACF] fund certainly helped with that."

Changed Climate Luring Foreign Firms
The QACF, though, was only the final piece in putting together the state's winning bid for Man Industries. The deal, says AEDC Director Maria Haley, reflects some much broader currents that are altering Arkansas' business climate.
Haley herself, in fact, is a central element in that change. A longtime aide to former President Clinton and a veteran player in international business,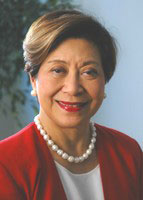 she was recruited by Gov. Beebe to take the reins of the AEDC in March of 2007.
"I truly believe that businesses, both internationally and domestically, are taking notice of the leadership in Arkansas," Haley explains from her office in Little Rock. "Businesses are rediscovering Arkansas.
"For many years, Arkansas was not competitive, but we are once again competitive," she continues. "The state General Assembly has passed legislation that makes Arkansas more competitive with our neighboring states."
The QACF is one weapon that Arkansas has added to its recruiting arsenal. The $50-million fund, which can be used at the governor's discretion, puts the state on equal footing with many of its nearby competitors. In Alabama, for example, the governor has a $100-million quick-close fund, while the Texas governor has $295 million at his disposal.
The performance-based QACF subsidies have been particularly effective in finalizing deals with foreign firms. Man Industries marks the third major global player in nine months to pick Little Rock for a major expansion.
In June of 2007, another large Indian pipe manufacturer,
Welspun Gujarat Stahl Rohren
, chose a 740-acre (296-hectare) site at the Little Rock Port for a 300-employee, $100-million production facility. A month later,
LM Glasfiber
announced a far bigger project. The Danish manufacturer of wind-turbine blades chose the Arkansas port for a $150-million plant that will employ more than 1,000 workers within five years, the company says.
The major influx of manufacturing jobs is particularly good news for the Arkansas economy.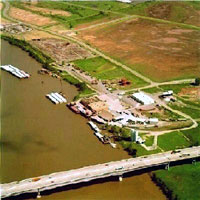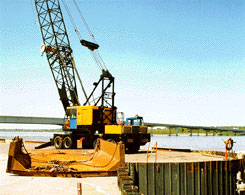 The state lost 8,000 production jobs last year.
"Arkansas has not given up, and America should not give up, on manufacturing," Gov. Beebe said at the Man Industries announcement.
Subsidies, however, weren't the chief catalyst in the state's successful wooing of Man, the governor added.
"It wasn't the incentives," said Beebe. "There were other communities vying for this that could offer a lot more. It's the people; it's the warm welcome. That is the ultimate sales point."

From Last to First
Arkansas apparently had some serious selling to do with Man Industries. In the early stages of Man's site search, in fact, the state was stuck at the tail-end of the channel in vying for the Indian pipeline company.
The Natural State ranked last on Man Industries' original list of possible sites, Man Industries Chairman Ramesh Mansukhani noted at the March 14th expansion announcement. A number of other states, including Louisiana, Mississippi and Texas, were positioned ahead of Arkansas, he said.
At one point, in fact, the company made an apparent final decision to choose Texas for its maiden U.S. manufacturing voyage. The likely Lone Star State destination was Houston, which, along with Baton Rouge, La.; Mobile, Ala.; and New Orleans, also got major consideration, Man officials said.
"Then we changed our minds," Mansukhani explained of the eventual turn toward Arkansas.
That process also involved another change of mind for Man – about U.S. receptivity to manufacturing operations.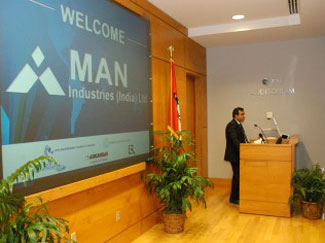 When the company began its first American site search, it was more than a little leery of the nation's environmental laws and its labor climate, said Mansukhani.
"After coming here, meeting the people, my impression is totally changed," he said at the Little Rock announcement. "I hope the great message for the world, particularly the developing country world, is the USA still having the great potential if you bring the plant."
Intangibles are virtually impossible to quantify in site-selection decision-making. Nonetheless, intangibles were apparently a highly significant factor in Man's decision to elevate Arkansas to first place in its final location decision.
"All we can go by is what they told us," says Bailey. "And what they told us is that they were able to reach a comfort level with our state that was not present in other states. That ended up playing a huge role."
A major shot of Arkansas' southern comfort no doubt came from Haley, who has a vast wealth of global business experience. During her years in Washington, for example, Haley served for five years on the board of the U.S. Export-Import Bank, leading trade missions and serving as the American representative at worldwide banking and trade summits. And immediately prior to taking the AEDC director's post, she spent six years as senior director at Kissinger McLarty Associates, an international business consultancy headed by former U.S. Secretary of State Henry Kissinger and former Clinton administration Chief Of Staff Thomas McLarty.
"She's a huge asset to our agency," Bailey says. "She brings a lot of experience in international markets and gives the immediate recognition that she has this experience."
The daughter of a diplomat, the Philippines-born Haley lived in India while growing up, as well as Hong Kong, Japan, Laos and Pakistan.
"I am comfortable with international companies because I lived overseas for a very long time," she says. "So they feel that our agency is extending not only hospitality, but also an understanding of their culture.
"With Man Industries, when their main decision-makers met me, they felt comfortable that we in Arkansas understood them and their business practices," Haley adds. "They felt that we could talk to them together at the same level."

Multiple Welcome Mats
The AEDC, however, definitely wasn't the proverbial Lone Ranger in persuading Man to come to Arkansas, as Haley emphasizes. Instead, the welcome mat for the Indian company came rolling out from multiple levels of government.
"From the time that Man Industries came here, they had the attention of not only the location team – representatives of the city, the state and the port," Haley notes.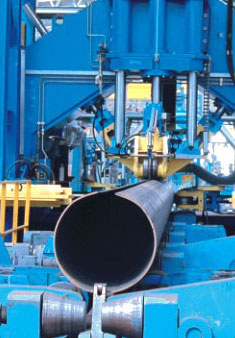 "They also had the full attention of the Little Rock mayor and the Arkansas governor.
"When a prospect sees this, they feel comfortable about this," she continued. "They felt comfortable after their first visit, and then their comfort level kept rising."
The Little Rock Regional Chamber of Commerce was "particularly instrumental" in securing Man's commitment, Haley says.
Little Rock and Pulaski County together are providing Man with $9.5 million in incentives that will go into infrastructure improvements at the site at the Little Rock Port.
The Indian company cited the importance of several other major Arkansas pluses in the location decision: the state's central U.S. location and the multimodal transportation links that the Port of Little Rock can provide.
Man has already purchased a 162-acre (65-hectare) tract at the port. The company will build a plant there manufacturing helical submerged arc welded (HSAW) pipes, as well as a pipe-coating facility. The two plants will employ 250 workers making HSAW pipes, which are used in the petroleum industry.
Man Industries is bringing some executive positions as well to the site on the Arkansas River. The Little Rock property will also be home to the company's headquarters for North and South America. About 50 workers will staff the headquarters operation, Man officials say.
"We were hunting for the last four or five months to find the right location in the United States," Mansukhani said at the project announcement.
Now that Man has taken the big step of coming to America, it sounds like it plans to grow some more after it settles into its new location.
"The execution of this first facility is significant for Man, as we strengthen our presence in the U.S. market and take an important step towards investing in this region," said Mansukhani. "Based on the U.S.'s growing demand, Man is very confident about its future growth opportunities in the U.S."