Among a host of Michigan re-investments announced in April was the no-fooling April 1 announcement by Milwaukee, Wis.-based
Johnson Controls Inc.
(JCI) of US$118 million worth of retooling at its operations in Battle Creek and Holland. The sites were chosen over competing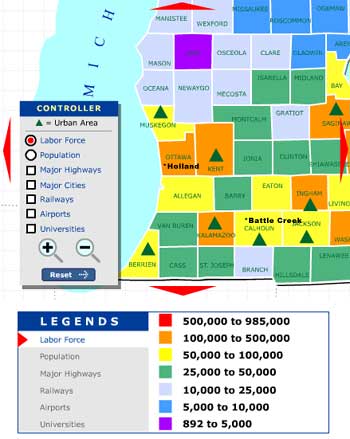 Data source: Michigan's Official Economic
Development and Travel Web site.
locations in Ohio and Mexico.
The combined projects will receive $17.4 million in tax credits from the
Michigan Economic Development Corporation
. Both towns anted up the tax breaks: $4.8 million worth of abatements in Holland Township, $5.4 million in Battle Creek. Those offers are significant in light of the communities' recent JCI experiences.
In Holland, JCI last year downsized by 800, moving some of the production to Mexico. The township has also been struck by the recently announced closing of a Pfizer plant.
The new Holland investment involves moving production of floor consoles and trim from a plant in Ottawa County's Holland Township to a plant near Tulip City Airport in Holland. Then the company will move new seat component work to the 295,000-sq.-ft. (27,406-sq.-m.) Holland-Lakewood facility, which first opened in 1976. The new work will create 300 new jobs by the end of 2005 and 525 at full production.
Battle Creek has been on a rollercoaster of its own. JCI closed a door panel plant there in December, laying off 180 people. Now it will create around 225 jobs at a new seat-frame operation that will occupy that same 200,000-sq.-ft. (18,580-sq.-m.) plant. According to published reports, those laid-off employees will gradually be called back a production ramps up.
Controls Group Goes Abroad
At least Battle Creek still gets to do battle.
The investments in the company's automotive operations run counter to the trend in its Controls Group, which announced in late March that it was closing a plant employing 167 people in Goshen, Ind., and relocating the work to an existing plant in Reynosa, Mexico, as well as to outsourced suppliers.
That announcement came a day after a separate announcement that the company's actuator and software duplication facility in Watertown, Wis., would close, eliminating another 57 U.S. jobs. That work, too, is relocating to Reynosa. But the company's holding on to the property and planning to lease it to other manufacturers. That strategy has already worked at the Watertown complex, where the company that JCI sold its pilot and gas valve manufacturing to in 2004 is now leasing 62,000 sq. ft. (5,760 sq. m.).
In a March financial guidance statement, the company also said that it expects to incur restructuring costs in the 2005 second quarter of approximately $150 million pre-tax. "The amount, which reflects an acceleration of the company's cost reduction strategies, primarily relates to facility consolidations and severance," read the statement.
However, the Automotive Group expects to increase sales by 8-10 percent in 2005. Earlier in March, the company completed the $427-million sale of its engine electronics business to Valeo, based in Paris, France. But seat components are worth holding onto.
According to MEDC, a University of Michigan economic analysis estimates that 1,007 indirect Michigan jobs will be created as a result of increased economic activity associated with Johnson Controls' reinvestment in the Battle Creek and Holland facilities, in addition to the 747 jobs retained directly by the company. The project is expected to generate more than $1.3 billion in personal income for Michigan workers over the life of the tax credit.
"We are pleased to bring the manufacturing operations for our new automotive seat component products to the Johnson Controls Holland and Battle Creek plants," said Brian Kesseler, group vice president and general manager, North America. "We appreciate the support we have received from not only the State of Michigan, but also from Holland Township, Lakeshore Advantage, the City of Battle Creek and Battle Creek Unlimited on these projects."
---
Rack Maker Racks Up Square Footage
You see them whizzing by on the highway,
but Thule stays put in Connecticut
by

ADAM BRUNS,

Site Selection Managing Editor
First of all, it's pronounced "Too-lee." In the vernacular of Seymour, Conn., that's Swedish for "growth."
The company announced in mid-April that it would be adding another 28,000 sq. ft. (2,601 sq. m.) to its existing 80,000-sq.-ft. (7,432-sq.-m.) complex in order to make more room for shipping and distribution. But the expansion also means an overall redesign that will mean more manufacturing space,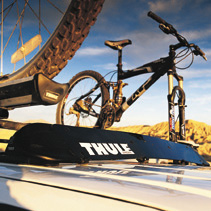 Roof mounted bike carrier and Thule Fairing Example of product from Division Car Accessories USA
more offices and meeting rooms and an employee fitness center
Thule Inc. is the North American subsidiary of Thule Holding of Hillerstorp, Sweden, makers of rooftop boxes, roof rails, bike carriers and trailers. After making its entrance into the North American market in 1981, it moved its North American headquarters from Elmsford, N.Y., to Seymour in 1992, and last expanded there in 1998 with 26,000 sq. ft. (2,415 sq. m.)
That extra manufacturing space will come in handy, since the announcement came on the same day the company acquired the Quick-load bike rack division of Sportworks Northwest Inc., of Woodinville, Wash. That line of products will ramp up in Seymour over the next year. The company is also introducing a line of kayak carriers, called Hullavators.
The Seymour complex employs nearly 230 of the company's 600 North American employees. The company also operates a manufacturing plant in Franklin, Ill., and a distribution center in Aurora, Colo., outside Denver. The first quarter of 2005 saw the company's North American sales up by 10 percent over the first quarter of 2004, to $16.5 million.
The Swedish company's car rail division is also growing, and just opened a new plant in Huta, Poland, that is supplying Opel, Suzuki and Ford. The company is also starting a new company in South Africa, at the same time it is cutting 70 positions at its 320-employee hometown plant in Hillerstorp, Sweden. Thule opened a new rooftop carrier plant in Brazil in May 2004, with an investment of In all, the company employs 2,000 worldwide at 20 sites.
---
Coming to a Complete Stop in Kentucky
$32-million Project May Help Ohio
Gov. Taft Make Case for Tax Reform
by

ADAM BRUNS,

Site Selection Managing Editor
On April 14, Ohio-based Aircraft Braking Systems Corp. (ABS) announced it will located a $32.6-million plant in Danville, Ky., for the manufacture of an alternative carbon material for disc brakes. The reason it didn't stay home in Akron soon may vanish after tax reforms proposed by Ohio Gov. Bob Taft become law. But it's not soon enough for ABS.
ABS employs 700 in Akron. The new plant in Danville — home to revered private college Centre College as well as the newly opened Central Kentucky Technical College. — will employ 46 people when up and running in two years. The project is in line for US$650,000 in tax credits from the Kentucky Economic Development Finance Authority and $74,000 worth of property tax abatement, as well as a net profits tax abatement, from the City of Danville.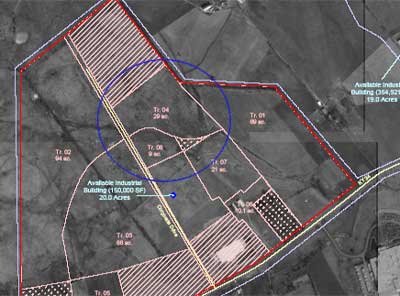 Both 3B and ABS have purchased parcels (circled above) in the John Hill Bailey Industrial Park. Joe Gibson, director of the Boyle County Industrial Foundation, says they have both also purchased options on adjacent acreage for potential future growth. (Click on the image above to open a larger pdf image)
According to published accounts in the Akron Beacon Journal, company officials informing Akron employees of the Kentucky decision made repeated reference to Ohio's tangible personal property tax on machinery and equipment.
In a news release, ABS stated that the Danville site offered "the more complete package of economics and operational flexibility." Construction of the 45,000-sq.-ft. (4,181-sq.-m.) facility will begin later this year on the 29-acre (11.7-hectare) site.
"Officials from the city of Akron and the state of Ohio were diligent in their efforts to influence our decision for Akron, but in the final analysis, Danville was the better business decision," said Ken Schwartz, president and CEO of ABS corporate parent, K&F Industries Inc.
The Ohio tax has been at the center of the Cuno v. DaimlerChrysler federal appeals court decision, and its elimination is a main plank of Gov. Taft's reform package, which is backed by a host of organizations, including the Ohio Manufacturers Associaton.
April in Central Kentucky:
Keeneland's Running and Danville Plants are Coming
Aircraft Braking Systems manufactures braking systems for commercial, military and general aviation aircraft. Its customers include Boeing, Saab, Airbus, Gulfstream, Lear, Bombardier and Lockheed. ABSC sales for 2004 were $293 million and are projected to exceed $300 million in 2005.
It was just two years ago that another rubber-related firm pulled the plug on its Danville operations: ATR Wire & Cable Co.'s plant closing meant the loss of 550 jobs. Now the town has seen two major projects land in one month.
Earlier in April, Italian cabinet door maker 3B Inc. announce it would put its first North American facility in Danville. The same two-year timetable will see 3B create 100 jobs at the warehouse it's purchased for the operation.
(For more on Ohio tax reform, be sure to read the Ohio Spotlight in the May 2005 issue of Site Selection.)
---
Hey, Noni Noni
'Largest Single-Roofed Manufacturing
Plant in Tahiti' Has a Nice Ring to It
by

ADAM BRUNS,

Site Selection Managing Editor
Do you know what a noni is? Did you know there's a company based in Provo, Utah called Tahitian Noni International, with manufacturing facilities in four countries and sales offices in 35?
Founded by two food research scientists in 1995, the company is a leader in the discovery, development, manufacturing, and marketing of noni-based products including beverages, beauty and spa products, weight loss management lines, and animal nutrition. Now the firm is celebrating its 10th anniversary with a new $21-million, 85,000-sq.-ft. (8,000-sq.-m.) processing plant.
But wait ... what's a noni again?
The Quest for Noni
Well, it's actually called Morinda citrifolia. And, according to
www.noniresearch.org
, developers of the natural "science of life" medical system called Ayurveda referred to the fruit as "ashyuka," Sanskrit for "longevity." But there's a list of dozens of names worldwide for the fruit, from "Limburger Tree" to "English mulberry" to, in the Caribbean, "Painkiller tree."
The fruit's about the size of a potato, and high in antioxidants.
According to the company
Web site
, in the early 1990s, food scientist John Wadsworth heard about noni — a resource that natives of Tahiti Nui had always used for its healing properties.
"Intrigued, he began a course of investigation that would lead to countless hours of library and professional journal research," reads the site. "Ultimately, his inquiries led him to conclude that a trip to Tahiti was required."
Yes, of course, John, we believe you.
"John spent days driving around one of the islands, searching for noni," continues the company history. "On his last evening there, discouraged and tired, he stepped out of his jeep to rest and take in the sunset. As his eyes followed the rays of the sun to the valley below, he saw it: a lush grove of wild noni trees.
" 'As I was struck with this beauty,' John remembers, 'a very powerful impression came to me. This fruit has been preserved from the world, and now is the time to take it to the world. It will bless the lives of millions and millions of people, and it will also bless the lives of the people in Tahiti.'"
Wadsworth worked with fellow food scientist Stephen Story to develop Tahitian Noni Juice. Now they have developed the new facility in the west coast Tahiti town of Mataiea that will be the largest single-roofed facility in Tahiti. It will also double the company's capacity from 600 tons a month to 1,200 tons a month.