Philly on the Move
Across the Delaware from Camden, there is no shortage of industrial projects, including several in the transportation field.
The awarding of a June 2006 training grant was the occasion for Pennsylvania Gov. Ed Rendell to trumpet a $105- million expansion at
The Boeing Company
's Ridley Park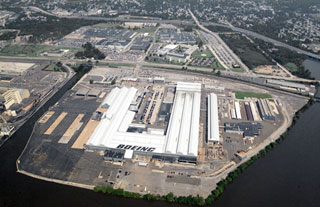 Steady job growth and facility expansion at Boeing's Ridley Park rotorcraft facility in Delaware County has nearly created the same number of positions eliminated in work force reductions announced in late 2001.
rotorcraft complex in Delaware County. Jack Satterfield, spokesperson for Boeing Rotorcraft, says that expansion has been ongoing for several years. Plant officials in December 2001 announced a work force reduction from 5,000 to between 3,500 and 4,000. But today, Satterfield says, the company has brought back nearly all of the jobs affected by those layoffs, and plans to gradually add to that total.
"After some retrenchment in the early 2000s, the Boeing rotorcraft facility modernized, and is now preparing for some expansion as its production rates of V- 22 Ospreys and H- 47 Chinooks grow," Satterfield explains. "We will see moderate growth in the future. We have fewer than 5,000 people, and we might add as many as 500 people, most of which would be in assembly work. That will also be gradual. We might have that many people engaged around the first of the next decade."
The Boeing operations in Pennsylvania are part of Boeing Integrated Defense Systems, based in St. Louis. Increased Osprey production began during 2003, Satterfield says, with facility modernization having begun well before then to a structure that had previously functioned as a warehouse. Boeing makes the fuselages for the aircraft, which are then shipped to Bell Helicopter Textron in Amarillo for final assembly. Among the improvements at the complex was a $4.5- million expansion of its modeling simulation and analysis center, opened in May 2005.
"It is an extremely advanced factory process, and has turned out to be a major success, saving lots of time and money," says Satterfield.
Similar production efficiency improvements have taken place on the Chinook line, which began deliveries of the CH- 47F Chinook to the U.S. military in December 2006. Consequently, the Ridley Park complex has weathered even the 2004 termination of the Comanche program, and is on a moderate growth path, Satterfield says: "The situation in Philadelphia has been quite positive."
The same can be said for Finmeccanica company
AgustaWestland
, which in early February signed a memorandum of understanding to jointly market Boeing's CH- 47F Chinook to the Italian military. Agusta previously had a production license for the CH- 47C, which it produced for Italian military and Mediterranean region customers.
As it happens, AgustaWestland is also expanding its complex near Northeast Philadelphia Airport. Expected to be complete by the end of 2006, the $27- million, 110,000- sq.- ft. (10,219- sq.- m.) plant will be used for the production of the AB139 helicopter, a mid- size aircraft used for everything from offshore industrial work to medical evacuation and corporate VIP transportation. Projected to employ 150, the facility doubles the company's Philadelphia work force at its subsidiary Agusta Aerospace Corp. (AAC) complex, established in 1988.
In addition to providing sales, assembly, customization and support of the A109 and A119 Koala product line throughout the Americas, AAC serves as the consolidation point for more than $100 million worth of annual exports to Italy in support of AgustaWestland product lines, said the company. The expansion follows a 2004 project that saw a nearly $7- million investment in a 40,000- sq.- ft. (3,716- sq.- m.) plant for assembly of the A119 Koala, built adjacent to AAC's original 75,000- sq.- ft (6,968- sq.- m.) facility.