Turbines and Trains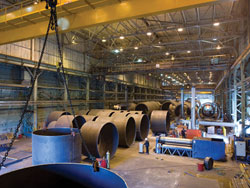 STEELY PRESENCE: At the same time that U.S. Steel's former Fairless Works complex in Bucks County, Pa., has been repurposed by Gamesa for nacelle, wind turbine and tower production (above), U.S. Steel continues to invest in Pennsylvania. In October 2006, the company celebrated the opening of its research and technology center (below) in Munhall, Pa., in the Pittsburgh metro. The center employs 100, and represents a $5- million investment in a facility originally constructed for Siemens Westinghouse Power Co., which never occupied it. "Through our investment in this facility, U. S. Steel is investing in the future of our company, and the future of this region," said John P. Surma, Chairman and CEO of U. S. Steel. "The high- level research efforts conducted by our staff in this facility will help ensure our company remains at the forefront of technological advances – and that our region continues to play a role in this increasingly competitive global industry."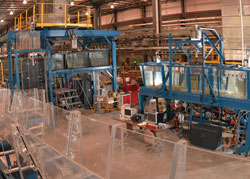 Burns Engineering, part of the engineering and construction management firm Burns Group headquartered in Philadelphia, is involved in two high- profile transport projects in the metro.
First, it worked with
Gamesa
to rapidly adapt the former U.S. Steel plant in Bucks County, Pa., (whose positioning for reuse was
profiled
in our July 2005 issue). Today, the 300 workers at the 250,000- sq.- ft. (23,225- sq.- m.) complex can produce two 300- ft. (91- m.) tall steel and carbon- fiber wind towers daily. Burns says it worked with economic developers and regulators to help get the Gamesa site ready for production in six months. "Renovating an existing building in a timely manner was critical to meeting the market window for Gamesa products," said the company in a February 2007 release celebrating an 2007 Grand Conceptor of Engineering Award from the American Council of Engineering Companies of Pennsylvania and the Pennsylvania Society of Professional Engineers, Philadelphia Chapter.
Now Burns is helping a passenger railcar company determine if another long- simmering facility reuse is in the cards for Philadelphia, as it conducts site analysis for Hyundai Motor Group company
Rotem USA
, which since 2004 has been planning to manufacture Silverliner railcars at a facility at the 1,200- acre (486- hectare) Philadelphia Navy Yard property.
The railcars would fulfill a $244- million contract Rotem has with the Southeastern Pennsylvania Transportation Authority (SEPTA) to construct 104 railcars. That contract was on hiatus for two years because of a lawsuit by outbid firm Kawasaki, but got back on track last year after the project was rebid. Part of the support for the Rotem project is coming from the Citizens Job Bank, a public- private partnership between the Commonwealth of Pennsylvania and Citizens Bank that provides funds to help make projects happen.
The Jobs Bank, created in 2004, exceeded its first goal of $100 million and helped create more than 4,100 jobs at 37 companies in 25 counties across Pennsylvania. In April 2006, the partnership announced a further two- year commitment of $150 million to the effort, which includes $5 million for the Rotem project.
This time around, companies will be required to create one job for each $40,000 borrowed, as opposed to a $25,000 limit in the program's initial round of funding. The expansion will include companies that specialize in industrial and distribution operations along with select business services. Citizens is making $150 million available for a fixed interest rate of 4.99 percent for all loans in the first year, which is more than 2.75 percent below the current prime rate. By contrast, the interest rate in the initial phase of the Jobs Bank program was just 1.5 percent below the prime rate in the spring of 2004, when the program first was created. The minimum loan size is $1 million and the maximum is $10 million. Citizens will continue to waive all fees that are traditionally tied to loan applications. The terms of the loan require that the specified jobs be created within three years after the funds are borrowed.
Since the delays wrought by the lawsuit, Rotem's signed the Southern California Regional Rail Agency as its first U.S. client, with a $176- million, 87- railcar contract. Though the firm has indicated it would make some of the railcars for that contract in Philly, it is actively searching for a site in southern California, says Jack Martinson, vice president of business development for Rotem USA. Meanwhile, the firm since 2004 has been leasing 101,000 sq. ft. (9,383 sq. m.) at the Navy Yard, where it hopes to hire 200 workers for the return of railcar assembly to Philadelphia after a 20- year absence.
"We're evaluating what we have to invest in this proposed production facility," says Martinson, adding that the operation is not slated to reach full production capacity until January 2009. Among the issues under examination is whether clearances and widths will help or hamper production, and whether the company will have room to grow as more contracts are secured.
"We should know by early March what our final plan is for starting production," Martinson says.
In addition to the Citizens Jobs Bank assistance, Martinson points to the resources and savvy leaders of the Philadelphia Industrial Development Corp., which also provided low- interest financing and special zoning incentives for plant and equipment and job training costs: "They're very good here in Philadelphia with all of that," says Martinson.