INVESTOR WATCH ONLINE INSIDER
Delegates to the 2018 World Forum for Foreign Direct Investment packed a meeting hall at the Liverpool Exhibition Center earlier this month to witness a roundtable discussion of where foreign investment is going and why.
FROM THE MAY ISSUE OF SITE SELECTION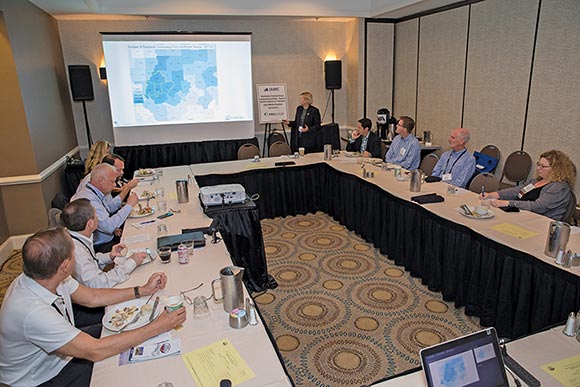 The Industrial Asset Management Council update includes a letter from the chair as well as reports on the impact of disruptive events on corporate real estate strategy, and how 3D printing is reshaping transportation and logistics.
CONWAY ANALYTICS SNAPSHOT

"Developing world cities are set to double their urban population in the next 30 years, and triple the land area they occupy," the Lincoln Institute of Land Policy, UN-Habitat, and New York University told us last year in their "Atlas of Urban Expansion." From 1990 to 2015, they reported, "the area occupied by cities in less developed countries increased by a factor of 3.5; if that rate continues, the total amount of land taken over by urban land use would be equivalent to the entire country of India."
"India itself demonstrates some of the issues that scenario entails," we wrote in the introduction to the 2017 World's Most Competitive Cities report. Infrastructure lags, squalor is frequent, yet it's also home to competitive areas such as Pune and Hyderabad. In this year's report, coming later this summer, Pune again ranks highly. Berlin-based Annika Jostmeier, Conway Advisory senior manager of FDI, will offer an exclusive perspective on the city, based on her years working in India for Volkswagen.
Among the city's highlights is SP Infocity (image above), first spotlighted in Site Selection in 2010, and one of several successful IT-focused business parks in India from developer Shapoorji Pallonji. Over the past 15 years, Conway Analytics has tracked more than 190 projects in Pune that qualify for the Conway Projects Database. Below is how they shake out by capex.
—Adam Bruns
TOP PUNE PROJECTS
Year
New/Expansion
Investment
(US$ million)
Company
2015
N
5000.0
Foxconn
2007
N
566.0
Mahindra & Mahindra
2010
N
538.0
Bridgestone
2011
N
476.0
Beiqi Foton Motor
2013
E
417.0
Bridgestone
2017
E
304.3
Bridgestone
2013
N
288.0
Great Wall Motor
2005
N
260.0
BlueScope Steel/Tata Steel
2012
E
200.0
Avery Dennison
2011
N
200.0
GE
BRAZIL
Funded in part by investment from the likes of ING and Blackstone, Ascenty Data Centers continues to place multi-tenant data centers across Latin America, after launching five in 2017. Among the new sites is this facility near São Paulo, the company's 10th data center, expected to come online in Q2 2019. Brazil's largest data center infrastructure firm now has eight centers in operation and six under construction.
INDIA
Pune-based Bharat Forge Ltd., a maker of high-value components across a range of industry sectors including automotive, power, metals and aerospace, is investing $22.5 million and creating 500 new jobs at a site in the Mummigatti industrial area in Hubballi-Dharwad in the State of Karnataka. Bharat Forge, part of the $2.5-billion conglomerate Kalyani Group, will establish the new facility as a high-precision machining center.
Conway's Laura Martin made this image of Angkor Wat in Siem Reap, Cambodia. According to an OECD report, Siem Reap is visited by more than half of all foreign tourists to Cambodia, yet over half its population lived below the poverty line a few years ago. We spoke in 2015 to Cambodia Minister of Commerce (now Minister for Public Works and Transport) His Excellency Chanthol Sun about how the country was changing that storyline.
SITE SELECTION RECOMMENDS