CONWAY ANALYTICS SNAPSHOT
Photo courtesy of Bank of America
It's not a leap year until 2020, so that means only 29 days until Brexit. Financial services, which represents 6.5 percent of UK GDP, has been the most active "prepper" in the Brexit context, with one European financial center — Frankfurt — claiming that up to $911 billion worth of assets and 10,000 jobs in the sector will move there by the time we reach March 29. EY (see "Site Selection Recommends" below) says 2,000 roles have moved to Europe since the June 2016 referendum, and forecasts another 7,000 roles being transferred "in the near future."
Not every relocation means a facility project. But some do. Since February 1, 2018, Conway Analytics has tracked 140 projects (not all relocations) in Western Europe that fall within the larger category of business & financial services, with Dublin the far-and-away leader with 14. But we've also tracked 92 in the UK, with between eight and 12 projects each landing in London, Leeds, Manchester and Scotland's two main cities of Glasgow and Edinburgh.
Barclays is covering its bases, moving 200 jobs to Dublin and Frankfurt, but also pursuing a large expansion in Glasgow. Bank of America, meanwhile, has consolidated in Dublin as well.
"We are pleased to have worked closely and constructively with our regulators to complete this critical component of our Brexit preparations exactly on schedule and well ahead of the earliest possible date of the UK's exit from the EU," said Anne Finucane (pictured), chair of Bank of America Merrill Lynch International Designated Activity Company (BAMLI DAC), on the successful completion of the cross-border merger of its UK banking entity into BAMLI DAC. "Having marked being in Ireland for 50 years this year, we now employ over 800 people in Dublin dedicated to helping power both the future Irish economy and broader society."
FROM SITE SELECTION MAGAZINE JANUARY 2019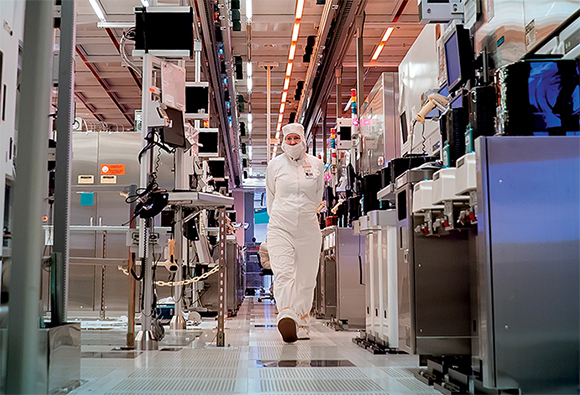 ADVANCED MANUFACTURING
An excerpt from Deloitte's "Exponential Technologies in Manufacturing" study offers a snapshot of how industrial firm leaders view the innovation landscape.
Monzo Bank Limited
Lead Signal: March 2017
Conway Analytics delivered a Lead Signal highlighting that London-based startup Monzo Bank was raising additional capital for expansion in Europe, the U.S. and Asia for its digital financial services products. March 2017
Project: January 2019
Monzo Bank recently announced that it will open a new customer service operation in Cardiff, Wales. The new operation is expected to create 300 new jobs over several years. Monzo currently has over 1 million customers using its mobile payments system.
Lead Signal
Project
SITE SELECTION RECOMMENDS
In monitoring the public statements of 222 financial services firms with operations in the UK, EY's Brexit Tracker reported in January that 80 of them (36 percent) stated they were considering or have confirmed relocation of staff or operations to Europe. Overall, 27 firms are fleeing to Dublin, and 15 are headed to Paris. "We know that behind the scenes firms are continuing to plan for a 'no deal' scenario. The closer we get to 29 March without a deal, the more assets will be transferred and headcount hired locally or relocated," said Omar Ali, UK Financial Services Leader at EY. "Inevitably, the contingency plans are for Day 1 only, and in the event of 'no deal' will represent the tip of the iceberg as longer-term plans will be more strategic and extensive than those publicly announced to date."
USA
ServiceMac has announced that it will open a new 100,000-sq.-ft. mortgage service operation in Indian Land, South Carolina. The new $24-million investment will create 1,000 jobs over five years. Headquartered in Charlotte, North Carolina, ServiceMac provides back office solutions for the mortgage and real estate sectors.
UNITED KINGDOM
The Zamora Company, which makes and distributes premium wine and spirits in 80 countries around the world, has opened a new regional sales office in Mexico City, Mexico, to manage all Americas activities except the United States, where is has a dedicated management team in place. Based in Madrid, Spain, Zamora has 12 facilities in Spain, Italy, France, the United States, the Dominican Republic and Mexico.
Conway President and Site Selection Publisher Adam Jones-Kelley (r.) and Conway Director for Latin America Bobby Pereira (l.) this week met Venezuelan opposition leader Juan Guaidó, recognized since January as the legitimate interim president of Venezuela by the United States and several dozen other countries. Watch for our exclusive interview with Guaidó in the May issue of Site Selection.