ONLINE INSIDER
A Finnish company's promotional idea to open a pop-up bar at the North Pole instead pops open a window on Arctic politics and environmental issues.
FROM SITE SELECTION MAGAZINE MARCH 2019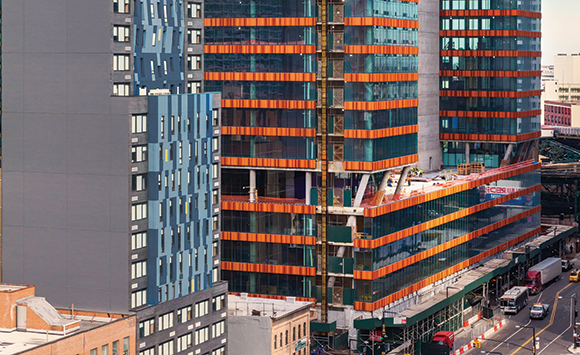 U.S. NORTHEAST
Places once thought fossils — including two fossil-fuel power plant sites — welcome renewal from investors.
Astroscale
Lead Signal
In October 2018, Conway Analytics delivered a Lead Signal announcing that Singapore-based Astroscale had secured a Series D round of venture funding in the amount of $50 million. The new funds would be used to upgrade ground control center operations as well as engineering, procurement and business development capabilities in the United Kingdom, and the establishment of an entity in the U.S. in 2019.
Project
In April 2019, Astroscale announced that it would be opening a new office in Denver, Colorado. The office will allow the company to work with U.S. policymakers on issues related to space traffic management and mitigation of orbital debris. Astroscale is developing solutions for satellite end-of-life and active debris removal services to mitigate the growing and hazardous buildup of debris in space.
Lead Signal
Project
CONWAY ANALYTICS SNAPSHOT
In our proprietary subscription-only data and published rankings, Conway Analytics and Site Selection offer unique project information. The fun part comes with corroboration and triangulation. Two new reports offer tempting DIY opportunities. Earlier this week, Boulder-based FlexJobs, an online service for professionals seeking remote, flexible schedule, part-time, and freelance jobs, named the top 15 states where companies recruited the most state-based remote workers in 2018. Well-populated California, Texas, and New York were the top three states, but the list (see below) isn't just a numbers game.
FlexJobs, which also offers a U.S. Remote Job Market Map with remote worker populations and top cities for the most remote workers, says half-time remote workers gain back 11 days a year (the average daily commute is 26.1 minutes). "According to a new report, between 2010 and 2017, 16% of all white-collar jobs added to the economy have been filled by people primarily working from home," said Sara Sutton, founder and CEO of FlexJobs.
If you thought most of those remote jobs were data and IT-related, you would not be wrong. Corroboration of a sort can be found in Cyberstates 2019, from IT association CompTIA, documenting state and metro-area tech employment trends. The top five states for net tech employment gains in 2018 were California (51,567), Florida (18,147), Texas (17,855), North Carolina (13,773) and New York (13,732). On a percentage change basis, job growth was strongest in Utah (4.3%), New Hampshire (4.2%), North Carolina (4%), Nevada (4%) and Washington (3.5%).
Triangulate which states score well in their lists and ours and you might have a winner for your next project or your next place to live.
Top States for Remote Workers
California
Texas
New York
Virginia
Florida
Illinois
Pennsylvania
Georgia
North Carolina
Massachusetts
Washington
New Jersey
Arizona
Minnesota
Ohio
Graph courtesy of CompTIA
EGYPT
Finnish packaging company Huhtamaki has opened a new plant in Cairo, Egypt. The $26 million, 400,000-sq.-ft. facility will employ 250 people. The plant will serve customers in Egypt and across Africa. Huhtamaki is a global specialist in packaging for food and drink with 78 manufacturing units across 34 countries, and employs 17,00 people.
USA
Aetna has announced an expansion of its High Point, North Carolina, health insurance operations. The company will invest $2.5 million, add 16,000 sq. ft. and create 300 new jobs by the end of 2020. Aetna currently employs 1,200 at the site. Aetna is a major U.S.-based insurance provider that was recently acquired by CVS Health.
SITE SELECTION RECOMMENDS
"I don't think there's such a thing as a production paradise."

—

Dag Reckhorn, senior vice president of global manufacturing for Faraday Future, told us last summer.
Conway Staff Photographer Carmyn Suzor made this photo of Conway President and Site Selection Publisher Adam Jones-Kelley undergoing inspection at the Meerkat Cafe, found in the Hongdae district in Seoul, South Korea. This snappy piece explores the array of Korean pet cafes that have popped up over the past few years.