FROM SITE SELECTION MAGAZINE JULY 2019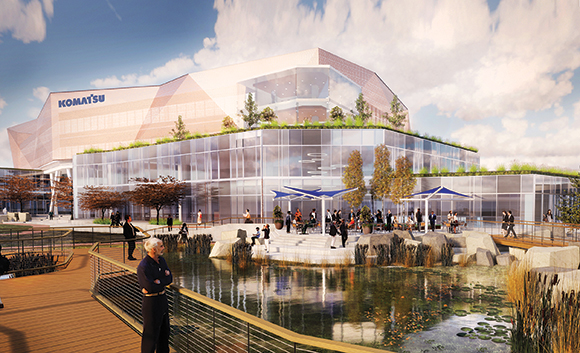 WISCONSIN
Komatsu plans a transformational headquarters campus in the city's lagging Harbor District.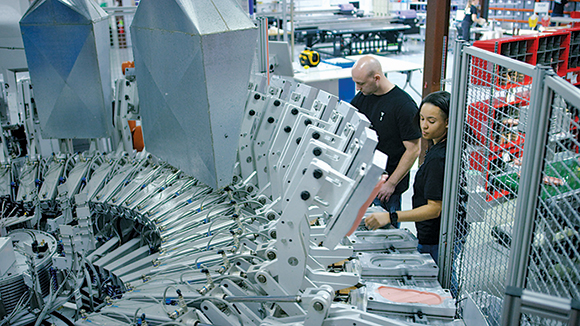 NEWS DIGEST
Quick-hitting stories about the states seeing the highest GDP contribution from commercial real estate; the state that now bars employers from refusing to hire based on a failed marijuana test; the state that welcomed a new Juul plant even as concerns mount about vape sales to minors; cold storage; and the latest expansion in Louisville by Big Brown.
NEW ZEALAND
Oceania Dairy has announced plans for two expansion projects resulting in 80 new jobs in South Canterbury, New Zealand. One of the projects, a $30 million laboratory, will be completed next July. The South Canterbury Chamber of Commerce has noted that this investment project will be an enormous boost to the region's economy and status on the regional, local and global scale.
AUSTRIA
Finnish company Exel Composites has recently announced plans to expand its existing site in Kapfenberg, Austria. The $7.8 million investment is intended to increase production capacity significantly. The current facility manufactures special pultruded profiles for the electrical and mechanical industries, as well as for railways and the paper industry. The company has developed proprietary technologies for pultrusion, pull-winding, co-winding and continuous lamination.
— Compiled by Olivia Vener, Consultant, Conway Advisory
SITE SELECTION RECOMMENDS
Photo courtesy of TVA and the Chattanooga Lookouts
Next Friday, August 23rd, the Chattanooga Lookouts — the Southern League Double-A minor league affiliate of the Cincinnati Reds — will become the first minor league baseball team in America to play a game that is 100% carbon-neutral. The Green Power Night home game against the division-leading Montgomery Biscuits will be powered through locally generated solar energy credits provided by EPB of Chattanooga in partnership with Tennessee Valley Authority. The Lookouts will be donning special green jerseys during the game, modeled here by No. 17, relief pitcher Ryan Nutof.
TVA coordinated the partnership. Moving toward more renewables was a crucial part of TVA's pledge to Google for its huge data center that landed in Alabama four years ago. EPB's Solar Share, Chattanooga's only community solar installation, is powering the game. According to the Solar Energy Industries Association, there are 43 states with at least one community solar project on-line, with 1,387 cumulative megawatts installed through 2018. According to a recent SEIA report, by 2023, roughly 30% of total non-residential PV will come from community solar, thanks in part to robust community solar mandates in such states as New York, Maryland, Illinois and New Jersey.
CONWAY ANALYTICS SNAPSHOT
Yesterday the 2019 edition of the Inc. 5000 was published, complete with company profiles, interactive charts and maps. It was hard to come by straight tallies by state and city, however, so we took the liberty of doing so with the traditional Inc. 500. Below are the numbers for the top states and cities by number of resident Inc. 500 companies. Notably, the Inc. rankings recognize municipalities, but not metro areas. Doing so will provide significant boosts not only to the MSAs and CBSAs anchored by the cities below, but also to others such as Washington, D.C.; Dallas-Fort Worth; the Los Angeles basin and Greater Phoenix. Watch this space and Site Selection magazine for further Conway Analytics analysis of the entire Inc. 5000.
Top 10 States by 2019 INC. 500 Firms
| | |
| --- | --- |
| State | Firms |
| California | 90 |
| Florida | 46 |
| Texas | 43 |
| New York | 38 |
| Virginia | 30 |
| Illinois | 25 |
| Georgia | 24 |
| Maryland | 21 |
| Colorado | 14 |
| North Carolina | 12 |
Top 10 Cities by 2019 INC. 500 Firms
| | |
| --- | --- |
| City | Firms |
| New York | 27 |
| Atlanta | 16 |
| Chicago | 14 |
| Austin | 13 |
| San Francisco | 12 |
| Miami | 8 |
| San Diego | 8 |
| Denver | 6 |
| Tampa | 6 |
| Seattle | 6 |
Conway Events Staff Photographer Sebastijan Jug made this image of Rocca Guaita, one of the Three Towers of San Marino in the tiny republic surrounded by Italy, located a perfect 10k run (6.2 miles) from the Adriatic coast on the Apennine peninsula. Located on Mount Titano, the structure dates to the 10th century, and parts of the fortress were used as a prison until 1970.