ONLINE INSIDER
Massachusetts' dense life sciences ecosystem continues to be a driving force in the state's economy — even out west.
FROM SITE SELECTION MAGAZINE SEPTEMBER 2019
CHINA
Kirsen Lee Olson, associate director, China, for Site Selection parent company Conway, Inc., says China's new law addresses IP protection while remaining vague about other investment concerns.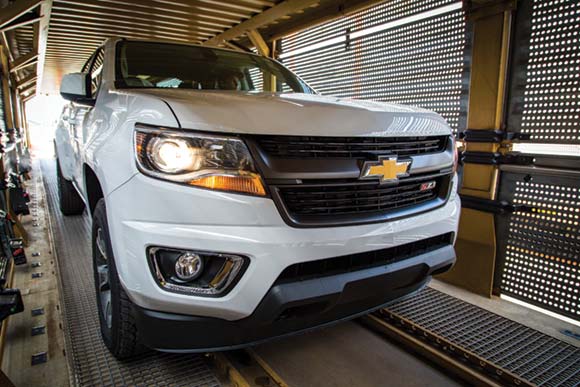 INVESTMENT PROFILE: MISSOURI
With the goal of being the best in the Midwest, a cascade of changes has set Missouri on a new economic development course. Try to keep up.
Site Selection's annual business climate survey is underway. It helps determine the top states for business, as the November issue's cover story will explain. It takes just a few minutes to complete, so click here to participate today.
SINGAPORE
Linde, a global industrial gases and engineering company, recently began construction on an integrated manufacturing complex on Jurong Island in Singapore. The $1.4 billion project represents the company's largest investment to date, with completion slated for 2023. The new plant is expected to double the company's operational capacity, creating 70 high-value manufacturing jobs.
USA
India-based Strides Pharma recently announced that is has acquired a manufacturing facility from Micelle BioPharma Inc. in Riviera Beach, Florida, located just north of West Palm Beach and just south of Jupiter. The sale involved a $500,000 asset purchase agreement, with plans for Strides Pharma to invest up to $10 million to build incremental capabilities and additional dosage formats. The Riviera Beach facility includes a soft gel capsule manufacturing suite for formulations with containment needs — a feature that is rare in pharmaceutical manufacturing facilities. Strides now has eight formulation sites globally, including its flagship site in Bengaluru, India.
— Compiled by Olivia Vener, Consultant, Conway Advisory
CONWAY ANALYTICS SNAPSHOT
For Quarter 4 2019, 100 of the largest Metropolitan Statistical Areas (MSAs) in the United States report positive Net Employment Outlooks, says the latest report from Manpower Group, based on 11,500 interviews with employers in every state, D.C. and Puerto Rico about their hiring intentions. (Survey results for each MSA are available at meos-press.manpowergroup.us.) The strongest outlooks are in Columbus, Ohio; Richmond, Virginia; Greensboro, North Carolina; and Provo-Orem, Utah.The Net Employment Outlook is derived by taking the percentage of employers anticipating an increase in hiring activity and subtracting from this the percentage of employers expecting a decrease in hiring activity.
When we run these 100 metro areas through Conway Analytics' database (which requires at least $1 million invested, 20 new jobs created or 20,000 new sq. ft. of space), we find that these 100 have collectively welcomed 2,716 corporate facility investments since September 2018. Topping the list are Chicago, Dallas-Ft. Worth, Houston and Cincinnati. As for the Manpower Employment Outlook leaders, Columbus is No 6 on our list with 90 projects. Richmond is 51st with 11 projects; Greensboro is 42nd with 14; and Provo-Orem, known more for its startup and entrepreneurial culture, is 89th. — Adam Bruns and Daniel Boyer
| Net Employment Outlook Q4 2019 | Metropolitan Statistical Areas |
| --- | --- |
| 31% | Columbus |
| 29% | Richmond |
| 28% | Greensboro, Provo-Orem |
| 26% | Deltona, Nashville, San Antonio |
| 25% | Austin, Las Vegas, McAllen, Springfield |
| 24% | Charleston, Grand Rapids, Madison, Ogden, Tucson, Wichita, Winston-Salem |
| 23% | Allentown, Raleigh, Salt Lake City, San Francisco |
| 21% | Atlanta, Baton Rouge, Chattanooga, Harrisburg, Honolulu, Milwaukee, Oxnard, Palm Bay |
| 20% | Akron, Cape Coral, Cleveland, Phoenix, Pittsburgh, San Jose, Tampa |
| 19% | Boston, Dayton, Detroit, Fresno, Houston, Portland |
| 18% | Augusta, Greenville, Memphis, Miami, Spokane, Virginia Beach, Worcester |
| 17% | Albuquerque, Birmingham, Charlotte, Colorado Springs, Kansas City, Louisville, New Haven, Omaha, Sacramento, Stockton |
| 16% | Los Angeles, San Diego, Tulsa |
| 15% | Albany, Baltimore, Buffalo, Jackson, Jacksonville, Lakeland, Little Rock, New Orleans, North Port, Orlando |
| 14% | Bakersfield, Boise City, Hartford, Riverside |
| 13% | Denver, Des Moines, El Paso, Minneapolis, New York, Oklahoma City |
| 12% | Bridgeport, Dallas, Knoxville, Philadelphia, Providence, St. Louis |
| 11% | Indianapolis, Syracuse |
| 10% | Cincinnati, Scranton, Seattle, Toledo, Youngstown |
| 8% | Chicago, Washington |
| 7% | Columbia |
| 3% | Rochester |
Chart courtesy of Manpower Group
SITE SELECTION RECOMMENDS
Southern Living reports this week that the installation of three beehives on MetLife's Cary, North Carolina, campus is the final puzzle piece in a 60-mile "bee corridor" across the Research Triangle region. Who's responsible? Leith-Kathryn Bonner (pictured), whose Durham-based startup Bee Downtown was profiled by Site Selection Senior Editor Gary Daughters in May 2018.
Photo courtesy of Bee Downtown
Conway, Inc. Global Director of Training & Events Laura Martin recently made this photo of the Plaza de la Revolución in Havana, Cuba. Behind a typically vintage red car crossing the 11-acre square (built during the Batista era), the mural of Che Guevara is accompanied by his famous saying "Hasta La Victoria Siempre" (variously translated as "Onward to Victory" or "Until Victory Forever.") Atlas Obscura offers a history and travel guide to the area.