FROM SITE SELECTION MAGAZINE NOVEMBER 2019

MISSISSIPPI
Learn the details behind three major investments in northern Mississippi in recent months that will create a combined 850 new jobs.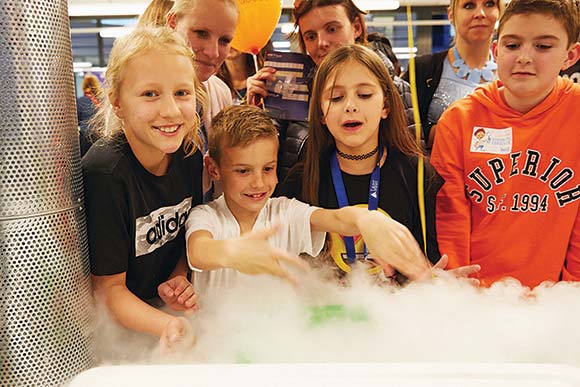 TOP BUSINESS PARK LOCATIONS
Award winners recognized at the International Association of Science Parks and Areas of Innovation's annual meeting in France offer models worth emulating in Austria, Estonia and Brazil, among other locations.
CONWAY ANALYTICS SNAPSHOT
Site Selection Managing Editor Adam Bruns delivered remarks last week at the inaugural Appalachian Basin Real Estate Conference at Oglebay Resort in Wheeling, West Virginia. Short on platitudes and long on business intelligence, the conference's lineup was in agreement that the unconventional oil and gas revolution has sparked economic growth in the tri-state Ohio River corridor, but further expansion is being held back by a lack of energy infrastructure, i.e. large-scale storage. When the $10 billion Shell ethane cracker in Monaca, Pennsylvania, gets up and running soon, "the real Wild West is going to begin," said Chuck Zelek, a native of the area who today serves as senior economist in the U.S. Department of Energy's Office of Fossil Energy.
Why? The lack of storage means approximately 270,000 barrels a day of Appalachian ethane currently are being shipped to the Gulf Coast (which has its own set of crackers about to be unleashed in Texas and Louisiana), where it's converted to feedstocks that are then shipped back to the tri-state region where so many plastics and chemicals manufacturers operate. Solving the storage conundrum will not only help the $5 billion PTT Global Chemical cracker project proposal cross the finish line in Belmont County, Ohio, but will provide enough capacity for several more crackers, suggest Zelek and others, as companies realize savings from eliminating two legs of long-distance transport.
The DOE and USDA joined forces in October to increase energy technology development and deployment in rural America via a number of under-the-radar federal programs with money available. The two agencies, along with the U.S. Small Business Administration, will convene a conference back in Wheeling on March 11, 2020, to share information about the programs and spark even more growth in the area.
Source: U.S. Energy Information Administration 2019 Annual Energy Outlook Reference Case
USA
HZO, a manufacturing company that specializes in nanotechnology coatings for electronics, recently opened its new 24,000-sq.-ft. manufacturing facility and headquarters in Raleigh, North Carolina at Research Triangle Park. HZO regards North Carolina as optimal for access to top talent, university partnerships, cutting-edge technology and great quality of life. The company expects to bring more than 500 jobs to North Carolina in the next five years.
USA
Israel Aerospace Industries (IAI) recently announced that it will expand its U.S. headquarters in Fairfax, Virginia. The expansion will create 50 jobs focusing on the company's mission to develop and manufacture state-of-the-art systems for air, space, sea, land, cyber and homeland security. Fairfax is a logical choice for IAI's presence due to the proximity to many of the company's clients and the established aviation and aerospace cluster in the community.
— Compiled by Olivia Vener, Consultant, Conway Advisory
SITE SELECTION RECOMMENDS
Scott Larsen, Conway Inc. and Site Selection art director, made this photo of Lake Como (also known as Lake Lario) in Lombardy, Italy. As Italy's tourism authority reminds us, the lake "has enchanted artists and travelers for centuries: from French novelist [Gustave] Flaubert to musicians of the caliber of Gioacchino Rossini, Giuseppe Verdi, and Vincenzo Bellini." The lake also was the birthplace of Italian physicist Alessandro Volta, inventor of the first electric generator, the Voltaic Pile.