FROM SITE SELECTION MAGAZINE MARCH 2020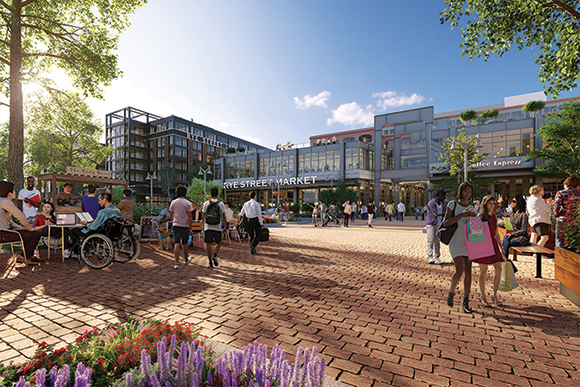 MARYLAND
Developers pounce on available sites.
CONWAY ANALYTICS SNAPSHOT
From the Tesla Cybertruck site search to new electric vehicle-driven investments in Europe, Asia and North America, battery manufacturing (and the sticky issue of battery life cycles) has been an active sector in recent months and years. Conway Analytics has tracked nearly 200 projects associated with primary or storage battery manufacturing. Given China's electrification push, it's perhaps no surprise that the People's Republic alone accounts for 68 of those projects. Here are the top nations for battery manufacturing projects over the past five years:
| Country | Projects |
| --- | --- |
| China | 68 |
| United States | 57 |
| India | 19 |
| Germany | 12 |
| Poland | 5 |
| Hungary | 5 |
| Canada | 5 |
In a clean-room environment established well before virus-driven precautions, BMW personnel assemble battery cells last fall at the company's new Battery Competence Centre in Munich. BMW is among the companies with a big stake in Chinese battery manufacturing as well.

Photo courtesy of BMW
AUSTRIA
Metal powder specialist METALPINE has opened a new production site in Graz, Austria, to make highly spherical metal powders for additive manufacturing. According to a release, the company's capacity at this new site will increase gradually to 400 metric per year, across a range of alloys that include copper, tool steels, stainless steels, titanium, tungsten, molybdenum and nickel-based alloys. The company noted its close ties to academic organizations and their additive manufacturing development activities, including ongoing research with the University of Leoben and Technical University Graz.
CANADA
Brave Control Solutions, an automation technology and systems integration company based out of Windsor-Detroit since 2008, in February announced plans to move into a new headquarters located in downtown Windsor, Ontario. The firm works with manufacturers across North America. "This has been a long time in the making and has been a dream of Brave's since the very beginning, to have our own renovated space in the heart of Windsor," the company said of its ongoing work with Lester Group and Architectural Design Associates Inc. on the new HQ. "Our new design will pay tribute to Windsor's manufacturing history while integrating modern aspects to represent our emergence as an automation and technology hub! This innovative new space will allow us to continue to grow, providing more opportunities for the region!"
SITE SELECTION RECOMMENDS
As reported by The Washington Post today and the company itself last week, 43 employees at Braskem's plant in Marcus Hook, Pennsylvania, just came out of a self-imposed 28-day "live-in" at the plant in order to simultaneously produce millions of tons of polypropylene for the manufacture of PPE and protect themselves and their families. A follow-up live-in is now taking place by their colleagues at a plant in Neal, West Virginia. It's not the first time the South American company has come to the rescue — Site Selection in 2013 documented their investments in Greater Philadelphia.
Site Selection Managing Editor Adam Bruns made this photo by taking a screenshot as his 30 days of free access to the Berlin Philharmonic's entire digital concert archive came to an end. (The rich and well-directed archive, complete with enlightening interviews and program notes, was made available as a service to those staying at home worldwide. Use a voucher by April 30 and get your own free 30-day ticket here.) The image is from the orchestra's June 2015 traditional season-ending concert at the Waldbühne, an amphiteatre that can hold nearly 22,300 that was built in 1936 as an open-air stage for the Olympics (gymnastics events were held there). The venue has hosted legendary (and sometimes infamous) concerts by the Rolling Stones, Bob Marley and the Wailers and Prince, among others.