FROM SITE SELECTION MAGAZINE, NOVEMBER 2020 ISSUE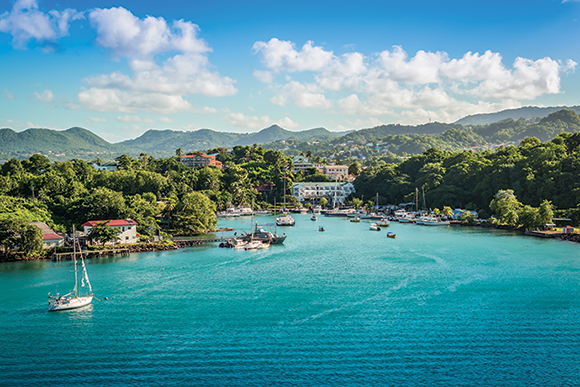 TOP CARIBBEAN LOCATIONS
The World Bank Group's Doing Business 2020 study finds a number of improvements across 16 Caribbean country economies.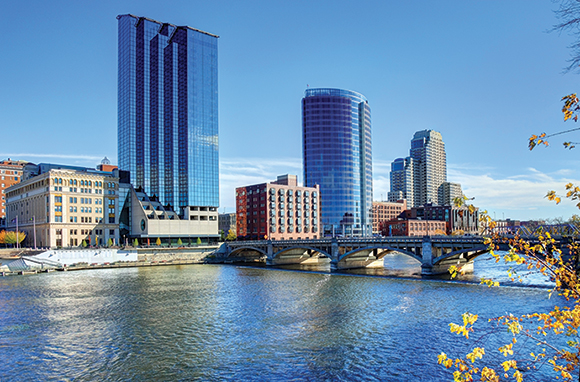 NEWS DIGEST
The German-American Chamber recognizes Grand Rapids; ITIF ranks the top states in the new economy; Huntsville lands projects in bunches; Southeast markets top LinkedIn's Workforce Confidence Index; and a mixed-use project dunks on the Philadelphia 76ers at Penn's Landing.
CONWAY ANALYTICS SNAPSHOT
Using property data from its CommercialEdge research service, Yardi Systems' Commercial Cafe blog has analyzed which metro markets saw the most complete and cosmetic office renovations from 2000 to 2019. The study encompassed properties larger than 25,000 sq. ft. for which a cosmetic or complete renovation was completed between January 1, 2000, and December 31, 2019. The markets were split into medium-sized and large markets and then ranked based on the percentage of renovated properties out of the total.
It will come as no surprise that regions with older building stock saw the most renovations, which means a lot of cities in the Northeast at the top: Manhattan was No. 1 among large markets, and Bridgeport, Connecticut, topped the medium-sized market rankings. "In total, 16% of Manhattan's office properties — adding up to more than 100 million square feet of office space in Manhattan — were fully renovated between 2000 and 2019," the study found. "On average, these renovated properties are 87 years old, while the average age for all office buildings in the borough is 81." The buildings hosting renovations in No. 3 San Francisco averaged 69 years old, while No. 18 Atlanta's were a comparatively young 44 years old, or nearly half the age of Manhattan's.
Compare and contrast the Commercial Cafe findings with Site Selection's Top Metros from this year and previous years for total facility investment projects of all types from corporate end users, where renovation leaders Chicago (No. 6), Houston (No. 17) and Dallas (No. 11) are perennial top finishers. It's not strictly apples to apples, but you can get a good sense of which markets feature renovations at their core, and which are being led by greenfield investment or by other, non-office sectors such as manufacturing or logistics. — Adam Bruns
SITE SELECTION RECOMMENDS
This week, U.S. Steel, after acquiring part of Big River Steel (BRS) in October 2019, acquired the remaining equity of the advanced flat-rolled mini mill operation in northeast Arkansas for $774 million. Site Selection has covered upstart Big River from the beginning, when competitor Nucor wasn't so thrilled to see the giant investment landing so close by. We've watched as the growing operation kept surging forward after the 2015 death of former Nucor executive and BRS Chairman and CEO John Correnti, and as its ecosystem (as well as competitors) have invigorated an entire region, resulting in this year's naming of Greater Blytheville, Arkansas, as the winner of our Big Muddy Cup award.
USS characterizes the purchase as emblematic of its strategy to combine legacy integrated steelmaking operations with lower-cost and efficient mini mill operations. "For months, I've said that we can't get to the future fast enough. Today, I can say the future is now. We are acquiring Big River Steel, the cornerstone of our 'Best of Both' strategy," said David B. Burritt, president and CEO of U. S. Steel. "I'm extremely proud of what our Big River Steel team has achieved in building the most technologically advanced and only LEED certified steel mill, and I'm equally proud that we are joining a company that not only values our many accomplishments, but shares our vision as well," said Big River Steel CEO David Stickler. "Being an entrepreneurial disrupter is in our DNA and I'm excited about the possibilities we have already demonstrated by leveraging U. S. Steel's industry-leading research and development capabilities. I can't wait to show the world what the 'Best of Both' truly means."
Photo of Big River Steel courtesy of U.S. Steel
AUSTRALIA
MaxiTRANS announced in late November the opening of its new heavy-duty trailer manufacturing facility in Carole Park, Queensland, replacing an existing facility in Richlands. "The existing manufacturing site in Richlands predominantly produced bulk transport trailers," said Dean Jenkins, MaxiTRANS managing director and CEO. "This new facility has the ability to also manufacture Freighter product too, allowing us to diversify our manufacturing capability." Transition to the new facility is estimated to create up to 70 new jobs over the next five years, doubling the workforce, thanks to Queensland Government support as part of Unite and Recover — an initiative designed to support Queensland jobs and industry through the COVID-19 pandemic.
MISSISSIPPI
Even as other domestic tire producers faltered, Findlay, Ohio–based Cooper Tire & Rubber Co.'s third quarter total light vehicle tire shipments in the U.S. increased 9%. That's just one dynamic behind the company's announcement this fall that it will add 100 jobs at its manufacturing operation in Tupelo, after expanding there just last year. "During these unprecedented and challenging times, we want everyone in Tupelo and the surrounding areas to know that Cooper Tire is hiring, and looking to bring on nearly 100 production workers as soon as possible to meet demand for our products," said Jeff Kamm, Cooper Tire Tupelo plant manager, in September. "Many people are out of work these days, and we want to get the word out that Cooper Tire has dozens and dozens of full-time, good-paying jobs with benefits." As reported in Tupelo's Daily Journal, the company has expanded several times since first arriving in 1984 with the acquisition of a Penn Tire Co. plant, and has produced over 400 million tires in the intervening 36 years. Cooper also continues constructing a major new distribution center in Whiteland, Indiana.
CONWAY DATA TRAINING & EVENTS
Aerospace industry innovators propelled to new heights in Mississippi
Mississippi remains at the forefront of the nation's aerospace industry as leading, innovative companies continue to grow in the state, creating the high-tech, in-demand jobs of the future.
In June 2020, Relativity once again expanded at NASA's Stennis Space Center in Hancock County, home of the space agency's largest rocket testing site. Relativity is the first and only company to integrate 3D printing, robotics and software to design, build, test and launch orbital rockets in days.
The $2.4 million investment supports the growth of Relativity's rocket vehicle and engine testing capabilities and falls on the heels of the company's 2019 expansion of Stennis's E4 rocket engine test complex, a $59 million investment creating 190 jobs.
The Mississippi Development Authority can help you identify an ideal location, site and facility for your aerospace and defense operations in Mississippi. Contact us today at 1.800.360.3323 or locateinms@mississippi.org.
In preparing a logistics training story for Conway Data's forthcoming Workforce 2021 report, Site Selection Managing Editor Adam Bruns ran across this July 2020 image of the UPS Worldport facility in Louisville in the UPS media website. A study released in October by the Louisville Regional Airport Authority Board found that Louisville Muhammad Ali International Airport (SDF) and the smaller Bowman Field have a combined economic impact of $10.4 billion. "Almost 400 UPS flights arrive and depart from Louisville Muhammad Ali International Airport every day," UPS Air District Vice President Jeff Simonic said. "The airport also has enabled our growth, and UPS now contributes more than 25,000 jobs to the region,"