FROM SITE SELECTION MAGAZINE, JANUARY 2021 ISSUE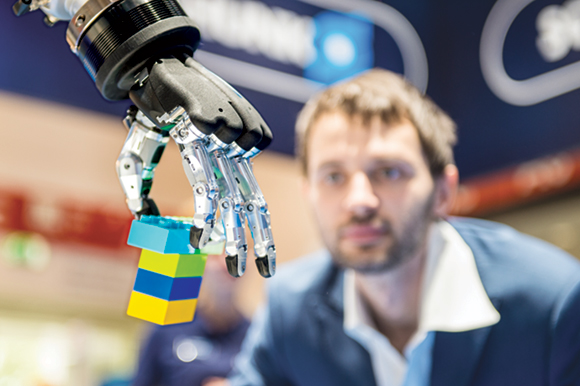 ADVANCED MANUFACTURING
That news and more is found in the World Robotics 2020 Industrial Robots report from the Frankfurt-based International Federation of Robotics.
CONWAY ANALYTICS SNAPSHOT
It can get very meta when analytics are applied to the analyzers. But that's what the 2020 Global Go To Think Tank Index Report does. Produced in January (with the official final version to be released March 1), the 368-page report is prepared by the Think Tanks and Civil Societies Program of the Lauder Institute at the University of Pennsylvania. The program, also known as (you guessed it) "the think tank of think tanks," maintains a database of 11,175 think tanks.
How does think tank brainpower translate to knowledge-fueled economic development? You be the judge. Compare the findings with our Global Best to Invest and U.S. state Business Climate Rankings, among other Site Selection indices. Below are the sheer numbers of think tanks in the top 10 countries and top 10 states. As for rankings, the report recognizes Brookings Institution as the top think tank in the world and the Japan Institute of International Affairs (JIIA) as the 2020 Think Tank of the Year.
Countries with the Largest Number of Think Tanks
| | |
| --- | --- |
| 1 United States | 2,203 |
| 2 China | 1,413 |
| 3 India | 612 |
| 4 United Kingdom | 515 |
| 5 South Korea | 412 |
| 6 France | 275 |
| 7 Germany | 266 |
| 8 Argentina | 262 |
| 9 Brazil | 190 |
| 10 Vietnam | 180 |
Top States* by Number of Think Tanks
Massachusetts
168
California
153
New York
137
Virginia
97
Illinois
56
Texas
48
Maryland
47
Connecticut
42
New Jersey
37
Pennsylvania
36
*Non-state Washington, D.C., has 148 think tanks and would be No. 2
KANSAS: PUNCHING ABOVE OUR WEIGHT

ENERGY & UTILITIES
An inside look at how expansion of wind energy resources in Kansas gets literally connected to end user demand.

STATISTICAL PROFILE
Top projects, sectoral analysis and other statistical insights into the Kansas economy.

ANIMAL HEALTH
Merck's $100 million investment in DeSoto highlights the advantages of locating in the Kansas City Animal Health Corridor.
COSTA RICA
Salt Lake City–based medical device contract manufacturer Biomerics this month broke ground on a greenfield plant next to its current operations in the La Zeta Free Trade Zone in Cartago, Costa Rica. The facility including extrusion, injection molding, micro metal processing and cleanroom assembly process will essentially double the site's manufacturing footprint and also double the current 175 Costa Rican employees over the next three years. Construction is expected to be complete by Q4 2021. "We are excited for the value that this expansion brings to our existing customer base in Costa Rica and interventional OEM partners around the globe," said Chris Richardson, Biomerics director of sales and marketing. "The thriving medical device ecosystem in Costa Rica aligns well with Biomerics' culture and innovative core."
IRELAND
According to multiple reports and to IDA Ireland, pharmaceutical company Takeda Ireland this month announced a €36 million, 100-job investment in its Grange Castle cell therapy treatment production facility in Dublin. The site opened in 2007, and was host to a major expansion in July 2019. "This investment is an important endorsement of Ireland's reputation as a global location of excellence for next-generation biopharmaceutical products," said IDA Ireland Martin Shanahan. The project follows another Irish expansion announced in December at Takeda's site in Bray, where the company employs more than 340.
SITE SELECTION RECOMMENDS
The U.S. Economic Development Administration is accepting applications for the Build to Scale program, a $38 million funding opportunity that fuels tech-based economic development in regional economies. The deadline is April 29, 2021. "The FY21 Build to Scale program comprises two competitions –– the Venture Challenge and the Capital Challenge. "The Venture Challenge seeks to support high-growth entrepreneurship, accelerate company growth in the applicant's region, and scale proven entrepreneurship support models," says the EDA. "The Capital Challenge increases access to capital in communities where risk capital is in short supply by providing operational support for early-stage investment funds, angel capital networks, or investor training programs."
Eligibility is open to cities, counties, states, other political subdivisions of states, and Indian tribes; or entities supported by a state or political subdivision of a state that is one of the following: a nonprofit institution of higher education, public-private partnership, research park, federal lab, venture development organization, an economic development organization, or a consortium of the aforementioned.
CONWAY DATA TRAINING & EVENTS
Located in North Carolina's Research Triangle Park (RTP), the country's largest research park, Hub RTP is the epicenter of all things new, next and groundbreaking with everything from collaborative, customizable workspace, to pioneering food and drink experiences, to ample green space that will promote wellness, creativity and inspiration.
The $1.5 billion, 44-acre mixed-use development at the intersection of Davis Drive and I-40 will include two million square feet of office, residential, retail and hotel space, as well as 13+ acres of green space. Hub RTP offers a new opportunity to balance work, home and recreation for the 55,000 employees who currently commute to the Park from surrounding areas.
Centrally located between Raleigh, Durham and Chapel Hill, the Park contains 7,000 acres and over 300 companies and national labs, including Biogen, GlaxoSmithKline, Cisco Systems, Credit Suisse, Fidelity Investments, IBM, and RTI International.
For more information on Hub RTP visit hub.rtp.org.
And, to learn more about the Research Triangle Region, visit researchtriangle.org.
This photo from Fluor illustrates how transportation infrastructure, like a body's circulation system, carries the lifeblood of daily commerce. The company this week announced that its JV Fluor-Lane South Carolina, comprising Fluor and The Lane Construction Corporation, has opened phase one of the Port Access Road for the South Carolina Department of Transportation in Charleston. The new roadway provides direct access between I-26 and the South Carolina Ports Authority's new Hugh Leatherman Port Terminal opening in March on the site of the former Charleston Naval Base. Construction of the project began in 2016.
Watch for an interview with South Carolina Ports Authority CEO Jim Newsome in a Site Selection Investment Profile appearing in the magazine's forthcoming March issue. And be on the lookout for our annual Global Groundwork Index rankings and complete infrastructure report in this year's September issue.