FROM SITE SELECTION MAGAZINE, May 2022 ISSUE
ASIA
Tractus Asia Managing Director John Evans explores mitigating risk through regionalism in Asia.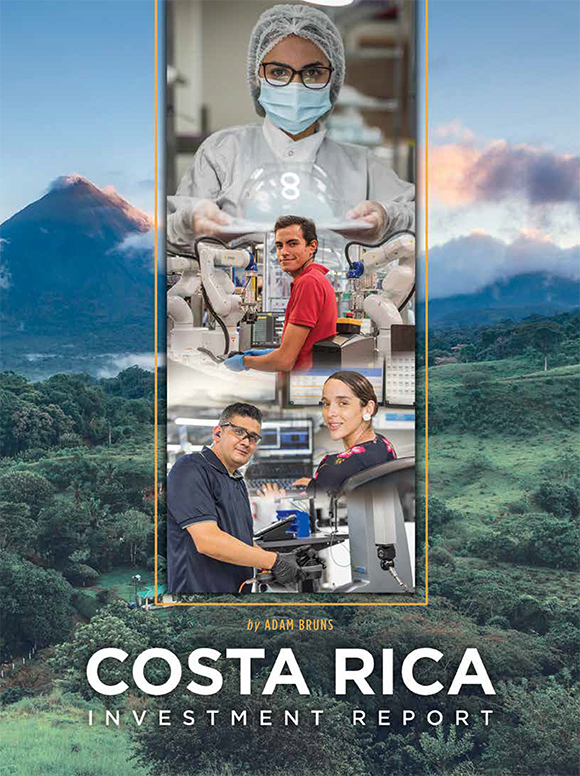 CONWAY ANALYTICS SNAPSHOT
Hanesbrands, headquartered in Winston-Salem, North Carolina, was saluted in its ENERGY STAR citation for achieving a 7% energy intensity reduction in 2021 and a 30% energy intensity reduction since 2007.

Photo courtesy of Hanesbrands
The U.S. Environmental Protection Agency (EPA) and the Department of Energy (DOE) last week announced the 210 organizations who have earned 2022 ENERGY STAR Awards for their actions to save energy and protect the environment. They hail from 37 states. "In 2020, energy savings from ENERGY STAR and its partners helped reduce U.S. electricity consumption by the equivalent of over 10% of total U.S. demand," the agencies said, "while delivering emissions reductions equivalent to 5% of U.S. total greenhouse gas emissions." Among the industrial companies saluted by the agencies were Columbus, Ohio–based resin, coating and adhesive maker Hexion Inc., and Winston-Salem, North Carolina–based Hanesbrands.
The announcement came with a full data download option, which permits us to discover the top sectors represented, including commercial building owners, tenants and managers (56 awards); utilities (45 awards); and product design and manufacturers (33 awards). Below are the top states and top cities where ENERGY STAR-awarded companies and institutions are headquartered. State and new metro-area analysis from these rankings and a host of other factors will be folded into this year's Sustainability Rankings coming soon in the July 2022 issue of Site Selection. — Adam Bruns
| | Top 10 States | No. of Organizations |
| --- | --- | --- |
| 1. | New York | 22 |
| 2. | Texas | 21 |
| 3. | Illinois | 15 |
| T4. | California | 12 |
| T4. | Georgia | 12 |
| 6. | New Jersey | 9 |
| T7. | D.C. | 8 |
| T7. | Massachusetts | 8 |
| T7. | North Carolina | 8 |
| T7. | Virginia | 8 |
| | Top 10 Cities | No. of Organizations |
| --- | --- | --- |
| 1. | New York | 16 |
| 2. | Chicago | 10 |
| T3. | Atlanta | 7 |
| T3. | Washington, D.C. | 7 |
| 5. | Houston | 5 |
| 6. | Los Angeles | 4 |
| T7. | Phoenix | 3 |
| T7. | Waltham, Massachusetts | 3 |
| T7. | Columbus, Ohio | 3 |
| T7. | Winston-Salem, North Carolina | 3 |
TEXAS ECONOMIC DEVELOPMENT GUIDE 2022-2023
Q&A: AARON DEMERSON
Texas Workforce Commissioner Aaron Demerson outlines the state's approach to worker training and to the realities of remote work, labor shortages and changing job requirements.
BIOTECH
With more than 106,000 workers at more than 5,400 biotech-related companies across nine sectors, Texas stakes its claim.
British Columbia, Canada
Refiner Parkland this week announced plans to expand co-processing volumes to 5,500 barrels a day and build British Columbia's largest renewable diesel complex, capable of producing approximately 6,500 barrels per day. "The environmental effect of the renewable fuels produced will equate to the permanent removal of approximately 700,000 or 25% of the passenger vehicles on British Columbia's roads," the company said. Parkland has received BC Government support for over 40% of the project costs in the form of BC Low-Carbon Fuel Standard Compliance Credits. "I applaud the Government of British Columbia for their vision and support of these innovative projects," said Bob Espey, Parkland president and CEO. "This announcement advances our decarbonization strategy and our commitment to provide customers with low carbon choices which help them meet their environmental goals. Renewable fuels play a critical role in Canada's climate ambitions by enabling customers to reduce their carbon footprint using their existing vehicle." The company aims to make a final investment decision in the second half of 2023, and is "assessing the feasibility and availability of financial support to produce Sustainable Aviation Fuel ('SAF') as part of these plans, in support of decarbonizing Canada's aviation sector."
KwaZulu-Natal, South Africa
This investment by Ireland-based Kerry Group will result in what the company called "the largest and most advanced taste manufacturing facility" on the African continent, producing "sustainable nutrition solutions" and elements such as seasonings, liquid flavors and other ingredients. In a company release, South Africa Deputy Minister of Trade, Industry and Competition Nomalungelo Gina said, "The project is recognized as a key strategic investment in the region of Kwa-Zulu Natal and within South Africa's food manufacturing industry and has been included as part of the South African Presidential investment drive to stimulate sustainable, equitable and inclusive growth as the foundation for socio-economic transformation in the country. We are excited about this investment because it aligns very well with our re-imagined industrial strategy." Kerry also is investing in a development and application center in Nairobi, Kenya. The company also has invested in the past year in a $36 million facility in Indonesia, and in March opened a $137 million, 250-employee plant in Rome, Georgia.
SITE SELECTION RECOMMENDS
An astronaut onboard the International Space Station made this photo last year of a portion of the Paraná River, the second longest river in South America. It flows mostly northeast to southwest for approximately 4,880 kilometers (3,030 miles), passing through Brazil, Paraguay, and Argentina and forming part of the Argentina–Paraguay border.
Photo courtesy of NASA Earth Observatory
A compelling story from UNCTAD explores how the organization's TrainForTrade Port Management Program has helped further Bolivia's economic development via improvements and industrial area development at the Port of Jennefer and dredging of a channel to improve access to the Paraguay-Paraná waterway and an alternative route to the ocean.
Photo courtesy of Salt River Project
Mother's Day this week saw line crews from Salt River Project return from 36 days on the Navajo Nation in northeastern Arizona as one of 14 utilities taking part in the Light Up Navajo electrification project led by the American Public Power Association (APPA) and Navajo Tribal Utility Authority (NTUA) to provide electricity to families who have never before had power. This photo depicts their work for one such family.
"Light Up Navajo III is an initiative to bring power to all the residents on Navajo Nation," said Wayne Wisdom, the senior director of Distribution Grid Services at SRP. "There are about 14,000 homes on the Navajo Nation that currently do not have electric service," representing 75% of all U.S. households that do not have power. "The vision back in 2019 was to solicit neighboring utility support primarily from public power utilities like SRP to help build the infrastructure to serve the community. For generations, these families have been living on their own with the use of generators, kerosene lamps, or whatever they have."
During SRP's participation, line crews constructed about 12 miles of distribution lines, set 193 poles, strung 13 miles of overhead wire and worked 4,500 donated man-hours, ultimately connecting 56 families to electricity for the very first time. "When the project wraps during the third week in June a total of 200 Native American families will have electricity in their homes," said an SRP release.
Around the world, approximately 770 million people live without access to electricity, says the International Energy Agency, with Sub-Saharan Africa accounting for 77%. Approximately 300,000 people reside on the 27,000-square-mile Navajo Nation (which includes parts of Arizona, New Mexico and Utah) with 55,000 homes across the area roughly the size of West Virginia. For further insights, read "Energizing Navajo Nation: How electrification can secure a sustainable future for Indian Country," published last summer by The Brookings Institution.