The following are capsule looks at 2000's top 10 states in the
Site Selection
Governor's Cup contest:
No. 1: Michigan
When a state wins the Governor's Cup competition four years in a row, it's obvious that the state's economic development efforts are paying off. Many of these efforts -- cutting taxes, investing more money into business retention and expansion, adopting a decidedly pro-business stance in legislation -- were spearheaded by Michigan Gov. John Engler.
"As the unprecedented four-time winner of the Governor's Cup, Michigan is the undisputed leader in attracting new business to the state," says Engler. "The Michigan economy has truly been transformed over the last decade."
The numbers tell the story of Michigan's dramatic economic turnaround. "Since 1991, Michigan companies have created more than 831,000 jobs, the best record of any industrial state," Engler says. "We've cut taxes 31 times, saving Michigan businesses and taxpayers $19 billion, resulting in our state and local tax burden falling to 6 percent below the national average and below 37 other states."
A sign of the times: General Motors had not built a new assembly plant in the U.S. in more than 14 years. In 2000, GM announced the development of two new assembly plants within 15 minutes of each other in the Lansing, Mich., area. Together, these two new projects in Lansing and Delta Township will account for more than $2 billion in total capital investment and create thousands of new jobs.
But new plant activity in Michigan was not limited to the automotive industry in 2000. In fact, Michigan experienced major gains in the high-tech sector, most notably at Nanovation Technologies and Acuson Corp.
Nanovation, which designs, develops and manufactures integrated optic devices, selected Northville near Detroit and Ann Arbor for a $41.6 million corporate project that will create 579 jobs. Acuson, a supplier of sophisticated ultrasound imaging equipment, announced a $14.6 million project that will house an engineering, development and support operations center and generate 156 new jobs.
"While we are proud of our tradition of being the intellectual brain center of the automotive industry, the Michigan economy is more diversified today than at any time in its history," adds Engler. "Transformation through diversification is a winning formula for Michigan."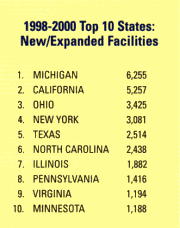 No. 2: California
Despite its recent woes related to the power shortage crisis, California's economic engine continues to produce a gross domestic product that would make the state the world's seventh largest economy.
The new plant numbers reflect this robust growth. California ranked No. 2 in the total number of new and expanded facilities for 2000 -- with 1,351 -- and second overall for the last three years at 5,257.
But look beyond these numbers and you will see an even more impressive story. From 1998 through 2000, California dominated the country by producing more manufacturing facilities -- nearly 1,000 such plants -- than any other state.
Of the country's 20 biggest projects in terms of capital investment last year, three were in California. Among the most notable projects in the Golden State in 2000 were the Walt Disney Co.'s $2 billion expansion in Glendale, IDEC Pharmaceutical's $1.25 billion plant in Oceanside, U.S. Data Port's $800 million project in San Jose and Chase's $650 million investment in San Francisco.
Even more telling was this fact: Of the nation's 15 largest commercial real estate developments announced last year, nine of them were in California. This included the country's four largest projects in terms of total square footage.
Gov. Gray Davis helped continue this growth surge by signing several pieces of legislation aimed at benefiting businesses. In addition to signing California's historic $1.5 billion tax relief package last year, Davis signed into law a number of New Economy initiatives that provide tax incentives for alternative incremental research and development, aerospace employment and rural investment.
"California has long been recognized for entrepreneurial spirit and leading-edge innovations," says Lon Hatamiya, secretary of the California Trade and Commerce Agency. "California spends $34 billion annually on research and development, and ranks No. 1 in both university and industrial R&D. The state has a work force of 16 million, and nearly a quarter of the adult population are college graduates."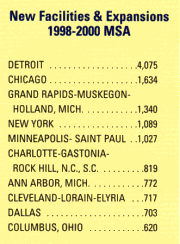 No. 3: Ohio
The Buckeye State's economic turnaround began in the early 1990s and showed no signs of slowing in 2000, as Ohio finished a solid third for the second straight year in the Governor's Cup standings with 1,129 new and expanded facilities.
Perhaps most telling was Ohio's unusually strong showing in the top 100 small towns in America. Ohio had the largest contingent -- 22 cities -- in Site Selection's annual rankings of top small towns based upon corporate expansion activity over the preceding 12-year period. Consider Ohio's roll call of small towns that made the top 20: Findlay ranked No. 4, Union Township ranked No. 11, Fremont ranked No. 16, Wooster ranked No. 18, and Marion, Sidney and Zanesville all tied for No. 20.
Other Ohio towns that scored in the top 50 included Sandusky (25), Defiance (35), Mount Vernon (42), Bellevue and Wilmington (tied at 44), and Fostoria (46). Not that growth was limited to Ohio's small towns. The large metro areas also carried their own weight, propelling the state to its third-place finish in the rankings. Ohio's three largest cities all placed in the top 11 large metro areas in the U.S. in total number of new and expanded facilities from 1998 through 2000.
During that period, Greater Cleveland produced 717 new plants and expansions (good for eighth place overall), Columbus produced 620 (No. 10) and Cincinnati produced 609 (No. 11).
The largest corporate projects in Ohio in 2000 were Cogentrix's $400 million plant in Franklin Township, CME North America's $400 million investment in Hamilton Township, PSEG Global's $300 million project in Waterford Township and Calpine Corp.'s $280 million announcement in Fremont.
At the local level, Ohio's economic success story is staggering. In Xenia, CIL Isotopes Separations has just completed its third expansion in the past four years, and today that facility is the world's largest manufacturer of Carbon 13 and Oxygen 18. In Lima, the Proctor & Gamble work force produces every bottle of Tide and Downy sold in America. The 11-county region of Northwest Ohio, anchored by the city of Toledo, outpaced the rest of the state last year by generating $1.4 billion in new corporate investment and creating 3,800 new jobs.
Says Steven Kelley, manager and senior economist for the Ohio Dept. of Development: "We are seeing a wide range of investments from traditional plastics and automotive companies to e-commerce fulfillment centers. That is true because we have a technical labor force that's tuned to the market, and our universities are an asset. Ohio has 136 colleges and universities, and in Ohio students are encouraged to take a fling at entrepreneurship."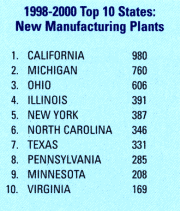 No. 4: New York
The dropping of the new Waterford Crystal ball was a perfect representation of New York's success and just the beginning of another exceptional year for new and expanded facilities. Within two weeks of the annual Times Square celebration, the state had already won two corporate headquarter locations: PaeTech Communications in Perinton and Skulogix in Lancaster -- together creating more than 1,000 jobs. And before the ball dropped again at year's end, New York landed the largest private-sector investment in its history, a $2.5 billion IBM semiconductor plant.
IBM's decision was in part due to the state's increasing friendliness toward business, especially Gov. George Pataki's SEMI-NY sites. The pre-permitted sites provide faster time-to-market for next generation chipmakers. New York had completed the environmental review process at IBM's site nearly two years ago.
It's these proactive moves that have pushed the state further up the annual ranking. "Over the past six years, New York has led the nation in cutting taxes, eliminating regulations and reducing business costs," says Pataki. "As a direct result,
Site Selection
's count of new and expanding businesses in our state has soared fifteen-fold -- from 75 in 1994 to 1,121 in 2000."
The state doesn't plan on quitting either. Pataki's most recent move was to expand 22 of the state's 52 Empire Zones from 2 sq. miles to 4 sq. miles (51,800 sq. km. to 103,600 sq. km.). Later this year, the state will increase the number of zones to 58. The Empire Zones allow companies the opportunity to do business virtually free of state and local taxes.
"Despite New York's remarkable progress, we believe our best days are yet to come," says Charles A. Gargano, chairman of Empire State Development. "Gov. Pataki is committed to continuing the policies that have sparked our recent prosperity. We will continue to cut taxes and red tape and lower business costs, making New York an even more attractive place to expand or locate a business."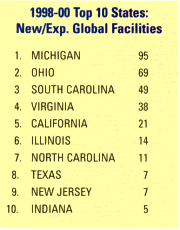 No. 5: Texas
Whether the White House will move to a certain ranch in Crawford, Texas, is still unknown, but one thing's for certain about President Bush's home state: It remains a formidable competitor for business locations and expansions. Coming in as
Site Selection
's No. 5, the Lone Star State had 642 new and expanded facilities announced in 2000.
Texas Dept. of Economic Development Executive Director Jeff Moseley lists several reasons for the state's success: "Texas has an excellent business climate. It is a right-to-work state, and we have had major reforms to improve the state's workers' compensation system. There is no personal tax, and business taxes as a percentage of total state tax revenues are the third lowest in the nation. We have a very strong higher education system and the second-largest civilian labor force in the nation, approaching 10.3 million potential employees in January 2000. Add that to our beautiful year-round climate and plentiful land, and you can see why Texas is so popular."
The Lone Star State has also established itself as one of the fastest growing high-tech hubs in the country. According to the American Electronics Association's
Cyberstates 4.0
, Texas ranks No. 2 in the nation in terms of high-tech employment, with 411,000 jobs in 1998. The report shows that between 1993 and 1998, the state added 132,000 technology jobs, a 48 percent increase.
"The technology sector in Texas is stronger than 40 acres (16 hectares) of garlic and growing rapidly," says newly inaugurated Gov. Rick Perry. "We're one of the top two states in virtually every category of technology growth."
Among the high-tech announcements made last year were Southwestern Bell Wireless's $22.6 million investment in Wichita Falls and Globitech Inc.'s $62.5 million semiconductor facility in Sherman.
Distribution facilities also made a splash in Texas last year, ranking among some of the state's top investments. Wal-Mart expanded one of its distribution centers with a $35 million investment, while Walgreen will shell out $151 million for its new regional distribution center in Waxahachie.
Such distribution activity perhaps explains Texas' growing export activity. "With the implementation of NAFTA, Texas has become a hub of activity," says Moseley. "The state's exports rose 27.3 percent in the first three quarters of 2000 to $82.7 billion -- reaching a seven-year high, with Mexico as our highest importer."
No. 6: Pennsylvania
Gov. Tom Ridge minces few words in describing Pennsylvania's path to success in attracting 632 new and expanded plants in 2000. "There are many reasons for our success over the past several years, but there is one in particular that has made Pennsylvania such an attractive location for site consultants: We get out of the way."
By getting "out of the way," Ridge is referring to Pennsylvania's progress toward making the state more business-friendly. "By slashing taxes at record rates, reducing burdensome regulations and reconnecting with our business customers, Pennsylvania has become a place that doesn't block the way -- we clear the way. We call it friction-free government," the governor says.
The result has been an impressive array of major corporate expansion announcements. Among the largest in 2000 were a 6,000-job expansion of The Vanguard Group world headquarters in Malvern and a 3,000-job expansion at Merck & Co. in Montgomery County.
The $500 million Vanguard expansion also ensures the retention of 8,200 workers the nation's second-largest mutual fund firm employs in Chester County and ranks as the single largest job-creation project in Pennsylvania in nearly 25 years. The Merck announcement ensures the retention of more than 9,300 jobs at the pharmaceutical company in southeastern Pennsylvania. Ridge credits a variety of state and local initiatives with jump-starting Pennsylvania's economic success. "We listened and responded to our business customers with more flexible tools, such as SelectSites and our award-winning Keystone Opportunity Zone program," he says. "KOZs have eliminated state and local taxes on more than 26,000 acres (10,530 hectares) all across the state, and more than 5,700 new jobs have been the result. We took technology by the tail and launched major high-tech initiatives such as the Pittsburgh Digital Greenhouse and the Pennsylvania Technology Investment Authority."
No. 7: North Carolina
The number seven
must
be lucky -- it is at least for the state of North Carolina. Maintaining its No. 7 spot for the second year in a row, the Tar Heel State saw approximately $6.6 billion in corporate investment in 2000 -- a 20 percent increase over 1999 -- and some 34,700 new jobs were created statewide.
Much of the state's success, says Secretary of Commerce Rick Carlisle, is due to the state's commitment to existing businesses. Nearly 77 percent of the state's announcements were expansions of existing industries, he adds.
Among the most significant expansions in the state was Corning Inc.'s double whammy. In February, Corning reported that it was investing $550 million to expand its Concord, Cabarrus County, manufacturing facility. By early December the company almost doubled its investment with a $450 million expansion of its optical fiber manufacturing facilities at the same plant.
"To have one company announce two expansions of that size in less than a year is unprecedented," Carlisle reports. "But we have had a long, solid relationship with Corning and have worked closely with company officials to encourage continued growth. They've been pleased with our state's worker training programs as well as our local, regional and state interest in addressing other business needs."
The state must be doing something right, because Carlisle admits that there were no special packages put together to win the dual announcement. "Basically, Corning has chosen to expand in North Carolina because it is both satisfied and profitable here," he adds.
Besides expanding existing industries, North Carolina is putting emphasis in other growth areas such as foreign-based investment. Former Gov. Jim Hunt led several trade missions in 2000, including those to Germany, Great Britain, France, Korea, Japan, Taiwan and Thailand. "These trade missions have proved to be invaluable," Carlisle explains. "To date, 141 new announcements had ties to visits made during one of these missions."
No. 8: Illinois
"The leadership of Gov. George Ryan and his ability to work in a bipartisan manner has had a tremendously positive impact on Illinois' ability to attract business," says Pam McDonough, director of the Illinois Dept. of Commerce and Community Affairs. "During his first two years in office, the governor has passed the $12 billion Illinois FIRST public works program, the EDGE (Economic Development for a Growing Economy) tax-credit initiative and VentureTECH, a $1.9 billion program that invests in Illinois' technology infrastructure. These programs have positioned Illinois as an ideal place for commerce."
For Ford Motor Co., Illinois and its FIRST funding were ideal indeed. The FIRST program is providing more than $46 million in infrastructure improvements for the automaker's new automotive supplier manufacturing campus on Chicago's Southeast Side.
Another key aspect of Chicago's winning the Ford plant over Detroit and Atlanta was the partnership approach used by Ryan and Chicago Mayor Richard Daley. Ryan and Daley flew to Detroit specifically to meet with Ford executives about the facility. "We wanted Ford to know we were a team and that we would go the distance to win their investment," says Ryan. "We had a goal and we had a good playbook, which included the Illinois FIRST program."
The one-two punch of the Ryan-Daley combo has, in fact, landed many a deal for the city of Chicago, which maintained its No. 2 spot in
Site Selection
's top metros. Another project the two worked closely together on was ABN AMRO North America's new high-tech office tower in Chicago's West Loop, where the majority of the company's executive offices will be housed. The project will create up to 500 new jobs and retain another 1,500.
Though Illinois is known more for its manufacturing base, the state made several advances in creating high-tech jobs. In 2000, Molex Inc. expanded its headquarters in Lisle and is developing a new manufacturing facility in Bolingbrook. Motorola, too, decided to stay in Illinois, consolidating several offices scattered throughout Chicago's northern suburbs to its new office and research campus in Lake County Village of Deer Park.
McDonough doesn't expect such growth to slow down any time soon. "With the governor's commitment to improving our business climate and our diverse economy, Illinois is extremely well positioned to effectively compete in the global economy," she reports.
No. 9: Louisiana
General Motor's $700 million manufacturing expansion announced in Shreveport helped push the state of Louisiana into
Site Selection
's top 10 this year. The 1.5 million-sq.-ft. (139,355-sq.-m.) addition will include a metal stamping facility, body shop and assembly area, and it will enable GM to build a variety of midsize trucks.
The plant was once considered for closure after GM halted manufacture of the S-10s. With the new announcement, however, Shreveport will retain more than 2,700 jobs at the facility. Workers will now be involved in manufacturing parts for the new trucks as well as assembling them.
In addition to automotive manufacturing, the Pelican State continues to be successful with other traditional industries like distribution and food processing. Last year, Diversified Foods invested $22 million in a new manufacturing plant between Covington and Mandeville, while Stolt-Nielsen S.A. built a $55 million, state-of-the-art liquid distribution facility in Braithwaite to serve the U.S. Southeast.
Louisiana, like many other states, is also taking steps to diversify its economy, especially by increasing the number of technology-oriented facilities operating in the state. The state is putting in place new initiatives, adding technology parks and working with educational institutions to enhance Louisiana's appeal to high-tech industries.
Biotech, for example, has been a key growth industry for the Shreveport area. Bio-Tech Imaging of Frederick, Md., chose Shreveport's Intertech Technology Park as the site for its $15 million clean-room facility. The new plant will manufacture test products used for identifying and quantifying HIV-1 infected cells.
"The focus on medical research in Shreveport, coupled with the educational assets represented by the nine universities in the area, provided the precise environment we were seeking to produce our HIV-1 products and conduct the research we will be doing to apply our technology to other diseases," says Chet King, president of Bio-Tech imaging.
Another plan to further diversify the state's economy is the Louisiana: Vision 2020 program. The program has been in the making since 1997, with the final hardbound program being delivered in December. "This plan is a 20-year strategic plan with specific goals and objectives designed to invigorate and diversify Louisiana's economy," says Secretary of Economic Development Don J. Hutchinson. "Simply put, this plan will enable our state to become -- in 20 years -- one of the top 10 states in which to live, work, visit and do business. The plan is driven by education and technology and will encourage diversification of the state's economy."
No. 10: Virginia
Virginia's 370 new and expanded facilities in 2000 only tell part of the story. The real story is the fact that annual capital investment by new and existing companies in the Old Dominion exceeded $6 billion for the first time last year.
According to the Virginia Economic Development Partnership, the previous record of $5.8 billion, set in 1995, was surpassed with the December expansion announcement by Infineon Technologies Richmond.
"I am proud to announce that Virginia has once again had a record-breaking year in economic development," says Gov. Jim Gilmore. "We have been successful in bringing new jobs and investment to all regions of the Commonwealth, as well as maintaining a positive business climate."
Highlights of last year's expansion activity in Virginia included Infineon, the East Coast's first producer of the 300-milimeter wafer chip. The company announced that it will invest $1.1 billion in Henrico County and create 1,100 new jobs. America Online announced the construction of a new $555 million technology center in Prince William County and an expansion of its Loudoun County campus with two new buildings that will house 1,200 employees.
Between Goochland, Henrico, Chesterfield and Fairfax counties, Capital One will create 8,000 new jobs and invest $700 million in its most recent expansion. And in Manassas, Dominion Semiconductor will invest $700 million and create 600 new jobs in its fabrication plant through a joint venture with SanDisk Corp.
"The numbers prove that Gov. Gilmore's strategic plan for economic development is working," said Virginia Secretary of Commerce and Trade Barry DuVal. "This is an historic moment in Virginia, and we should look forward to the continued growth of our economy."