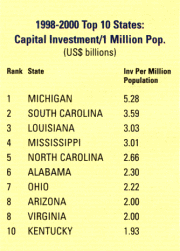 t's often been said that it is better to be a big fish in a little pond, than a little fish in a big pond. The problem with rankings is uneven ponds. In this year's
Site Selection
rankings, we level the playing fields, or even out the ponds, if you will, and rank the 2000 investments on a state-population and square-mileage basis. Though Michigan still heads up most of the per capita rankings, the rest of the lineups change significantly from the Governor's Cup rankings. Here's a look at top 10 U.S. states from the per capita perspective.
•
Capital investment per 1 million residents:
Michigan takes top honors in this category for the second year in a row. South Carolina moves from the No. 3 spot to No. 2. Last year Louisiana, Mississippi and Alabama all tied for the No. 9 spot. In this year's rankings Louisiana leapt ahead of her southern neighbors and came in third. Mississippi followed in the No. 4 spot. North Carolina held on to the No. 5 spot from last year, followed by Alabama and Ohio. Arizona dropped a spot to No. 8, and Kentucky fell three spots to No. 10. Virginia joined the ranks this year in the No. 8 slot, knocking Texas out of the running.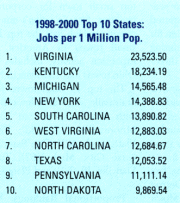 •
New jobs per 1 million residents:
Virginia edged out last year's winner, Kentucky, to move into first place. Michigan moved from its previous No. 5 position to finish third. Another leader, New York, shot up from No. 6 in the previous ratings to the No. 4 spot. West Virginia shot from No.8. to No. 6. Two states showed indications of the economic slow-down. South Carolina dropped from No. 3 to No.5, and North Carolina slipped from No.4 to No. 7.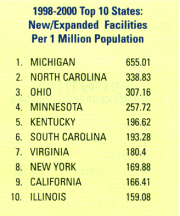 •
New and expanded facilities per 1 million residents:
For the second straight year Michigan, North Carolina and Ohio hold the gold, silver and bronze, respectively. Minnesota maintains the honor roll with the No. 4 position. Kentucky edged out last year's fifth place winner, South Carolina, to claim that spot. Virginia, New York and California all inched up one notch to take the No. 8-9 spots. Newcomer Illinois in the No. 10 place rounds out the list.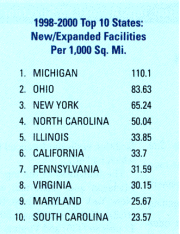 •
New and expanded facilities per 1,000 sq. miles (2,600 sq. m.):
No surprises here. Michigan, Ohio, New York and North Carolina maintain the top honors. The state of Illinois pushed ahead of its previous No. 7 ranking to finish No.5. California and Virginia retained their previous No. 6 and No. 8 rankings respectively. Maryland slipped from its prior No. 5 ranking to No.9. A newcomer to this ranking is Pennsylvania coming in at the No. 7 spot. And again, South Carolina slipped from last year's No. 8 spot to No. 10.
-- Ginny Deal