hina -- perhaps the world's next great economic superpower -- left little doubt that it is ready to dominate Site Selection's annual international rankings of new and expanded corporate facilities.
Of the top 20 global facilities for 2000 in terms of capital investment, China placed two in the top 11, including the largest deal of the year: the US$3.1 billion project for Bayer in Caojing, China. The No. 11 entry on the list, a $1.2 billion chemical park for Shanghai Petrochemical Co., was also in China.
Altogether, the Far East accounted for 10 of the top 20 capital investments on the international scene (projects outside of the United States), and 16 of the top 28. Leading the pack were China, Taiwan and Japan, nations which all placed projects in the top 10 and collectively tallied nine of the top 20.
Other countries with strong showings in the top 20 plants in capital investment were Ireland, Canada and Mexico, each with two projects on the list. The $2.5 billion Mosel Vitelic chip wafer fabrication plant in Montreal, Quebec, gave Canada the world's second-largest new facility in 2000.
California-based Intel Corp. placed two projects in the top five: a $2 billion expansion of its computer chip plant in Dublin, Ireland (No. 3), and a new $1.8 billion computer chip plant in Leixlip, Ireland (No. 5). Tied at No. 3 was a $2 billion automotive plant for DaimlerChrysler AG in Mexico.
Among industries, manufacturers of computer processing chips clearly dominated the world's largest facilities. Semiconductor and wafer plants accounted for 10 of the top 20 capital investments. Global corporate giants represented on that list included Intel, Nanya Technology, Fujitsu, Macronix, Toshiba, Hitachi and Matsushita.
Also making a strong showing on the global top 20 list for capital investments were automotive manufacturing plants, chemical plants and fuel projects.
Europe Tops Employment Chart
If the Far East attracted the largest capital investments in 2000, then Europe clearly dominated the rankings when it came to total employment.
Of the 20 largest global facilities in terms of employment, Europe accounted for 14 -- or 70 percent. A new automotive assembly plant for Germany-based BMW in the Czech Republic, which will create 3,000 jobs, tied for the top spot on the employment chart with Embraer's new airplane manufacturing facility in Brazil.
Also in the top five were a 2,200-worker communications plant for Marconi in Scotland (No. 3), a 1,700-worker tuna processing plant for Starkist in Samoa (No. 4), and a three-way tie at No. 5: a call center for the Halifax Group in Belfast, Northern Ireland, a telemarketing facility for Atento in Puerto Rico and a chip wafer fabrication plant for Mosel Vitelic in Montreal, Canada, each with 1,500 employees.
Outside of Europe, Canada was the world's biggest job producer, registering three facilities in the top 20 and six in the top 25. Three of the six Canadian plants were call centers, reflecting a growing trend in that North American country.
The top industries in terms of employment were transportation-related projects, call centers, electronics and fiber optics, mobile phones and semiconductor plants.
China, Canada Lead in Size of Floor Area
The economic strength of both China and Canada was reflected in Site Selection's annual ranking of the top 20 global facilities in terms of total square footage. Of the 20 largest such plants, five were in China and seven were in Canada.
The two largest global corporate facilities in 2000 were announced in China: a 1.08 million-sq.-ft. (100,332-sq.-m.) plant for the manufacturing of DVD-ROM drives in Tungkuan, and a 755,000-sq.-ft. (70,140-sq.-m.) plant for the making of DVD players in Shanghai. Both are projects of the Pioneer Corp.
The other facilities in the top five in size of floor area were as follows: a 650,000-sq.-ft. (60,385-sq.-m.) glass factory for Interpane Float Glass in Lorraine, France (No. 3); a 540,000-sq.-ft. (50,166-sq.-m.) railway car facility for Bombardier and the Power Pacific Corp. in China (No. 4); a 500,000-sq.-ft. (46,450-sq.-m.) automotive plant for Volvo in Ghent, Belgium (No. 5); a 500,000-sq.-ft. book publishing facility for McGraw-Hill in London (No. 5); and a 500,000-sq.-ft. tire distribution center for Canadian Tire in Calgary, Alberta (No. 5).
Other large Canadian projects announced in 2000 included a 475,000-sq.-ft. (44,128-sq.-m.) pork processing facility for Maple Leaf Foods in Brandon (No. 8), a 474,000-sq.-ft. (44,035-sq.-m.) pharmaceutical plant for Merck Frosst Canada in Kirkland (No. 9) and a 360,000-sq.-ft. (33,444-sq.-m.) fiber optic equipment facility for JDS Uniphase Corp. in Ottawa.
The top industries dominating the square footage rankings last year were electronics manufacturing, automotive makers, telecommunications and pharmaceuticals.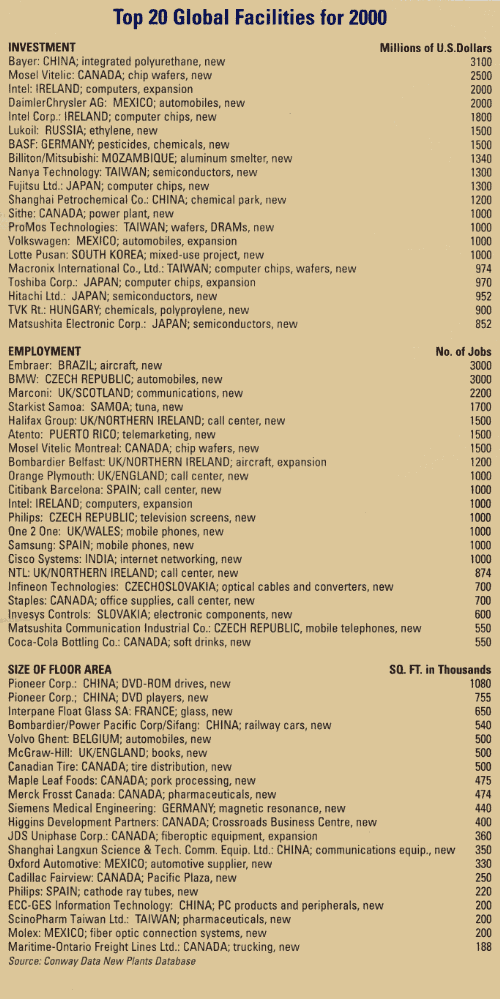 Europe: Right Place, Right Time for Logistics
While distribution centers and other logistics facilities did not dominate the Site Selection Global Location Activity rankings for 2000, they became a driving force in the European economy last year.
Driven by the move to the Euro and the centralization of the continent's economy, European companies invested record amounts of capital into the establishment of distribution centers. Two countries leading the way in this category were the Netherlands and Spain.
According to a statement from the Netherlands Foreign Investment Agency (NFIA), "Many multinational companies have established a centralized European distribution center (EDC) in order to serve the European market in an efficient way. Since the unification of the European market, many smaller- and medium-sized companies have set up centralized European logistics operations as well. Altogether, nearly a thousand Asian and American companies have established EDCs, and the Netherlands is very successful in attracting these EDCs."
NFIA also notes that "the removal of barriers to the cross-border movement of goods within the expanding European single market, together with the growing interest in integrating the supply chain on a global scale, are the prime drivers for re-engineering European logistics." Of the 611 American companies that have established distribution centers in Europe, 57 percent of them selected the Netherlands. Furthermore, the Dutch market share of the 344 Asian EDCs is a staggering 56 percent.
Altogether, more than 550 EDCs have been established in the Netherlands, with American logistics facilities accounting for nearly two-thirds of that total. One-fourth of these EDCs is of Japanese origin, while Taiwanese firms account for about 8 percent of the established EDCs. The NFIA estimates that by the end of this year, foreign companies will have placed a total of 700 EDCs in the Netherlands.
The favorite locations for site selection consultants for logistics facilities in the Netherlands are the Randstad (the regions of Amsterdam Airport Schiphol, Rotterdam and Utrecht), North Brabant, Gelderland and North Limburg.
International companies say they choose the Netherlands for establishing EDCs because of the country's central location, accessibility to all European markets, quality of infrastructure, quality of logistics expertise, efficient customs operations and labor flexibility. Companies that have recently established logistics facilities in the Netherlands include Federal Express, Cisco Systems International, Nissan, Acer and G.A. Sullivan.
"We tested other locations and the Netherlands came out best for us and our clients," says Neil D. Bird, European sales manager for FedEx Logistics Electronic Commerce. "In the Netherlands everything was arranged for our location in just three to four weeks. The Dutch government keeps its word, and that is a major plus."
John Chambers, president and CEO of California-based Cisco, says, "Logistically, we feel that the Netherlands is the distribution leader of Europe, with its central location, excellent distribution channels and state-of-the-art infrastructure."
Schneider: Breakthrough Deal in Spain
It isn't often that just a single corporate real estate deal marks a watershed event for a geographical market, but that's exactly what happened when Schneider Electric signed a 14-year lease for 303,000 sq. ft. (28,149 sq. m.) in the new ProLogis Park Sant Boi near Barcelona, Spain. Sant Boi will serve as Schneider's distribution center in Spain and will create 500 jobs.
Founded in France, Schneider Electric is one of the world's leading manufacturers of equipment for electrical distribution, industrial control and automation. This fast-growing company already has various distribution facilities on the Iberian Peninsula for its international brands Telemecanique, Merlin Gerin, Square D and Modicon. The ProLogis Park Sant Boi is where Schneider will consolidate various Barcelona-area distribution facilities into a single facility that will serve the entire market of Spain.
"The signing of the Schneider deal is a watershed event for ProLogis Spain," says Jose Espinoza, vice president of ProLogis Spain. "This transaction solidifies our presence in a key southern European market. It is also critical because it allows ProLogis to launch the development of the ProLogis Park Sant Boi with a world-class client as the anchor customer."
Altogether, the new distribution park 6 miles south of Barcelona has five separate buildings with more than 1.25 million sq. ft. (116,125 sq. m.) of logistics space. In addition to this park, ProLogis is developing a logistics complex near Madrid and has plans to expand into Valencia, Bilbao, Tarragona and Lisbon, Portugal.
Making Spain especially attractive to international firms is the country's major investments in infrastructure like railways, roads and highways. From 2000 through 2006, the government of Spain plans to spend 2.7 percent of its gross domestic product (GDP) on public infrastructure projects.
Last year, the Development Ministry of Spain increased its budget 25 percent US$7.6 billion, of which land transportation projects will receive 71.3 percent. Other areas receiving a high priority for funding are air traffic infrastructure, port facilities and telecommunications. Also, total railway investments during the 2000-2006 period will amount to $19.8 billion. By improving the railroads, the government of Spain hopes to bring every provincial capital within 4 hours of Madrid.
Luxembourg: Hub for N.W. Europe
Like the Netherlands, tiny Luxembourg is making a big name for itself in the logistics facilities business in northwestern Europe.
Centrally located between Germany, Belgium and France, Luxembourg is attractive to multinational firms seeking distribution space because of the country's access to so many global markets. "We are right in the middle of main economic hubs of Western Europe," says Jean Graff, consul general in New York for the Luxembourg Board of Economic Development. "Customers and suppliers can be reached easily out of Luxembourg."
Two prime examples are Goodyear Tire and Rubbermaid. Goodyear, which has extensive manufacturing and research and development operations in Luxembourg, also uses the country as its main distribution center for shipping tires and trucks to the entire European continent. Rubbermaid, which recently merged with Newell, decided to consolidate all of its Western European operations and place its continental distribution facilities in Luxembourg.
"Other factors making our country so attractive to logistics space users are our lower effective tax rates, lower corporate tax rates and lower labor costs than the rest of Europe," adds Graff. "Also, the gasoline and petroleum prices are the lowest in the entire European Union, and that makes Luxembourg extremely friendly to trucking operations with large fleets." With direct highway access to Frankfurt and Antwerp, Luxembourg boasts one of the best road networks in all of Western Europe.
"Another major asset is the airport in Luxembourg," says Graff. "It is the sixth largest cargo airport in Europe and is home to one of Europe's leading cargo airlines -- Cargolux. Its fleet of 747 airplanes can fly goods throughout the world."