o gauge the impact of a Top Deal, look out the window during your next flight.
Once you spot the roof-print of any industrial plant, headquarters, R&D facility or logistics center, you'll also be gazing at employee vehicles, roads and power lines. You'll see spin-offs, and spin-offs of spin-offs, one wheel driving the next like the gears inside the plant's machinery. Suppliers, services, commercial and retail development, residential enclaves — all position themselves to both serve and be served by the corporate growth and tax base at the community's heart.
A review of candidate projects for Top Deals of 2005 reveals frequent references to filling space vacated after the 2001 economic downturn in the U.S. and elsewhere. Related to that theme is another: Things happen in phases over time, exemplified by the sort of incremental investment that frequently results in expansion announcements before the original structures are finished. The best deals involve an explicit and multifaceted sense of commitment from all parties, including the companies themselves. In some companies, personnel involved in strategic facilities planning are even taking on "economic development" job titles,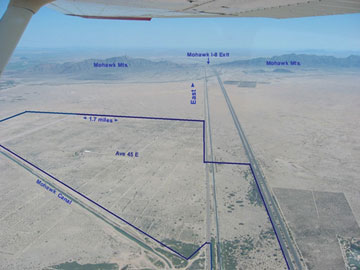 Part of the deal for the first new U.S. oil refinery in 30 years in Yuma, Ariz., involves piping in Pemex crude from Ensenada, Mexico, and the possible tanker shipment of backup crude down the West Coast from the oilsands of Alberta.
reinforcing the message that their strategies and the communities' are joined at the hip.
The literally concrete nature of industrial development is reflected in the vast number of important materials-oriented projects in 2005, including multiple and worldwide strategies behind the development of gypsum wallboard, cement, metals and plastics plants.
In choosing our Top Deals, we start with objective jobs and investment data: total capital investment and number of jobs created. Then we take into account regional economic impact, value of jobs created, creativity, the role of incentives, competition for the project and speed to market. This necessarily removes from contention some large projects where natural resource proximity was paramount, or where the site was never in doubt. Also notable, though sometimes absent from this accounting, are the many companies whose global investment totals for the year were prodigious, but split among many projects.
We present our selections alphabetically under the categories of North America and International. But one attribute is universal: The drive to get deals done, so people can move on and get business done.