Top International Deals of 2005

Advanced Micro Devices/SemIndia
India $3 billion
This new chip fab, the first semiconductor manufacturing plant in India, will probably not be the nation's last. Investors include the national government of India and public-private partnership SemIndia. AMD invested in an engineering center in Bangalore in 2004. Rival Intel has also announced a large investment program in India, but it is based on R&D and has heretofore included no manufacturing component.

Changan Ford Mazda Engine Co. Ltd.
Nanjing, China $374 million
Ford's domestic manufacturing picture may be dark and dreary, but the same does not hold true for China, where Ford, Mazda and Changan announced in 2003 their plans to invest as much as $1 billion in production. In the Jiangning Economic and Technological Development Zone (NJDZ) at Nanjing, the three partners backed a January 2005 assembly plant announcement with an April 2005 engine plant announcement. The engine plant will employ 1,800, and supply Changan Ford plants in Nanjing and Chongqing, as well as other Ford, Changan and Mazda plants throughout China.

Exxon Mobil, Saudi Aramco and Sinopec
Quanzhou, Fujian Province, China $3.5 billion
This refinery expansion is nearly as important to global economic growth as the massive expansion at Saudi Aramco's own refinery complexes in its home country. Meanwhile, all three parties are exploring multiple other billion-dollar-plus projects in China. An added benefit of the Fujian project for Exxon and Aramco is the agreement's provision allowing the two companies their first access to China's retail sector, via some 600 service stations. "The project is expected to further stimulate development of a broader petrochemical industry in China, and, in the process, enhance prosperity of the west-coast economic zone in Fujian Province, and provide economic opportunity for other Chinese enterprises," reads a release from Saudi Aramco. " In his speech at the groundbreaking, Saudi Aramco President and CEO Abdallah S. Jum'ah said, "By 2030, Chinese oil consumption is expected to more than double, rising to over 13 million barrels daily. Even more critically, China's oil imports will increase nearly five-fold over the same period, to nearly 10 million barrels per day — roughly equivalent to the United States' current crude oil imports … Given the tremendous economic growth of your nation, and the extensive petroleum reserves and production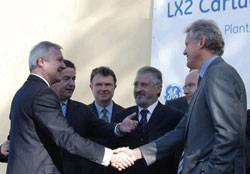 GE Advanced Materials is adding 250 employees with the third phase of a four-phase Lexan production plan that has already brought $2 billion in investment and 600 jobs to Cartagena, Spain.
capabilities of ours, the bonds that join us together are among the most important energy relationships on the planet."

GE Advanced Materials
Cartagena, Murcia, Spain $771 million
This 250-employee Lexan resin expansion, like many in Spain, passed relatively unnoticed in the general media. But its endorsement of the region as a place for manufacturing investment could not speak more loudly to the multinational corporate community. The project was merely the third phase of a four-phase plan that has thus far brought $2 billion and 600 jobs to the Cartagena complex over the past 20 years.

Hankook Tire
Dunaujvaros, Hungary $603 million
Originally planned for the Slovak Republic city of Levice, this project from Korean tire maker Hankook took a turn to Hungary in October 2005, lured by skilled labor, market proximity and incentives that were more strongly backed by government entities than those in Slovakia, where fellow Korean firm Kia has had difficulty getting the incentives it was allegedly promised. The project is Hankook's first in Europe, and joins a portfolio that includes two plants each in Korea and China.
Kiryat Gat, Israel $3.5 billion
For discussion of this and other Intel projects worldwide, see the cover story.

Hon Hai Precision Industry
Russia $2 billion
It's no accident that Taiwan's Hon Hai was in the Top 10 holdings of Charles Schwab's U.S. Trust Corp.'s emerging markets portfolio at the end of 2005. Russia is one of those BRIC countries leading the emerging markets of the world in corporate investment. Known more widely by its registered trade name of Foxconn Electronics, this company has also recently pursued major investment in Mexico.

Lafarge SA
Aceh, Indonesia $90 million
This tab for a cement plant to take the place of the one destroyed by the tsunami of December 2004 is just a small part of a recovery deal that includes school, housing, mosque and education investments by Lafarge and its public- and private-sector partners. A spokesperson for the company tells
Site Selection
that other sites for rebuilding were considereed, but proximity of the quarry and the fact that some equipment could be salvaged helped cinch the investment. "The other consideration," says the spokesperson, "was that Lafarge thought it was vital to relaunch economic activity in the area as soon as possible in order to secure the region's future." That includes logistical, financial and training assistance for those who have left the employment of Lafarge because of the trauma, many of whom are being retrained in the construction and food service industries.

POSCO
Orissa, India $12 billion
This project, by yet another Korean conglomerate, is one of the highest investment totals among a group of high-profile steel projects finally coming to fruition in India. To get an idea of the project's scale, the company's current annual steel-making capacity is 28 million tons. The Orissa complex will add 12 million tons — or 43 percent — to that capacity, and do so with direct employment of 13,000. What's more, after finding the existing port facilities at Paradip inadequate for its announced plans, Posco announced it would invest an additional $400 million in developing a suitable port. Other facets of the Posco project include full development of a township, industrial water pipeline, up to three mines, a captive power plant and about 186 miles (300 km.) of railway. The Indian government projects some $21 billion in revenue through excise and customs duties, service taxes and corporate income tax. The Orissa government's 30-year take will come to more than $5 billion, collected via sales tax/VAT, works contract tax, electricity duty, royalties, Orissa Infrastructure Tax and share of Central taxes.

Samsung
Tanjeong, Asan, South Korea $2.1 billion
The Korean conglomerate is building a new liquid crystal display plant in Tanjeong, Asan, South Chungchong Province, South Korea, on a 500-acre (202-hectare) spread not far from the $2-billion complex in Chonan that the company has constructed with Sony Corp. That plant began production in April 2005. Such numbers and speed are mere routine in the breakneck world of LCD production. Slated to begin production in late 2006, the Tanjeong plant will produce 32-inch, 40-inch and 46-inch LCD panels for television sets.