Top North American Deals of 2005

Arizona Clean Fuels Yuma
Yuma, Ariz. $2.6 billion
Central to this US$2.6-billion, 300-employee refinery — the first in the U.S. in almost 30 years — is an agreement that has been reached between the Secretariat of Energy of Mexico (SENER) and Arizona Clean Fuels Yuma (ACFY) to allow construction of a $500-million crude oil pipeline from the coast of Sonora or Baja California to the refinery site in Yuma.
"We respect the vision and leadership shown by SENER in this project," said ACFY Vice President David Treanor, who led the negotiations in Mexico in November. "This understanding is a symbol of cross-border collaboration that will result in significant bi-national benefits."
The company was permitted for the refinery in April 2005, at a site about 100 miles (161 km.) southwest of Phoenix. Expected to be complete in 2010, the facility was to get the crude through a long-term contract with Pemex, Mexico's state-owned oil company. But ACFY spokesman Ian Calkins tells
Site Selection
that, owing in part to the inability of Pemex to commit for longer than 10 years, a backup plan has been set in motion to get the crude from the oilsands of Alberta. (For more on this project, see the U.S.-Mexico Border Corridor story.)

European Aeronautic Defense and Space Co. (EADS)
Mobile, Ala. $600 million
The pursuit of this plant was a very public process conducted with the help of The Staubach Co. which resulted in Mobile's Brookley Field edging out sites in Melbourne, Fla; North Charleston, S.C.; and Kiln, Miss. But the end product, an aerial refueling tanker, is still dependent on securing a Dept. of Defense contract, which in turn is caught in the transatlantic debate over aerospace company subsidies. The EADS project was one of the few projects to land on top 2005 project lists by both investment and employment, with a projected 1,000 employees. The company's partnership with Northrop Grumman has resulted in the launch of a new plant by that company too, as well as the appointment in March of John H. Young., Jr., a former Northrop Grumman executive, to the post of CEO at EADS. Meanwhile, company subsidiary EADS CASA is already working with the U.S. Coast Guard on a separate plane project that entails a new training and maintenance hub in Mobile, and EADS CASA and Northrop Grumman continue to pursue a Dept. of Defense contract for cargo plane manufacturing that could overshadow the tanker program in terms of capital investment. The EADS family of projects is just one sign of big momentum in the bi-state region connected to Mobile, which has also featured big investment by both the public and private sectors at the Alabama State Docks.

Hemlock Semiconductor
Saginaw County, Mich. $400 million
The 150 jobs created by this investment will have an average pay of $50,000 — a benchmark achieved by several Top Deals. As documented in our January 2006 issue, the chosen site competed with a site in Carrollton, Ky. The deal was sealed in part by a special utility rate crafted for the project and a $90.46-million incentive package including state sale tax exemption, investment tax credits, personal property tax abatement, rural property tax abatement and state education tax abatement. A water infrastructure commitment from the state of Michigan to cover 20 percent of upgrade cost was critical to the deal.
Chandler, Ariz. $3 billion
This project and the company's Top Deal in Kiryat Gat, Israel, are profiled in this issue's cover story. The projects are part of a global investment program that in the past year has seen other projects blooming in New Mexico, Vietnam, India and Ireland, in addition to ongoing investments in Oregon.

Washington Mutual
San Antonio, Texas $170 million
While 5,000 existing employees will fill WaMu's new $300-million WaMu Center in its hometown of Seattle, 4,200 new employees will occupy the company's new regional operations center in San Antonio over the next seven years, on grounds formerly occupied by MCI. The site beat out competitors in Oklahoma and Arizona. This doubling of the company's Texas work force was helped along by incentives from the City of San Antonio, Bexar County and the State of Texas, including the Texas Enterprise Fund. Coming on the heels of the new Toyota truck plant, this deal further brightens San Antonio's rising star in the Lone Star State. The area saw 12,000 new jobs created in 2005, and economic developers are seeing an average of 100 corporate prospect queries each quarter.

Micron
Manassas, Va. $1.2 billion
The Manassas investment is one of several big-ticket semiconductor projects now unfolding in the U.S., including a just-announced investment by Micron and partner Intel in a plant in Lehi, Utah, that will pair with the Manassas facility in providing NAND chips for their flash memory joint venture, IM Flash Technologies. The Virginia upgrade to 300-mm. technology is creating 860 new jobs. At the November 2005 announcement, Steve Appleton, Micron chairman, president and CEO, said, "Micron's decision to locate a 300-mm. facility in Manassas is a reflection of our belief that the Commonwealth of Virginia provides the right environment for business. Virginia's commitment to pro-business tax policies and an educated workforce are key factors in helping Micron." In this case, the deal comprises a host of continuous advantages — from workers' comp costs to low taxes to a high-tech work force — that have consistently placed Virginia in the upper echelon of many business climate rankings across a number of criteria. In the past 10 years, Virginia's semiconductor exports have gone from $12 million to more than $645 million, for the first time surpassing cigarettes as the state's top export, according to the Virginia Economic Development Partnership's Division of International Trade.

Nissan
Franklin, Tenn. $70 million
The move by Nissan from Gardena, Calif., merely follows in the footsteps of the company's Tennessee manufacturing moves and expansions that began years ago. What makes this move particularly dramatic is the relocation of 1,300 jobs to Tennessee and the more than 13,000 people who have applied to work at the new headquarters already. To be designed by Nashville-based Gresham, Smith and Partners, the new headquarters will occupy a parcel purchased by the city with $15 million. Creation of a tax increment financing district for the project was critical to the decision. Meanwhile, Nissan will sublease from BellSouth 11 floors in Nashville's signature "Batman building" while the Franklin project is constructed. Nissan announced an expansion of its Smyrna, Tenn., manufacturing plant earlier in 2005, and has just completed expansion of a forging plant in Decherd, Tenn.

SeverCorr
Columbus, Miss. $700 million
As documented in an exclusive interview in our January 2006 issue, this mini-mill's chosen TVA-certified site in Lowndes County's Golden Triangle Industrial Park beat out 54 sites in the Southeast, including finalists in Arkansas and Kentucky. SeverCorr CFO Eddie Lehner gave full credit to teamwork among all the project financiers and economic development agencies involved. Indeed, the project was honored in March with a "Deal of the Year" award for its industry category from Project Finance Magazine. Among the players are Cleveland-based Global Principal Partners, which arranged $880 million in financing, and GE Commercial Finance, which arranged $440 million of the senior financing. "This transaction is unique in that all transaction participants have significant "skin in the game" through completion of the project," said David Stickler, senior managing director of Global Principal Partners. Among the critical incentives was an electrical power agreement with TVA, as well as incentives from the Mississippi Development Authority and Columbus-Lowndes Development Link. An estimated 1,000 jobs at suppliers and related companies are projected to follow the 450 permanent jobs at the SeverCorr facility.

Shintech
Plaquemine, Iberville Parish, La. $1 billion
The PVC shortage currently afoot in the U.S., combined with the long history of this project's journey to fruition and the terrible hurricane damage the chosen region has suffered since the January 2005 announcement, make this deal a true breakthrough for an industry and a region. The site in Plaquemine beat out competing sites in Freeport, Texas and Addis, La., where the subsidiary of Tokyo-based Shin-Etsu Chemical Co. already operates a plant. The 150 permanent jobs at the new integrated complex will pay between $55,000 and $60,000 a year, while the company will also employ 50 on a contract basis. The project is a complete turnaround from the company's experience in Convent, La., where in 1999 it abandoned three-year-old plans to build a $700-million PVC plant after mounting protests under the Environmental Justice Act, which protects low-income communities from a "disproportionate distribution of environmental hazards." Preliminary planning and approval work has begun on a $50-million connector highway between nearby La. State Hwy. 1 and I-10. As the plant aims for a December 2006 startup, the state's Dept. of Environmental Quality is accepting public comment until early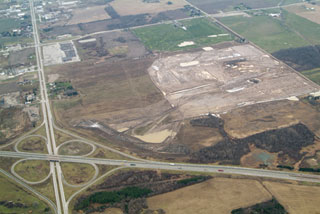 This aerial photograph, taken in December 2005, shows the parcel in Woodstock, Ont., that will soon be home to a US$650-million plant from Toyota, working in close partnership with the company's plant in nearby Cambridge.
May on the plant's proposed discharge into the Mississippi River.

Toyota Motor Manufacturing Canada
Woodstock, Ontario $650 million
The capital investment and 1,300 jobs associated with this project were already a big deal, but they got bigger in February 2006, when the company announced that its planned expansion of RAV4 production would now be 150,000 vehicles a year, entailing another 700 jobs and another $300 million in capital investment. The site selection was aided by the existence of the company's successful manufacturing operation in nearby Cambridge, from which the site selection team drew a 50-mile (80-km.) radius and considered five initial locations. Already helping the original Woodstock project along were the equivalents of $44.2 million from the government of Canada and $56.3 million from the government of Ontario, both examples of newfound incentives largess as the country and the province get more aggressive in developing the automotive sector.