New data from the U.S. Census Bureau indicate the share of fully home-based jobs nearly doubled from 11% of all jobs in 2019 to around 21% in 2021. Separate data on commuting indicate 17.9% work from home, meaning around 3% of home-based jobs are being performed at coffee shops, coworking spaces and all other places not called home or work. Hybrid approaches reached 6%, leaving on-site workplace jobs at 74% — 10% lower than in the commute-heavy days of 2019.
No wonder the mean travel time to work among those U.S. commuters still trundling to a workplace dropped by a full two minutes over that same time span to 25.6 minutes.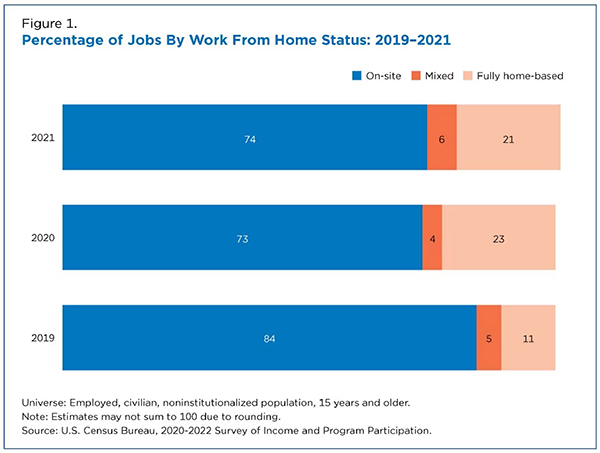 New data on home-based work comes from yesterday's release of the 2022 Survey of Income and Program Participation (SIPP).
Graph courtesy of U.S. Census Bureau
The shift in where we're doing work is felt in more ways than empty downtown office blocks. It's sometimes hard to discern where on the map to assign new job creation when a new company expansion is announced. But if the shift is indeed more permanent than many predicted — and if people and employers indeed are looking toward smaller, more affordable and more livable locations than they have in the past — new housing figures assume more prominence than ever as an economic development indicator.
Fittingly (or is it ironically, or is it both?), the share of jobs that were conducted on-site in the very sector that includes residential real estate (finance and insurance, real estate and rental and leasing industries or FIRE) dropped from 67% in 2019 to 43% in 2021.
The graph above from the Census Bureau's Building Permits Survey (BPS) which provides statistics on new privately-owned residential construction, corresponds neatly to population trends and state-to-state population flows. It also corresponds to states performing well in corporate facility project attraction and expansion as scored by Site Selection's various rankings — Texas and North Carolina being prime examples.
The map below offers more evidence of which metro areas (CBSAs) are seeing increases or drop-offs in housing permits. In addition to big increases in numerous Texas metros, a noticeable increase is taking place in the multi-jurisdiction region in the nation's capital — perhaps related to Virginia's recent economic development success as scored by our November 2022 Business Climate Rankings, where once again the top performers mirror the list of top housing permit locations: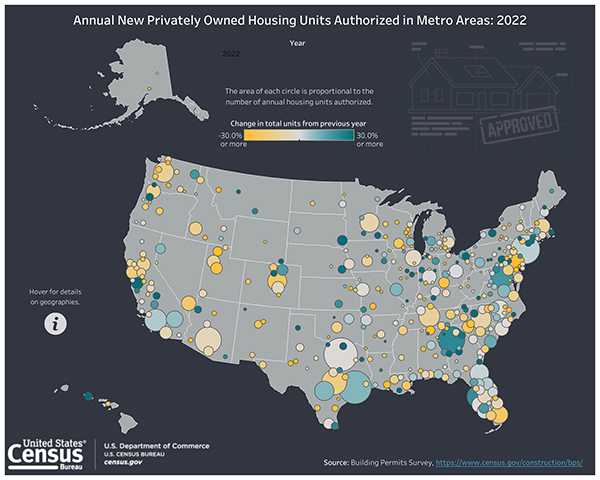 Map courtesy of U.S. Census Bureau
How attainable is that housing? As it happens, last week the Harvard Joint Center for Housing Studies released The State of the Nation's Housing 2023, which tracks the degree of housing cost burden in every region of the country. "Rent growth slowed over the past year and home prices declined in a number of areas," said Daniel McCue, a senior research associate at the Center, in a release. "Nonetheless, housing costs remain well above pre-pandemic levels thanks to the substantial increases over the last few years." Since the beginning of 2020, asking rents in the professionally managed sector are up by 24% while home prices are up by an "astounding 37.5%," the report stated. This graph from the report corroborates other evidence of people moving toward small towns: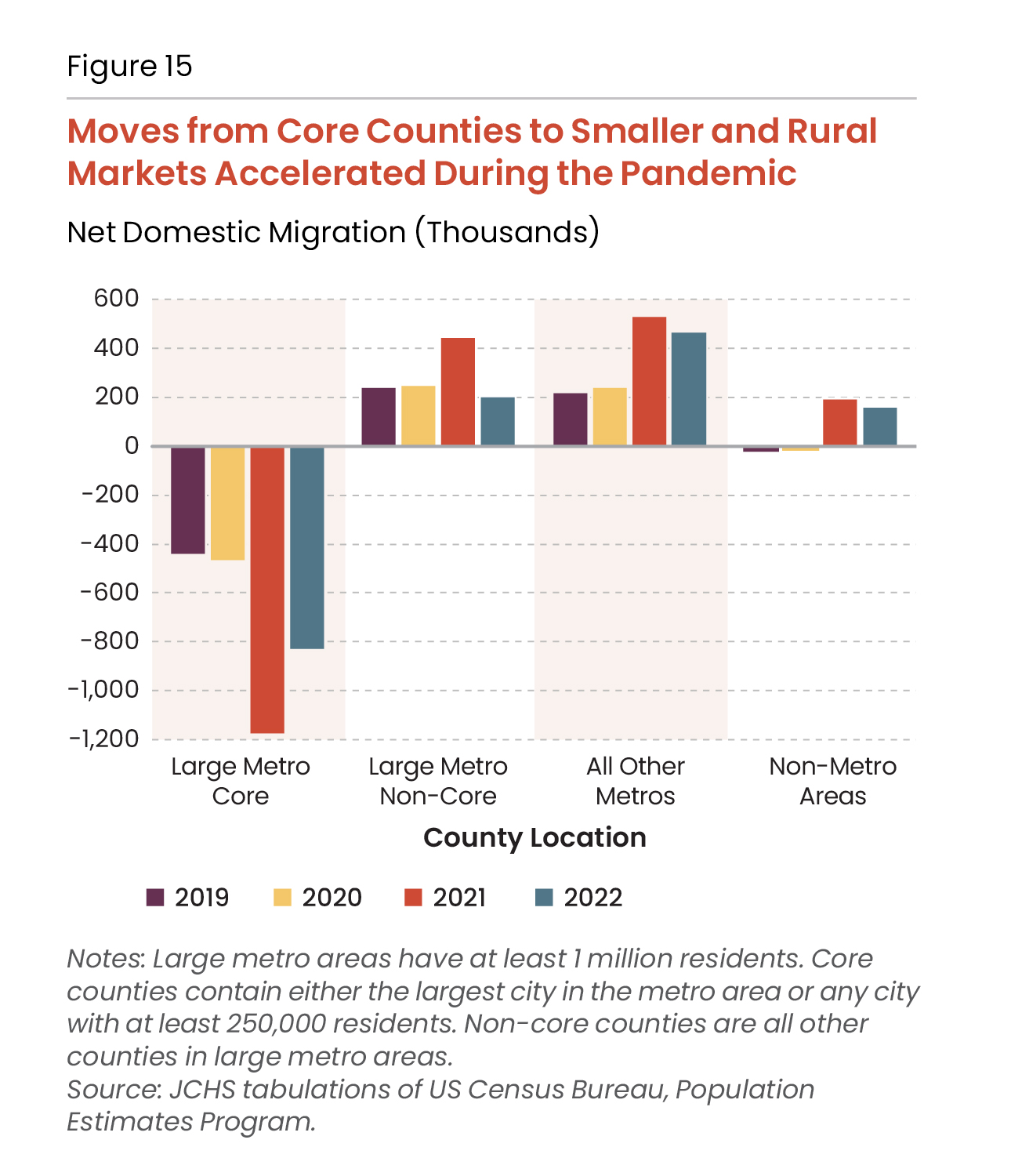 "Counties in smaller metro areas and states in the South saw the largest net inflows, led by Texas, Florida and North Carolina, while counties in large metro areas and states like California, New York and Illinois saw the largest outflows," said the report. "Domestic migration has become the largest source of population growth in 20 states and the largest source of population decline in 23 states."
If you're searching for a place to live and work, the report makes available a full data set for 933 metro areas. Sort that list by least cost-burdened and you'll arrive at the following Top 10 Most Affordable list:
| | |
| --- | --- |
| Metro | Cost Burdened Households % |
| | |
| --- | --- |
| Decatur, AL | 14.7 |
| Van Wert, OH | 15.5 |
| Celina, OH | 15.5 |
| Wapakoneta, OH | 15.5 |
| Dayton, TN | 15.9 |
| Fort Dodge, IA | 16.5 |
| Findlay, OH | 16.5 |
| Mexico, MO | 16.9 |
| Frankfort, IN | 17.1 |
| Crawfordsville, IN | 17.1 |
Four of those locations are located in close proximity to one another in northwest Ohio, including Site Selection's perennial Top Micropolitan area for corporate facility investment: Findlay, Ohio. — Adam Bruns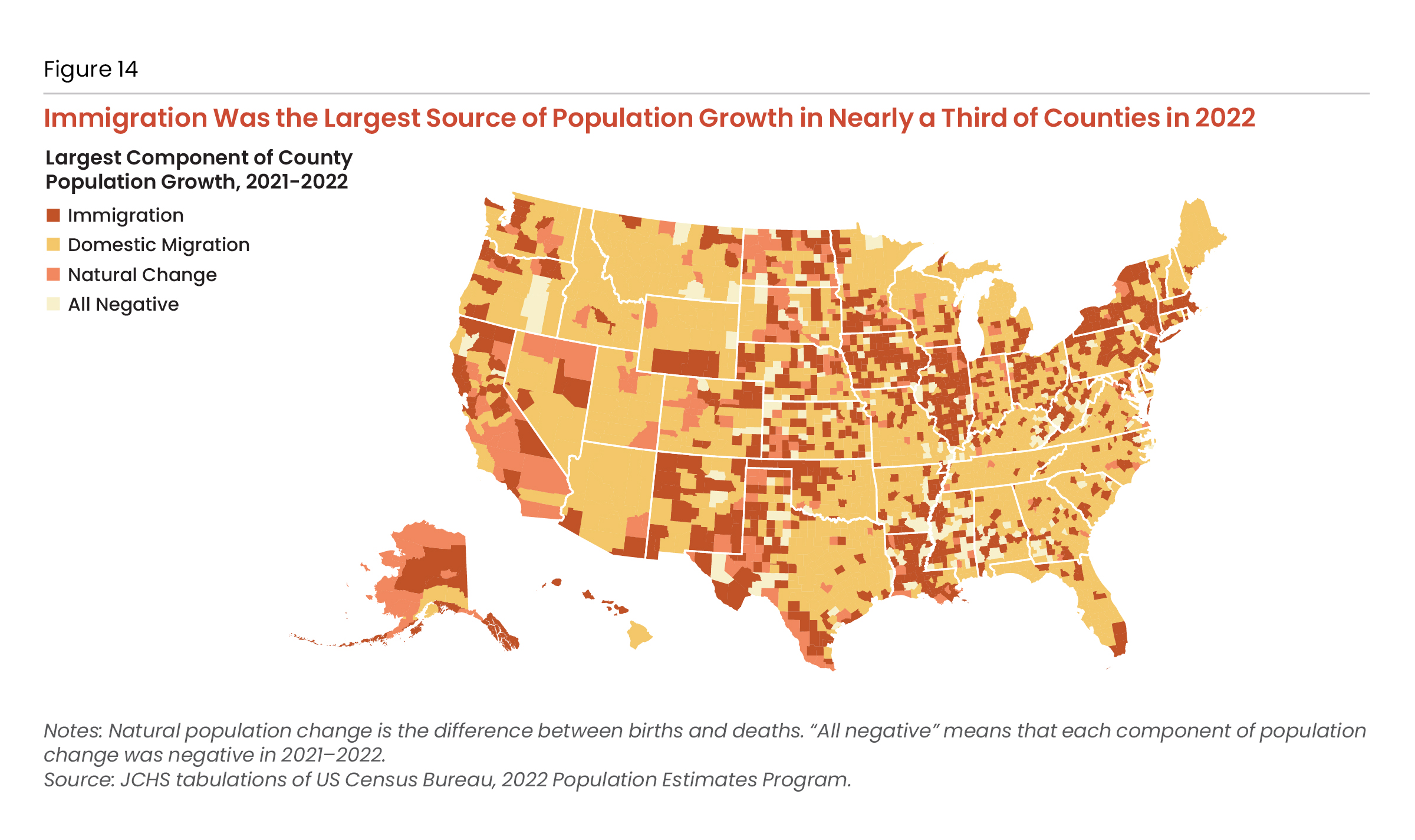 This map from the Harvard Joint Center for Housing Studies shows where population growth has been driven by immigration and by domestic migration.